Donations Since Ginsburg's Death Reach $100 Million at Democratic Fundraising Site ActBlue
Democratic fundraising site ActBlue received $100 million in small-dollar donations since Ruth Bader Ginsburg passed away on Friday. Her death has left one Supreme Court seat vacant and immediately gave rise to a partisan conflict over when to nominate her successor.
ActBlue, technically classified as a nonprofit political action committee, behaves like a digital hub for donations that support Democratic candidates, committees and other organizations. It confirmed the weekend's enormous donation sum in a message shared to Twitter on Sunday morning.
"Small-dollar donors have now given $100 million on ActBlue since 8 p.m. ET Friday, investing in candidates up and down the ballot and orgs on the front lines of the impending judicial confirmation fight," the tweet read. "The grassroots is ready to fight to honor Justice Ginsburg's legacy."
Ginsburg, known for delivering progressive opinions and fierce dissents as one of four women ever appointed to the Supreme Court, died at the age of 87 from pancreatic cancer on Friday night, about two months after announcing a recurrence of the disease. She was originally nominated to the Supreme Court by former President Bill Clinton in 1993, and went on to fight for gender equality and reproductive rights in a number of prominent cases.
Republicans and Democrats are preparing for an oncoming political battle in the aftermath of Ginsburg's passing, as President Donald Trump and Senate Majority Leader Mitch McConnell work to swiftly nominate a replacement to fill her Supreme Court seat.
Democratic lawmakers are calling for a delayed nomination of Ginsburg's successor, given that this year's general election is only weeks away. When Justice Antonin Scalia died nine months before the election in 2016, the Senate blocked then-President Barack Obama's replacement nominee.
McConnell, who was also the Senate Majority Leader at the time, argued that a confirmation vote could not occur until after Election Day. He said a premature confirmation risked dismissing the public's opinion, since Obama was not eligible to serve another term and another candidate would inevitably take his place later that year.
On Friday, McConnell pledged to hold a Senate floor vote after Trump chooses a nominee. The president said he plans to determine the nominee as soon as next week and told attendees at a Saturday night rally in North Carolina that his pick "will be a woman."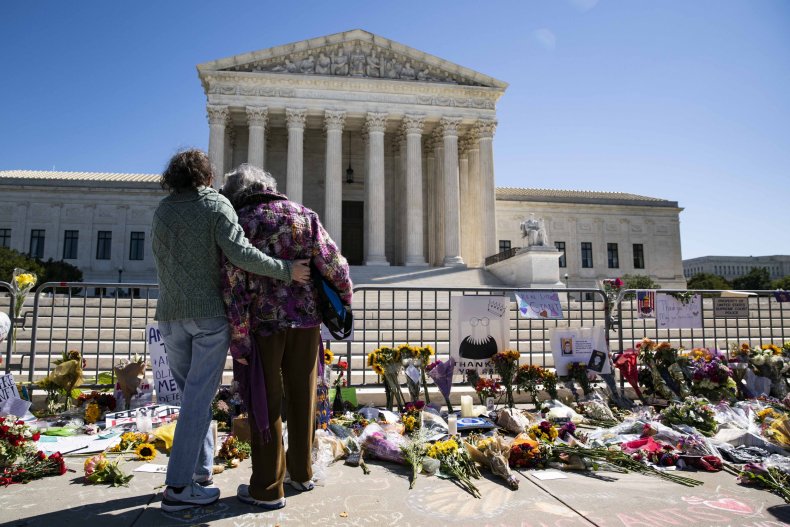 Meanwhile, leading congressional Democrats, including Senate Minority Leader Chuck Schumer and House Speaker Nancy Pelosi, are voicing strong opposition to the intended procedure. Earlier on Sunday, Pelosi said Democrats "have our options" in terms of potential approaches to stalling a prompt Supreme Court nomination. They included new impeachment proceedings against Trump and Attorney General William Barr.
Also on Sunday, Republican Alaska Senator Lisa Murkowski indicated that she won't support a vote to fill the Supreme Court vacancy close to Election Day. She said in a statement: "I did not support taking up a nomination eight months before the 2016 election to fill the vacancy created by the passing of Justice Scalia. We are now even closer to the 2020 election—less than two months out—and I believe the same standard must apply."
Newsweek reached out to ActBlue for additional comments, but did not receive a reply in time for publication.