GOP Senator Murkowski Will Not Support Voting to Fill SCOTUS Vacancy Close to Election: 'Same Standard Must Apply'
Republican Senator Lisa Murkowski of Alaska has confirmed that she will not support President Donald Trump's nominee to replace liberal Justice Ruth Bader Ginsburg, citing the precedent set by GOP senators ahead of the 2016 election.
Ginsburg, a liberal and feminist icon, died on Friday at the age of 87 after a long battle with pancreatic cancer. In a statement released after her passing, the justice said: "My most fervent wish is that I will not be replaced until a new president is installed."
In 2016, the Republican-controlled Senate under the leadership of Senate Majority Leader Mitch McConnell refused to confirm former President Barack Obama's judicial nominee Merrick Garland, arguing that voters should be given a chance to weigh-in during the upcoming election. But on Friday, hours after Ginsburg passed, McConnell asserted that the GOP-controlled upper chamber of Congress would vote on President Donald Trump's yet-to-be announced nominee.
Murkowski voiced her disagreement with the majority leader's decision in a Sunday statement.
"For weeks, I have stated that I would not support taking up a potential Supreme Court vacancy this close to the election. Sadly, what was then a hypothetical is now our reality, but my position has not changed," the Alaska Republican said.
"I did not support taking up a nomination eight months before the 2016 election to fill the vacancy created by the passing of Justice Scalia," she pointed out. "We are now even closer to the 2020 election—less than two months out—and I believe the same standard must apply," she said.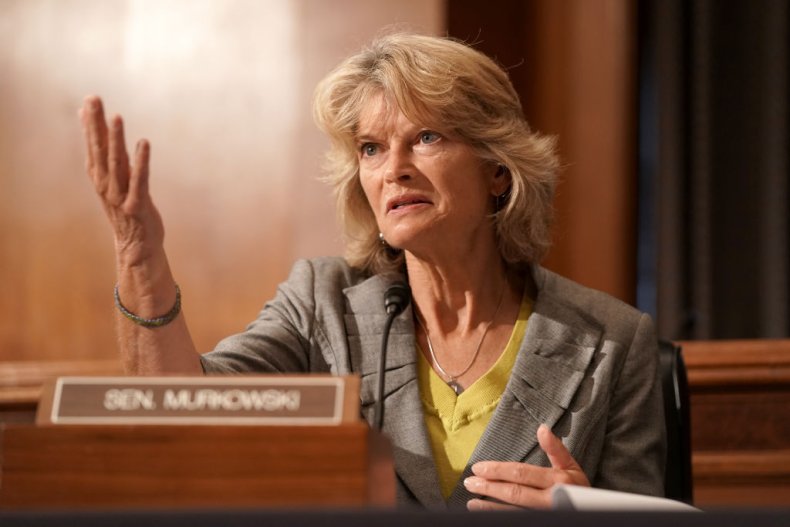 Newsweek reached out to McConnell's press secretary for comment, but he did not reply by the time of publication.
Democrats have come out strongly against the possibility of Republicans pushing through the nomination of another conservative Supreme Court justice before the election. Former Republican Senator Jeff Flake of Arizona also tweeted on Saturday that whichever presidential candidate—incumbent President Donald Trump or Democratic nominee Joe Biden—wins the November 3 election should make the appointment.
Senator Susan Collins, a Maine Republican who faces a tough reelection battle, said Saturday that she'd support the Senate reviewing Trump's nominee but did not believe a vote should move forward until after the election. "The decision on a lifetime appointment to the Supreme Court should be made by the President who is elected on November 3rd," she said.
With 53 Republicans, 45 Democrats and two independents who caucus with their Democratic colleagues in the Senate, at least four Republicans would have to vote against a potential nominee to prevent confirmation. It's also not guaranteed that all Democrats would vote against the nominee. Senator Joe Manchin, a West Virginia Democrat, was the only senator from his party to vote in support of controversial Supreme Court Justice Brett Kavanaugh's nomination in 2018. Notably, Murkowski declined to vote in support of Kavanaugh, choosing to just vote 'present.'