Ex-GOP Arizona Senator Jeff Flake Says Next President Should Fill SCOTUS Vacancy
Jeff Flake, who represented Arizona in the U.S. Senate from 2013 to 2019, urged his former GOP colleagues to follow the precedent they set in 2016 and not confirm a new justice to the Supreme Court until after whichever candidate wins the November election puts forward a nominee.
Supreme Court Justice Ruth Bader Ginsburg died on Friday after a long battle with pancreatic cancer. The feminist icon was one of four liberal justices on the nine member top court. Despite conservatives already being in the majority, Senate Majority Leader Mitch McConnell, a Kentucky Republican, and President Donald Trump, wasted little time asserting that they would attempt to push through the nomination of a conservative judge to replace Ginsburg in the coming months.
"In 2016, nine months before an election, we Republicans said that the next president should fill a Supreme Court vacancy. Today, six weeks before an election, we should hold the same position. Preserving the institution of the Senate should be paramount to any political gain," Flake said, reminding his GOP colleagues of the precedent they had set in a similar situation under former Democratic President Barack Obama.
Newsweek reached out to Flake for further comment, but he did not respond by the time of publication.
With less than two months until the November 3 election, with polls suggesting Democratic presidential nominee Joe Biden has a strong chance of defeating Trump, Democrats have urged their Republican colleagues to be consistent with their actions following the February 2016 death of Justice Antonin Scalia. McConnell insisted at the time that the seat should remain vacant until the next president could make a nomination.
"The American people should have a voice in the selection of their next Supreme Court Justice. Therefore, this vacancy should not be filled until we have a new president," the GOP senator said.
But with the passing of Ginsburg on Friday, McConnell had precisely the opposite perspective. "President Trump's nominee will receive a vote on the floor of the United States Senate," he said in a statement. The president has also said that he plans to put forward a nominee soon. With Republicans controlling the Senate with a 53 to 47 majority, at least four would need to vote against the nominee to prevent their confirmation.
"We want to respect the process. I think it's going to go very quickly, actually," Trump told reporters on Saturday. He said his nominee would "most likely" be a woman.
On Friday, Biden shared a statement similar to that of Flake and many Democratic lawmakers.
"But there is no doubt, let me be clear, that the voters should pick the president, and the president should pick the justice for the Senate to consider," the former vice president said. Biden noted that "this was the position ... the Republican Senate took in 2016, when there were almost 10 months to go before the election."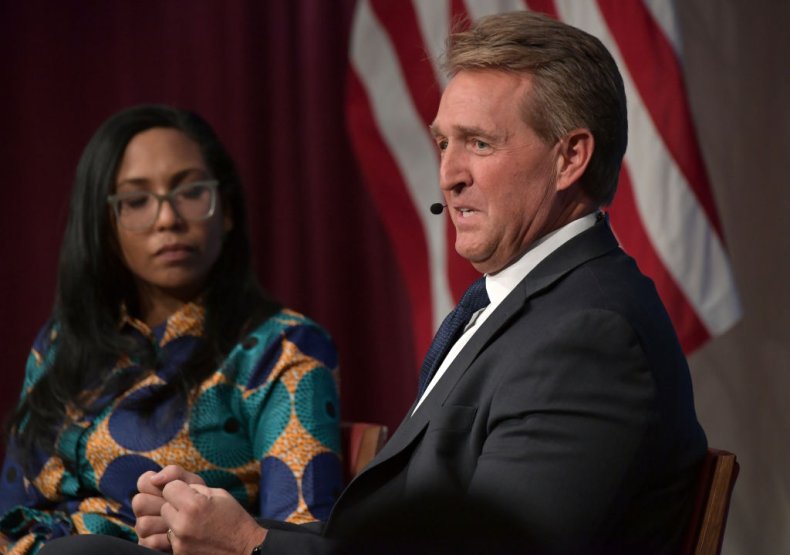 Flake, a staunch critic of Trump who endorsed Biden in August, notably raised concerns about Trump's Supreme Court nominee Brett Kavanaugh in 2018. The former GOP senator, who was a member of the Senate Judiciary Committee, said that he would not vote for the nomination to move forward unless an FBI investigation was conducted into allegations that Kavanaugh drunkenly sexually assaulted a woman at a party when he was 17. Kavanaugh consistently denied the allegations.
Although Flake pushed for the FBI probe, which moved forward, he ended up voting in favor of Kavanaugh along with nearly all of his Republican colleagues. Kavanaugh's confirmation passed with a vote of 49 to 48, with one Democrat joining Republicans in supporting the nomination and GOP Senator Lisa Murkowski of Alaska voting "present."