Fox News Host Confronts Tom Cotton With His Own Words About SCOTUS Nominee Ahead of Election: 'You Don't See Any Hypocrisy?'
Fox News anchor Chris Wallace confronted Senator Tom Cotton, an Arkansas Republican, with his own words from 2016 arguing against confirming former President Barack Obama's Supreme Court nominee more some nine months before the general election that year.
Liberal icon Supreme Court Justice Ruth Bader Ginsburg died on Friday after a long battle with pancreatic cancer. Hours after her passing, Senate Majority Leader Mitch McConnell, a Kentucky Republican, released a statement confirming that that the upper chamber of Congress would soon hold a vote on any potential presidential nominee to replace Ginsburg, despite his refusal to do so when Obama nominated Merrick Garland ahead of the 2016 presidential election.
Democrats, and some Republicans, were quick to suggest this was hypocritical. During an interview on Fox News Sunday, Wallace raised these concerns with Cotton directly. He played a clip of the GOP senator arguing against confirming Obama's liberal justice in 2016.
"Now, Garland was nominated nine months befor the election. And you were saying then, nine months before the election, it was wrong to deny voters a chance to weigh in," Wallace pointed out. "So if it was wrong nine months before the election, why is it OK now six weeks before the election?" the anchor asked.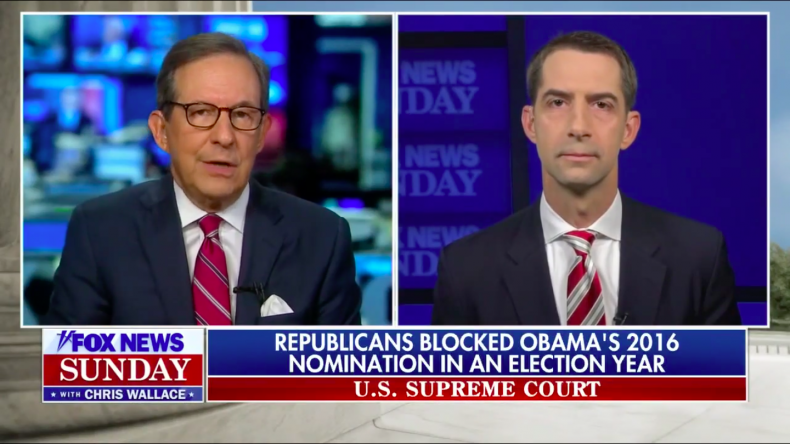 "So Chris, in 2014, the American people elected Republicans—a Republican majority in the Senate to put the breaks on President Obama's judicial nominations," Cotton responded. "In 2018, we had a referendum on this question. Just a month before the 2018 midterms, we had the vote on Justice [Brett] Kavanaugh. There could not have been a clearer mandate because the American people didn't just re-elect Republicans, they expanded our majority," he said.
"We have a clear mandate to perform our constitutional duty," the Republican senator asserted. He said this is what his party had done "back in 2016 as well."
Wallace pushed back, asking: "You really don't think there's any hypocrisy at all in saying 'we need to give voters [a voice]'—because you can parse the 2014, the 2018 election any way you want, but you stated a pretty firm principle about Merrick Garland: 'It's wrong to deny voters a chance to way in.' You don't see any hypocrisy between that position then and this position now?"
Cotton responded by asserting that the Senate would be performing its constitutional duty by voting for whoever President Donald Trump nominates to fill the post left vacant by Ginsburg's death. He said that voters had given Republicans this "mandate" in 2016 and "especially" in 2018.
Wallace then asked whether Cotton would still believe Republicans had a mandate to confirm a nominee if the confirmation were to take place after a hypothetical loss for Trump and Senate Republicans following the November 3 election. "Some would say the lamest of lame duck sessions," Wallace said. "Are you saying you'd still think it would be proper to vote to confirm President Trump's nominee to the court?" he asked.
Cotton responded saying that Republicans would move forward with the nomination. He also asserted his belief that Trump and the GOP would not lose in the upcoming election.
McConnell and other Republican Senators have attempted to differentiate between their opposition to Obama's nomination of Garland in 2016 and their decision to vote on Trump's yet-to-be announced nominee in 2020.
"In the last midterm election before Justice Scalia's death in 2016, Americans elected a Republican Senate majority because we pledged to check and balance the last days of a lame-duck president's second term. We kept our promise. Since the 1880s, no Senate has confirmed an opposite-party president's Supreme Court nominee in a presidential election year," McConnell said in a Friday statement shortly after Ginsburg's death was reported.
"By contrast, Americans reelected our majority in 2016 and expanded it in 2018 because we pledged to work with President Trump and support his agenda, particularly his outstanding appointments to the federal judiciary. Once again, we will keep our promise," he said.
Newsweek reached out to McConnell's press secretary for further comment on criticism he and Republicans have received, but he did not respond by the time of publication.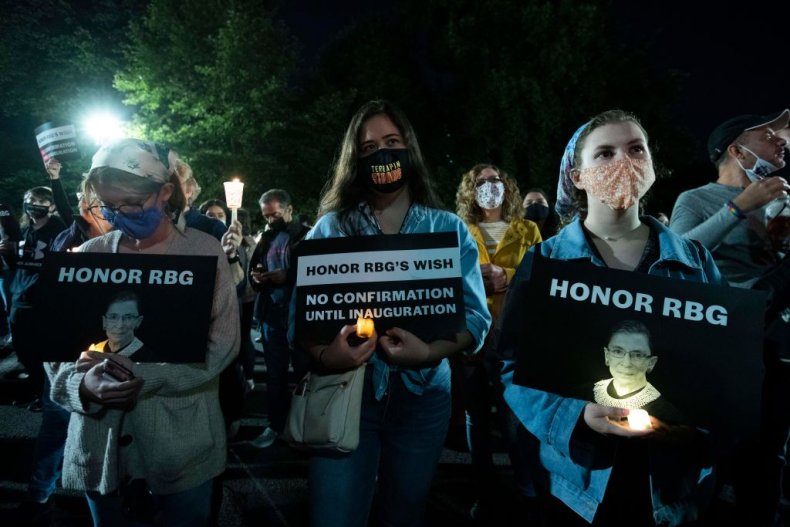 On NBC News Meet the Press, anchor Chuck Todd confronted Senator John Barrasso, a Wyoming Republican, with his own words about Garland's nomination back in 2016. He read a list of Barasso's remarks from that election year.
"Should viewers just not believe anything you're saying today because [it] will change based on the politics of the moment?" Todd asked. Barasso did not respond to the question but asserted that there would be a vote on Trump's nominee this year.
At least one Republican Senator has confirmed that they will not vote to confirm Trump's nominee. GOP Senator Lisa Murkowski of Alaska reaffirmed her opposition to taking up the president's nominee in a Sunday statement. The Republican pointed out that she did not support doing so in 2016 and would not do so in this election year either.
"We are now even closer to the 2020 election—less than two months out—and I believe the same standard must apply," Murkowski said.