Protesters Gather Outside Mitch McConnell's Home to Decry Move to Fill Supreme Court Seat: 'Ruth Sent Us'
More than 100 protesters gathered outside Senate Majority Leader Mitch McConnell's Kentucky home on Saturday to decry the push to quickly fill the Supreme Court seat left vacant by Justice Ruth Bader Ginsburg's death.
Democrats have accused Republicans of hypocrisy, saying they should follow the precedent set by GOP legislators in 2016 when they refused to consider President Barack Obama's nominee Merrick Garland in the run-up to the 2016 election.
In a statement issued late on Friday night, McConnell vowed to call a vote for President Donald Trump's nominee—despite the 2020 presidential election being just six weeks away.
The following day, protesters lined the streets in front of McConnell's home in the Belknap neighborhood of Louisville to decry the move, The Louisville Courier Journal reported. Protesters chanted "Hey hey, ho ho, Mitch McConnell has got to go" and "Ruth sent us." Some brandished signs saying "hypocrite" and "Ditch Mitch."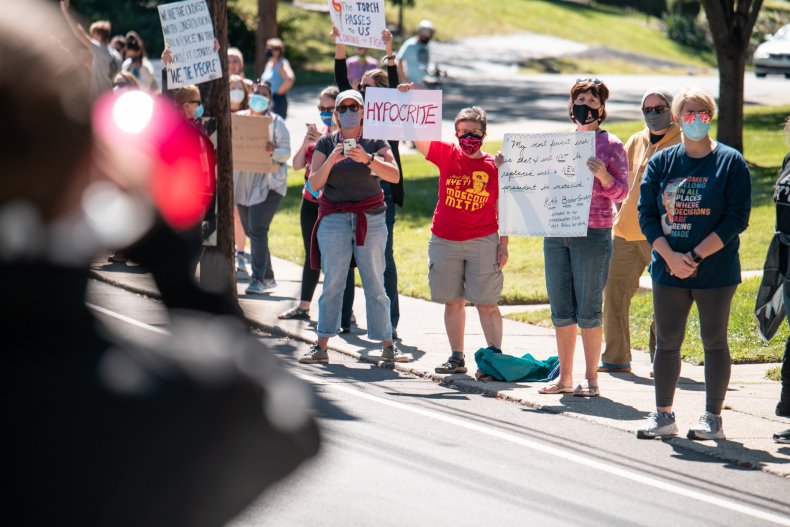 Officers with the Louisville Metro Police Department arrived at the scene just before 1 p.m. and started to disperse the crowd as well as cars blocking the road in front of McConnell's home, according to the newspaper.
The protest ended at around 3:30 p.m. after the arrest of a female protester in the parking lot of a CVS Pharmacy a block from McConnell's home.
According to a video posted on Twitter by Courier Journal reporter Hayes Gardner, an officer at the scene said police had planned to tow the woman's vehicle because she wasn't a CVS customer.
After the woman went inside the store to purchase "a six-pack of beer" so her car wouldn't be towed, the officer arrested her on charges including disorderly conduct and an improper parking violation.
The Louisville Metro Police Department and McConnell's office has been contacted for additional comment.
According to the Associated Press, McConnell pledged in a phone call with Trump on Friday night to bring the choice to a vote. However, he has not said if it would be before the election.
At a rally on Saturday night, the president vowed to put forth a female nominee for the empty seat despite the objections of Democrats.
Joe Biden, the Democratic presidential nominee, has said any selection should come after the election in November. "Let me be clear: The voters should pick a President, and that President should select a successor to Justice Ginsburg," he tweeted.
Ginsburg herself also wanted her replacement to be chosen after the election. In her final statement, reportedly made to her granddaughter Clara Spera just days before she passed away, she said: "My most fervent wish is that I will not be replaced until a new president is installed."