Utah Jazz Star Donovan Mitchell Reveals 'Scariest Part' of Coronavirus After Testing Positive
Utah Jazz star Donovan Mitchell has opened up regarding the "scariest part" of having coronavirus in his first TV appearance since testing positive for COVID-19 last week.
Mitchell was the second NBA player to test positive for COVID-19. He was diagnosed positive on March 12, just a day after the NBA had suspended the season for at least 30 days following the news Mitchell's teammate Rudy Gobert had become the first NBA player to test positive.
Detroit Pistons forward Christian Wood, who guarded Gobert when the two teams met last week, has since also tested positive.
Gobert's diagnosis was confirmed shortly before the Jazz's road game against the Oklahoma City Thunder was scheduled to tip-off, forcing the league to call off the game and suspend proceedings for a month.
Speaking to Robin Roberts on Good Morning America Monday, Mitchell said he felt well and did not show any symptoms of the disease, which in his opinion is the "scariest" effect of the virus.
"I keep making the joke to people when they ask: 'If you were to tell me about to play in a seven-game series tomorrow, I'd be ready to lace up," he said.
"I'm asymptomatic. I don't have any symptoms. I could walk down the street if it wasn't public knowledge that I was sick. You wouldn't know it. That's the scariest part of this virus. You may seem fine or be fine. You never know who you may be talking to may be going home to."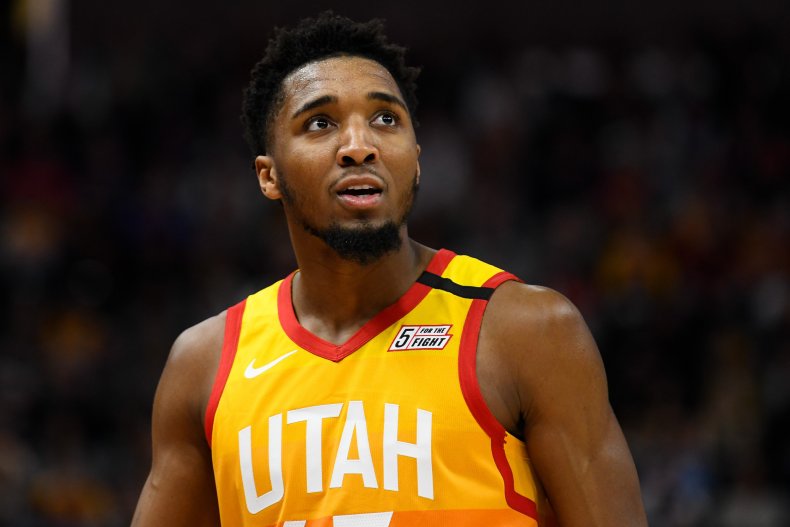 As early as a week ago, Gobert appeared to make light of the panic surrounding coronavirus. A clip posted on social media shows him touching all of the microphones placed on the table in front of him as he left a press conference.
In the video, the 2020 All-Star selection can be seen getting up to leave the room, before rushing back to wipe his hands over all the microphones and recording devices.
ESPN reported Jazz players privately said the Frenchman had joked about the virus, touching them and their belongings. Speaking on Good Morning America, Mitchell admitted it had taken him a while "to cool off" after news of Gobert's positivity emerged, but was happy his teammate remained in good spirits.
On Sunday, Gobert said he was feeling a "little better every single day", but admitted he wished he had taken the virus more seriously.
"I wish I would have taken this thing more seriously and I hope everyone else will do so because we can do it together," the two-time Defensive Player of the Year said in a video message posted by the NBA official Twitter account.
Gobert has donated $500,000 to people affected by the virus and related closure, with $200,000 going to arena workers at the Vivint Smart Home Arena in Salt Lake City, whose jobs have been seriously impacted by the NBA's decision to suspend the season.
Over 6,500 people have died since the outbreak of coronavirus began in Wuhan, a city located in China's central Hubei province, late last year. There are over 169,000 cases globally, with 77,000 recovered.
As of Monday morning, over 3,700 have been reported in the U.S., with 38 deaths and eight people recovered, according to Johns Hopkins University which has been tracking the outbreak using combined data sources.
As the below chart provided by Statista shows, West Virginia is the only U.S. state not affected by the virus.