'Don't Back Down': Couple's Expectations For Wedding Guests Go Viral
A couple's video where they shared their rules and expectations for guests attending their wedding has gone viral on TikTok.
Kaytlyn Rosko posted the video to her account @kroskxx where it amassed more than eight million views and prompted TikTok users to share their thoughts on the expectations.
Planning a wedding takes a great deal of communication and coordination for a couple, and a piece published by The Knot recommended that a couple establish their priorities and expectations.
"Establishing your priorities and expectations is a key part of the wedding planning process for two reasons," the article stated. "Not only will this guide budget allocation, it'll also help you and your partner remain aligned on what's most important to both of you while allowing you to compromise—and this is key for minimizing disagreements and conflict along the way."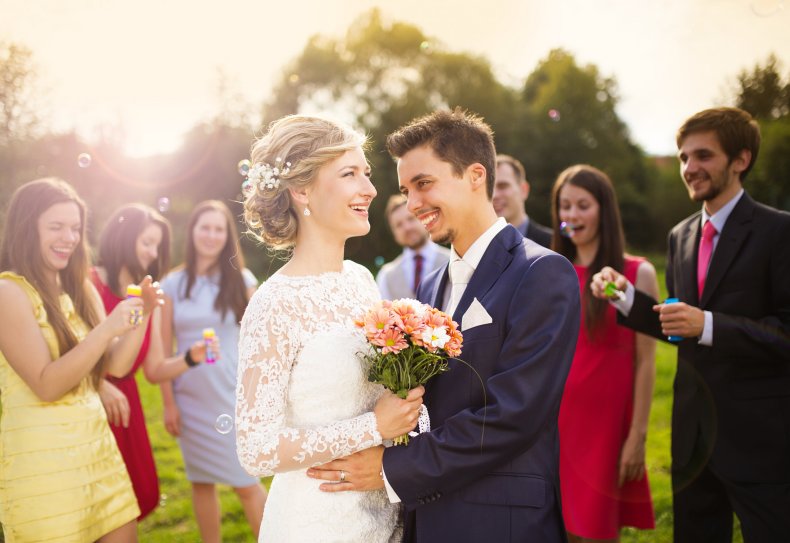 In her video, Rosko and her fiancé list what their wedding guests should expect to know ahead of the big day.
This included what the dress code is, that there will be no children invited to the wedding and that there will be no wedding favors.
Rosko went more in-depth in other videos about these rules, including one video that touched on whether a guest would receive a plus-one invitation.
She shared another video in which she explained couples can convey their rules and expectations to their guests in the frequently asked questions portion of their wedding website.
Scrolling through her own website, Rosko showed viewers what she wrote when she notified guests of the rules she previously mentioned.
She told Newsweek in an email that she and her partner saw the day being personal to them.
"We imagined just our family and closest friends around us for the day," Rosko explained. "Luckily for us, we have a pretty small family, or upholding the rules may have been a bit tougher."
Rosko said the guests have been agreeable, some even saying they wished they had the same boundaries set for their own wedding day.
Many viewers took note and were supportive of the boundaries that the couple set.
"Never understood wedding favors," a viewer wrote. "The favor is you get to dance and watch me look beautiful."
One wrote that the wedding favor is their "$100 dinner."
"Plus ones are not required, kids should not attend weddings unless they are the bride and [groom's], and favors are a WASTE of money," another TikTok user declared.
A TikToker recalled their own wedding rules and expectations, which were similar to what Rosko listed in her own viral video.
"It was perfect," they commented.
"Love this," commented a viewer. "Weddings have become so much more about making guests happy than the actual couple."
Wrote another, "Don't back down. We are all rooting for you!!"
When it came to the responses the video received, Rosko said it seems split between half of the viewers finding that having rules at all is "insane," while others found that having rules is the only way weddings can be done.
"And really, that's our whole point of the video," she said. "Wedding culture is changing and although we're on board, it can be nerve-wracking to say so to more traditional guests."
Many couples getting married have shared various aspects of their wedding with different online communities, like a couple who posted a now-viral video showing how they turned their backyard into their wedding venue.
One couple's video that showed their sweet first dance with one another and their dog also went viral on TikTok.
It isn't just couples that share insight into their big day—wedding planners have also taken to the popular video-sharing platform to talk about tips and offer advice for the planning process.