A wedding planner shared in a viral video that a guest took it upon themself to RSVP on behalf of 20 people, leaving viewers shocked.
TikTok user @californiaweddingplanner posted the video, which received more than 350,000 views and sparked a discussion among commenters about wedding guest etiquette.
There are a few notes of etiquette that guests are encouraged to be mindful of, which were outlined in an article published by The Knot.
One of these tips was to fill out the RSVP card accurately and check to make sure a plus-one invitation was extended.
"Though seemingly obvious, some wedding guests believe they're able to add a significant other to the list without informing the couple, which is a faux pas," the piece stated. "Only those address on the invitation have received a formal invitation, and keep in mind: it is one of the most important wedding guest etiquette rules to date."
@californiaweddingplanner showed a photo of an invitation in which a guest broke down who they were RSVPing for, which included both adults and children.
She said it was unlikely that the envelope was addressed to that many people.
"Don't do this," she said. "Don't call a family or the couple getting married and ask if you can bring a guest."
The wedding planner continued and said that a guest's long-term partner should be included as a plus-one, but it is not up to a guest to bring other people to a wedding who were not invited.
"I've had to make an uncomfortable call when I got an RSVP similar to this, but it was only eight extra people," @californiaweddingplanner recalled.
Viewers were blown away by the guest's apparent forwardness displayed in the video and wasted no time voicing their opinions on the matter.
"Wow. I don't feel comfortable RSVPing for a plus one unless it's clear from the invitation I can bring a date," a viewer wrote.
One TikTok user wondered how frequently this sort of incident occurs.
Another viewer shared that they could relate to the unexpected additional guests.
"We had a family member RSVP for 8 when 2 were invited," they commented. "An entire extra table...linens...a centerpiece, chair rentals, then didn't even show up."
Many commented that they would have uninvited the original guest.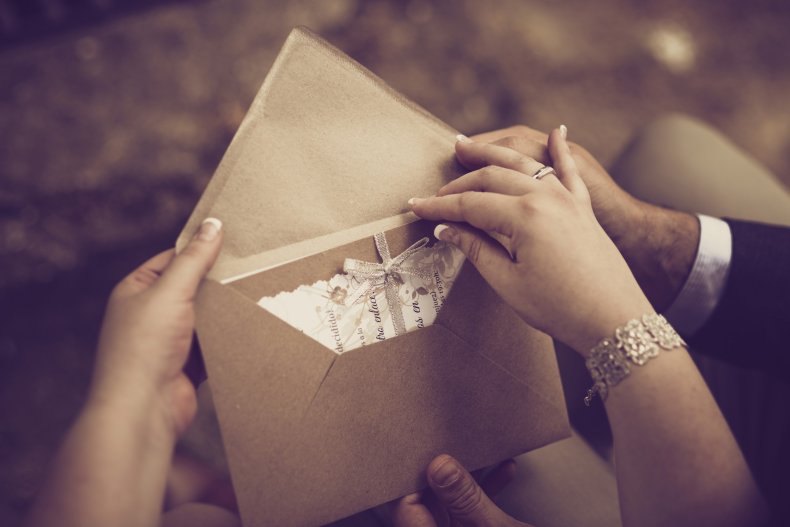 "Invitation revoked effective immediately," one comment read.
Newsweek reached out to @californiaweddingplanner for further comment but did not hear back in time for publication.
Many other Internet users have shared their wedding stories—both positive and negative—with others across various platforms.
A video went viral on TikTok after it showed a group of children running through a bride and groom's first dance, while another video showed a first dance gone awry.
One bride shared her disappointment in a viral TikTok video about her wedding cake that arrived late because it did not look like the one she ordered.