Don't Forget Qatar's Role in Bringing Us 70,000 Unvetted Afghan Refugees | Opinion
Last year, when the Biden administration undertook to remove the remaining American forces that had been bolstering the government and military of Afghanistan against the predations of the Taliban, it signaled the end of this country's longest-running foreign war. Even for those of us who'd spent years arguing that ending that war was in the best interests of the United States, the chaotic and embarrassing withdrawal helmed by the White House was both a strategic and a humanitarian calamity.
But it was worse than that; Biden's botched Afghanistan withdrawal was also a threat to every American's domestic security. By short-circuiting the verification process and distributing blank, printable visas, the Biden State Department set the stage for the entry into the United States of at least 100,000 Afghan refugees, many of them unvetted.
More than 70,000 of these refugees—without identification, or with background checks that are either incomplete or impossible to verify with any certainty—transited through Qatar, the Islamist Gulf emirate and Taliban strategic outpost that had spent years maneuvering itself into a place of influence in Democratic administrations.
Indeed, when Qatar's emir, Sheikh Tamim bin Hamad al-Thani, visits the White House today, it will be all smiles.
Even as U.S. policymakers have long argued that "moderate" Islamism is the antidote to violent Islamism, Qatar's example serves as a rebuke. It hardly takes close examination to see that the Gulf emirate houses, sponsors and funds both violent and also so-called "moderate" Islamist groups and leaders, from the Taliban to Hamas to the Muslim Brotherhood and its long- and closely-affiliated Western pressure groups, such as the Council on American-Islamic Relations.
Is it reasonable to trust a nation that harbors Hamas leader Ismail Haniyeh and Muslim Brotherhood chief jurist Yusuf al-Qaradawi, when it comes to Islamist homeland security threats?
How many of these Afghan refugees were on no-fly lists or other terror watch lists? More worrying, what of the Islamists—the Taliban, ISIS, Jamaat al-Islamiyyah, al-Qaeda or others—that could count on a guaranteed safe haven in Qatar in order to then infiltrate the United States?
Neither the American people nor the vast and expensive bureaucracy that's charged with keeping us safe will ever know the answer, of course, until it's too late. If the Biden administration has a problem with it, it hasn't said so publicly.
Last November, Secretary of State Antony Blinken ratified in public what had been known to all observers of American moves in Middle East since the Obama administration a decade ago: Democrats have all but deputized the Qatari royal family as guardians of American strategic interests in the region, giving a cold shoulder to longtime allies in Abu Dhabi and Riyadh.
In Qatar's Shadow War: The Islamist Emirate and its Information Operations in the United States, I wrote about Qatar's long and cozy relationship with the Muslim Brotherhood and how the emirate's royal family has used its massive oil and natural gas wealth to promote Islamism worldwide—especially across America and Europe.
This is a bad bet for the American people and our strategic allies, but the deal has worked well for Democrats. Over the last decade especially, Qatar has made itself useful to Democratic Party power-brokers inside and outside the government in their war on former President Donald Trump, as well as indispensable to the permanent national security bureaucracy some call the "Deep State."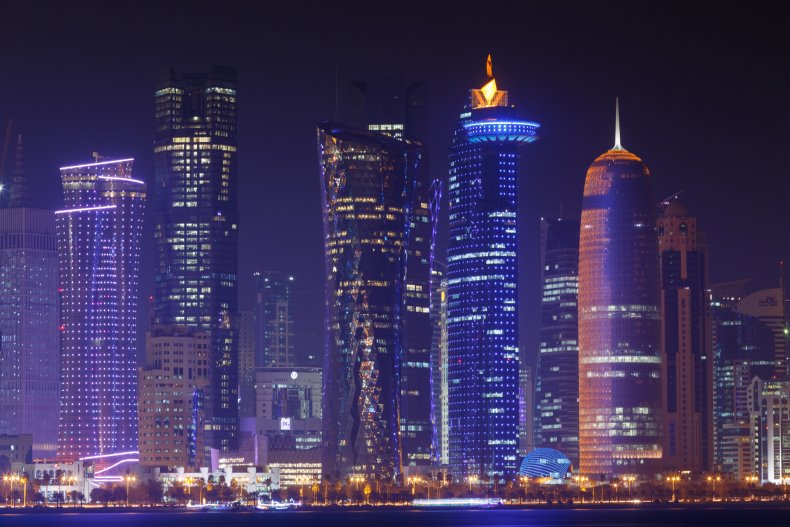 Even as it's gone relatively unnoticed in the press, Qatar has been the locus of anti-Trump fervor outside the United States. For four years, a seemingly unending stream of influencers, media personalities, think tankers and #Resist icons took all-expense-paid junkets to Doha. The Qatari capital welcomed many figures infamous for generating RussiaGate hysteria, such as Rick Wilson of The Lincoln Project, Rep. Eric Swalwell (D-CA) and many others.
The emirate has also made its influence felt in the U.S. through promotion of closely aligned media stars. TV host Mehdi Hasan, who rose to prominence with Qatari media mouthpiece Al Jazeera, has become a household name for viciously attacking conservatives in America, beginning with Trump himself.
On the policy front, nothing has been more important for Qatar than its efforts to undermine the Abraham Accords, the former president's successful plan to forge a peace based on common interests between Israel and its aligned Arab neighbors. The Biden administration, for its part, also wishes the historic peace initiative had never taken place; officials at both the White House and the State Department have refused to use the words "Abraham Accords" in any official document or press statement.
As the Saudis' and Emiratis' main Sunni regional rival, Qatar has continuously used its massive Al Jazeera megaphone to capsize the Accords, disseminating frequent spasms of antisemitism and anti-Americanism to its millions of viewers. Over the last several years, some members of Congress have been admirably trying to press Al Jazeera in the United States to register as the foreign media entity it clearly is. Al Jazeera has repeatedly refused to do so, snubbing the Justice Department's fearsome Foreign Agent Registration Act (FARA) Unit since 2018.
Even as the FARA Unit zealously prosecutes some cases, it is curious—and remarkably suspicious—that the DOJ doesn't seem very interested in enforcing legal compliance on Al Jazeera. Last week, however, corruption watchdog Empower Oversight submitted a Freedom of Information Act request, seeking documents and correspondence at the DOJ related to the network and their deliberations on the status of Al Jazeera as foreign agents. More transparency will assuredly reveal that the Deep State is too fond of Qatar to expose its primary instrument of information warfare in the United States, Al Jazeera.
In addition to the closeness between Doha and and the administrative state in Washington—which controls the mechanisms of foreign policy, no matter who's in office—Qatar's efforts on the Democrats' behalf have not been forgotten by Trump's successor in the White House.
As one of its first priorities last year, the Biden administration seems to have repaid its debt to Doha. Using environmental regulations, the White House reversed the Trump policy of promoting energy independence, especially when it comes to the export of liquified natural gas. While it disadvantages American companies, making natural gas more difficult—and less profitable—to produce is a boon to Qatar, the country with the largest natural gas reserves in the world.
Both al-Thani and Biden have every reason to be personally chummy during their first Oval Office meeting. That's not at all the case, however, when it comes to the best interests of the American people. The Democrats' relationship with Qatar should be a source of shame for its party leadership, as well as the allied media outlets and influencers that enable it.
David Reaboi, a fellow at the Claremont Institute, writes at Late Republic Nonsense. He lives in Miami Beach. He is on Twitter: @davereaboi.
The views expressed in this article are the writer's own.