'Don't Let Some Guy on Facebook Answer': WH Urges Consultations After Reaching 50% Vaccinations in Adults
As the U.S. reaches the milestone of fully vaccinating 50 percent of the population against COVID-19, the White House on Tuesday urged Americans who may still be on the fence about the jab to set up a consultation with a health care expert.
Andy Slavitt, the White House's senior adviser on COVID-19, urged skeptical Americans to "do yourself a favor" and talk to a doctor or pharmacist about any concerns they may have about the shot.
"Find whatever reason you want to get vaccinated. For those not sure yet, do your homework, talk to your doctor or your pharmacist. All concerns are reasonable, but do yourself a favor: Don't let some guy on Facebook answer your question when good answers are available," Slavitt said during a White House press briefing.
Slavitt's comments come as the country is expected to have more than 50 percent of all U.S. adults fully vaccinated on Tuesday. So far, at least 25 states have fully vaccinated at least half of their adult residents, according to data published Sunday by the Centers for Disease Control and Prevention (CDC).
"This is a major milestone in our country's vaccination efforts," Slavitt said, noting that only 1 percent of Americans were vaccinated when President Joe Biden first took office.
According to the CDC, more than 130.6 million Americans are fully vaccinated against COVID-19. In total, 61 percent of all U.S. adults have received at least one dose of a vaccine. For the population aged 12 and above, over 58 percent has received at least one shot, while 46.8 percent is fully vaccinated.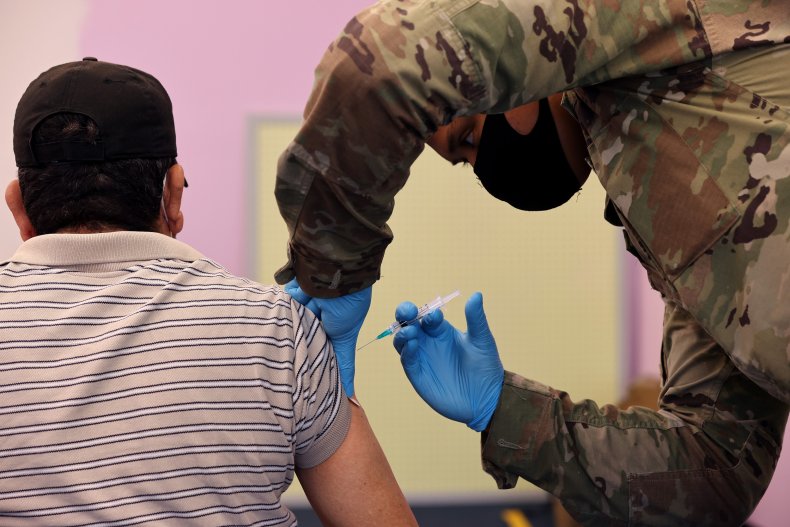 So far, the Pfizer-BioNtech vaccine is the only one authorized for younger teens, but Moderna said Tuesday morning that its vaccine is safe and appears to be over 90 percent effective in adolescents, USA Today reported. The company said it plans to submit its findings to the Food and Drug Administration in early June, along with a request for authorization to use the vaccine for those aged 12 to 17.
Earlier this month, Biden said his goal is to now have at least 70 percent of the population partially vaccinated by July 4.
The administration has been focused on increasing accessibility to vaccines, combating misinformation and ensuring that there will be enough supplies to inoculate every adult and child who wishes to receive the jab.
"We know that many adults had not been vaccinated because they have found it too confusing or too difficult or too inconvenient to get a shot," Biden said on May 4. "For those having trouble finding a location or making an appointment, we're going to make it easier than ever."
Last month, the Biden administration more than doubled its initial goal of 100 million COVID-19 vaccinations in his first 100 days in office, reaching the 200 million benchmark on April 21.
According to health care experts, at least 70 to 85 percent of the U.S. population will need to reach immunity through vaccination or infection in order to halt the spread of the virus.
To combat vaccine hesitancy, the Biden administration said earlier this month that more than $130 million will be allocated to improve vaccine education and information in underserved communities. Another $250 million will go to community-based organizations to mobilize outreach efforts.
"Now that we have the vaccine supply, our focus is on convincing even more Americans to show up and get the vaccine that is available to them," Biden said.
"It's my prayer that more and more people who get vaccinated are going to be listening to people who they love, and they're going to say, 'Why don't you just go ahead and do it?'" he added.
Newsweek contacted the White House for additional comment but did not hear back in time for publication.