Where to Watch Doris Day in 'Calamity Jane' in Honor of The Legendary Star
Legendary actor and singer Doris Day died on Monday at the age of 97, prompting overwhelming tributes to the Calamity Jane star.
A top star in the 1950s and 1960s, Day is regarded as one of the most popular screen actresses in history. One of her earliest and most famous parts was as the titular role of sharpshooter Calamity Jane, a film that was released in 1953.
The film, and Days presence in it, stood the test of time and over 70 years later, people expressed their love for Calamity Jane after news broke of the actor's death.
During the film, Day both acted and sang, giving fans a chance to highly regard the film and the soundtrack. Several people posted on Twitter that the movie and some of the songs were among their favorites and that they invoked fond childhood memories.
USA Today bestselling author Claire Allan said it was the most iconic film in her house and posted several photos of Day in a pink gown. The dress was one Allan dreamed of as a child and noted that it's possible she still does.
Actress Carley Stenson called Day "pure sunshine" and said she watched the movie with her grandma and grandpa. Stenson is currently playing the role of Fantine in Les Miserables at the West End Theater in London, credited Day with being one of her "first inspirations."
Designer Stella McCartney paid tribute to the actor with a photo on Twitter and called her a woman who inspired much of what McCartney did.
"Doris Day I love you, my Calamity Jane," McCartney wrote. "An iconic woman who I was hugely honoured to meet and share precious moments with."
While some people were resigned to listening to the soundtrack, other fans will surely be spending their after-work hours honoring the legend by watching Calamity Jane. Fortunately, it's available on several services.
Where to Watch Calamity Jane
When it comes to watching Calamity Jane, viewers have several choices they can make ranging in price.
Amazon Prime offered the movie to rent in SD for $2.99m as did YouTube. Google Play and iTunes also had the movie available for $2.99 to rent.
Several streaming services offered viewers the option to purchase the movie, including Xfinity for $9.99.
Calamity Jane was a musical western film set in Deadwood, South Dakota, that described Jane Canary, nicknamed Calamity Jane, initial love for Lieutenant Danny Gilmartin but ultimately Wild Bill Hickock. Through the film, Calamity Jane, who was as comfortable with a gun as any man in the film, traveled to Chicago to bring actress Adelaid Adams to Deadwood to perform, the catalyst to a series of events that have Calamity Jane getting in touch with her feminine side.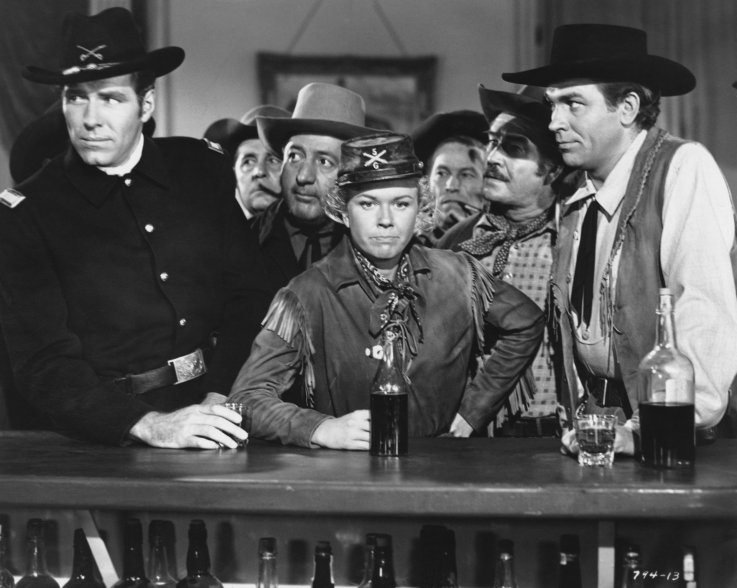 If you want to see more of her best work, check out Newsweek's guide on Doris Day's best films, songs and TV shows you can stream now.
Day was famous for quotes such as: "If I can do it, you can do it. Anybody can." You can read more of her quotes on Newsweek: Remembering Doris Day in Quotes: 'If I Can Do It, You Can Do It, Anybody Can'
Where to Watch Doris Day in 'Calamity Jane' in Honor of The Legendary Star | Culture