Doug Hill Tributes Pour in After TV Meteorologist Dies Aged 71
Tributes have been paid to Washington, D.C. meteorologist Doug Hill, following his death at the age of 71.
WJLA-TV, the channel from which Hill retired in 2017, announced on Tuesday that he had died on Monday, describing the TV personality as "the best of the best."
Hill, who spent 33 years as a meteorologist in the Washington area, died at his home in North Carolina surrounded by family, according to the ABC affiliate.
As the news circulated, friends and former colleagues shared tributes on Twitter.
A message posted on the 7News account read: "It is with a heavy heart that we announce the passing of our dear friend and colleague Doug Hill. He will be missed dearly by those who knew him and watched his forecasts for decades. Our deepest sympathies to his wife Mary Ann and their family."
7News Maryland bureau chief Brad Bell wrote: "He was a warm and caring man and exactly the same person in 'real life' you saw on TV all those years. I've missed him since he retired. This hurts."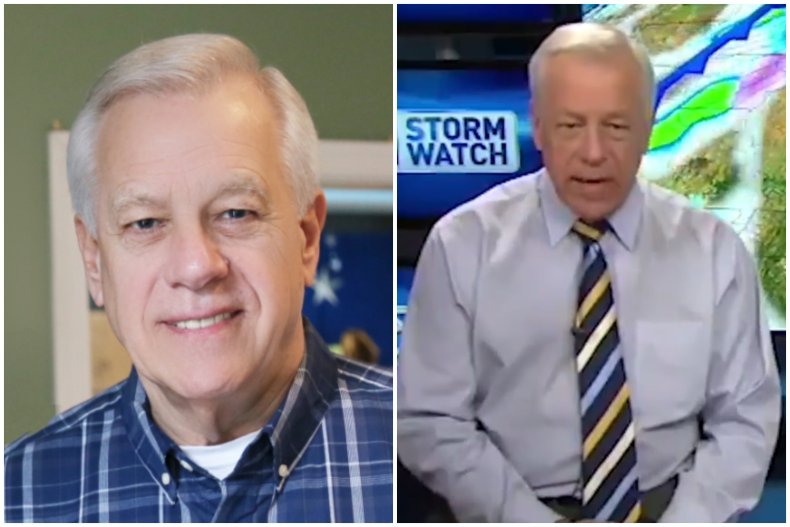 Alison Starling, a 7News anchor, tweeted: "I am in shock over the loss of this wonderful man. Doug Hill was so many things. He was a talented meteorologist, the best of the best. He was a kind, funny family man deeply rooted in his faith. It was an honor to work with him, and Doug, we miss you so much already."
Fellow 7News anchor Jonathan Elias posted: "He was such a giving and thoughtful friend. RIP Doug. If heaven needs a meteorologist then they just got the best one."
Tom Roussey, a 7 News reporter, recounted how he went from watching the meteorologist on TV to becoming his colleague and friend.
"I watched Doug on the news as a kid & as an adult had the honor of calling him a coworker," Roussey wrote. "He was as nice & genuine in person as on TV. He invited me once to hear him guest preach at Chesapeake Church, where he did an excellent job. We've lost a great man & a DC local news legend."
7News meteorologist Brian van de Graaff shared a picture of him and Hill watching a baseball game, adding the comment: "I am forever grateful for his guidance and friendship and thankful for all of those years that I got to work alongside him.
"There is not a greater compliment than when a person says I did or said something that reminded them of Doug."
7News anchor Michelle Marsh shared a video of Hill sitting beside her in the studio as he held a stuffed groundhog—and almost fell off his chair.
"This video is from 2017," she said. "Doug had a wild sense of humor. He was unpredictable and fun to work with… keeping us all on our toes.… like this moment!"
Reporters and meteorologists from other networks also paid tribute.
"So sad to hear of the loss of DMV legend, meteorologist Doug Hill," said Fox Sports host Lindsay Ann Czarniak. "Watching him growing up made me want to do tv because he made it feel like you were part of HIS family. Getting to meet him while interning and then working in DC was a gift. Sending prayers to his loved ones."
"I'm devastated to learn of the passing of my long-time friend Doug Hill," tweeted WTTG-TV meteorologist Sue Palka, who shared photos of herself with Hill. "Sending my deepest condolences to his family in North Carolina where he retired and to his many friends & colleagues here in DC."
WTOP investigative reporter Megan Cloherty wrote: "The outpouring of love for Doug Hill is well deserved. He passed yesterday in NC, where Steve Rudin says he was 'living his best life.' He was a wonderful guy & just did right by everyone."
Responding to Cloherty's tweet, WTOP news reporter Kate Ryan posted: "This is so true: Anyone who worked with Doug Hill will tell you how professional and gifted he was. But he was also fun to work with, and made everyone around him feel valued."
Hill, a Towson University graduate, started his career in the Air Force before becoming a patrol and public information officer in the Prince George's County Police Department.
He landed his first job as a weather presenter in Richmond, Virginia, before working in Detroit. Hill made his way to Washington in 1984, working with CBS affiliate WUSA for 16 years, before moving to WJLA-TV for the remainder of his TV career.
After retiring from his TV role, he started broadcasting on Christian radio station WGTS 91.9 FM, according to the Washington Post.
Hill is survived by his wife, Mary Ann, their sons Brian, Andrew, and Peter, and their daughter, Maggie.