Doug Hoffman and Other Vanity Candidates Could Undermine GOP Pickups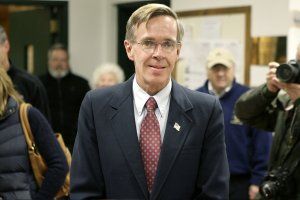 Remember Doug Hoffman? You might say he was the original Christine O'Donnell—and now he's back for a victory lap.
He's the very conservative candidate who cost Republicans New York's 23rd Congressional District in 2009, handing it to Democrat Bill Owens in a special election to replace John McHugh, a Republican who resigned to become secretary of the Army. In that race, he ran as a Conservative Party candidate facing moderate Republican Dede Scozzafava. It should have been easy for Republicans to hold, given that McHugh was a Republican and the district has historicall voted for Republicans for president, including in 2000 and 2004 (CORRECTION: This post originally stated that the 23rd district voted for McCain). But even after Scozzafava bowed to intense pressure and left the race, she drew 6 percent of the vote, enough to split conservatives and hand the election to Owens. (Hoffman had a hard time letting go, trying to "un-concede," then asserting that ACORN had stolen the election from him, despite having no evidence.)
At the time, he promised to run again the following year—since it was a special election, a regular race had to be held to fill the seat on a regular basis in November 2010. And Hoffman's a man of his word: he did run for the Republican nomination, and he didn't get it, losing a primary to Republican Matt Doheny. It took Hoffman 10 days, but he's now conceded—and promised to stay in the race as a Conservative Party candidate. That should set him up well to potentially sabotage Doheny's chance to reclaim the seat.
It's hard to tell how the race will go. An Owens-Doheny poll nearly two months ago showed Owens up by 2 points, but Hoffman wasn't mentioned. If the race remains that close, Hoffman could presumably pull enough of the right-wing vote to push Owens out to a lead and victory. Suffice it to say that he's not likely to steal any Democratic voters.
This sort of thing has to be maddening for Republicans. It follows on Alaska Sen. Lisa Murkowski's announcement of a write-in bid following her upset defeat in her primary and Rep. Mike Castle's testing of the waters for his own write-in bid for Delaware's Senate seat, following his own surprise loss to O'Donnell in the primary. Democratic National Committee chair Tim Kaine gleefully boasted about Republican cannibalism, recently likening the relationship between the Tea Party and the GOP to the Donner party (in fairness, the guy doesn't have a whole lot to brag about these days).
But while Murkowski's bid is unlikely to hand Democrats the Alaska Senate seat, and even a Castle bid might not forestall the now expected Democratic victory in Delaware, Hoffman's bid really is a threat. At a time when the electorate is clearly in the mood to vote for someone other than the Democratic Party, these third-wheel candidates are making it tough for conservatives to capitalize to the extent they might otherwise.