Doug Jensen, Seen At Capitol Riot in QAnon Top And Chasing Officer, Arrested in Iowa
A man captured on camera chasing a police officer inside the U.S. Capitol after a mob of President Donald Trump's supporters stormed the building this week, has been charged.
Doug Jensen, 41, was arrested at his home on the south side of Des Moines on Friday, The Associated Press reported.
Des Moines Police Sgt. Paul Parizek said the department's officers assisted the FBI in taking Jensen into custody. He was booked into the Polk County Jail on five federal charges, including trespassing and disorderly conduct.
A man wearing a QAnon conspiracy theory shirt, identified by KCCI-TV as Jensen, was seen at the forefront of a crowd trying to breach the building in a clip posted by reporter Igor Bobic.
"Here's the scary moment when protesters initially got into the building from the first floor and made their way outside Senate chamber," Bobic tweeted alongside the clip, which has been viewed nine million times.
The officer is seen trying to prevent the crowd from coming inside before turning around, picking up a baton and running up a flight of stairs, chased by Jensen and a mob several steps behind them.
"Back up," the officer is heard saying several times during the encounter.
In a TikTok video posted on Thursday by an account with the username @dougjensen, a man who appeared to be Jensen indicated that he was being made a "poster boy" for the riot, according to the AP.
"Don't believe the news," he said at the end of the clip, which has since been removed.
Jensen's employer, Forrest & Associate Masonry in Des Moines, announced on Friday that he had been fired.
The company's president & CEO, Richard Felice, told KCCI-TV that the company doesn't agree with his actions. Jensen was a laborer at the company and had worked there for several years, Felice said.
Dozens of people have been arrested after Wednesday's riot that left five people dead, including a Capitol police officer.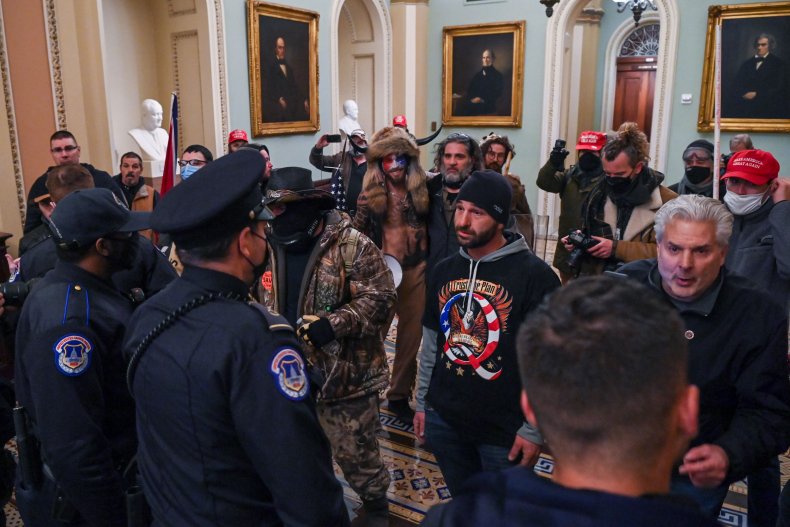 Investigators are combing through photos, video footage and tips to track down those who took part.
Michael Sherwin, the U.S. attorney in Washington, vowed Friday that "all options were on the table" for charges, including possibly sedition.
Those arrested so far include Richard Barnett, the man who was photographed sitting on House Speaker Nancy Pelosi's desk during the riot, and Jake Angeli, the rioter seen wearing an outfit featuring horns and fur.
Barnett, 60, faces charges of entering and remaining on restricted grounds, violent entry and theft of public property
Meanwhile, 32-year-old Angeli, whose real name is Jacob Anthony Chansley, was arrested on Saturday and charged with knowingly entering or remaining in any restricted building or grounds without lawful authority, and with violent entry and disorderly conduct on Capitol grounds.
Derrick Evans, a recently elected member of the West Virginia House of Delegates, was also among those taken into custody on Friday and charged. He resigned this weekend.