Dozens Possibly Killed as Kharkiv, Ukraine, Hit By Russian Artillery Fire
Ukrainian authorities believe dozens were killed in Kharkiv, the country's second-largest city, after Russian forces attacked on Monday.
The attack comes five days after the invasion of Ukraine began. Russian troops targeted their artillery fire at residential districts, Reuters reported, escalating violence in the region as Ukrainian and Russian officials began their first round of peace talks.
Video taken in Kharkiv circulating on social media shows Grad missiles raining down on the city. Another video shows the missiles mostly falling on apartment buildings.
The Grad—the Russian word for "hail"—can fire 40 122mm rockets over a large area in just 20 seconds, according to the Action on Armed Violence. Injuries caused by these types of missiles are often lethal, usually affecting people's ears, lungs or gastrointestinal tract.
In a Facebook post, Anton Gerashchenko, an adviser to Ukraine's interior minister, said that in addition to the likely dozens killed, hundreds were wounded.
"It's a war, a real war," Kharkiv Mayor Ihor Terekhov told a Ukrainian news outlet.
An unnamed U.S. defense official said that it appears Russia's strategy is to take the city by encircling it, adding that officials at the Pentagon are "starting to see the same sort of approach being applied to Kyiv," Ukraine's capital.
Ukrainian officials said its forces have been largely successful in holding back the Russians. Video from CBS News shows Ukrainian soldiers fighting Russians in street battles and civilians blocking tanks, telling Russian soldiers to go home.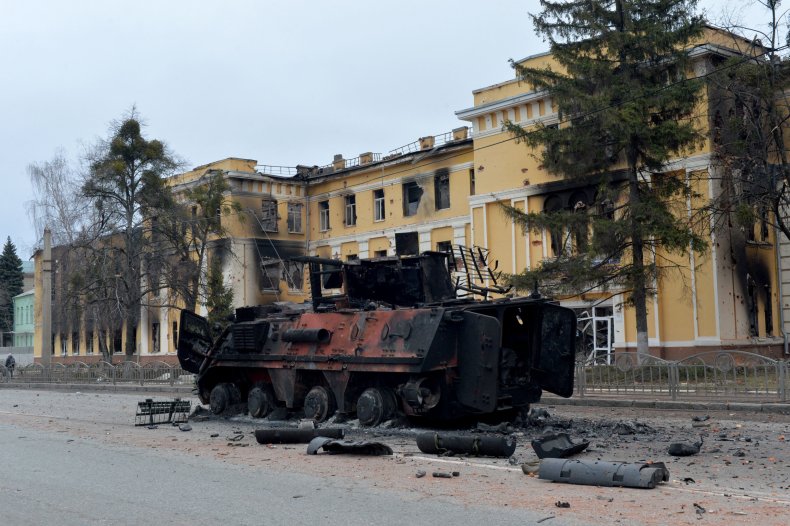 Ukrainian Interior Minister Denys Monastyrsky told the BBC that the situation is "serious, but stable."
"Every day the enemy sends more and more forces. But our glorious armed forces are basically destroying everything that arrives to Kyiv," he said. "Kyiv remains the place of the main strike."
Representatives from Ukraine and Russia met at the Belarus-Ukraine border Monday for the first round of peace talks. While officials said the key issue they would discuss is "immediate ceasefire and withdrawal of troops from Ukraine," the attacks continued.
On Twitter, Mykhailo Podolyak, an adviser for Ukrainian President Volodymyr Zelensky, said the negotiations are proving to be "difficult."
"Unfortunately, the Russian side is still extremely biased regarding the destructive processes it launched," he wrote.
Update 2/28/22, 3:39 p.m. ET: This story was updated with additional information.