Dr. Anthony Fauci Book Scrubbed From Amazon After Email Dump
Dr. Anthony Fauci's upcoming book about his "life philosophy" has been removed from the Amazon and Barnes & Noble websites after thousands of his emails from the early days of the COVID pandemic were released on Tuesday.
The book, Expect the Unexpected: Ten Lessons on Truth, Service, and the Way Forward, was set for publication on November 2 and was open for pre-orders earlier this week.
Now the 80-page book, announced on May 17, has disappeared from the websites of major booksellers amid criticism of some of the emails Fauci wrote in the first half of 2020. National Geographic was listed as the publisher of the book.
Since the publication of this article, a National Geographic spokesperson has told Newsweek the book was removed from the websites because it went on pre-sale prematurely.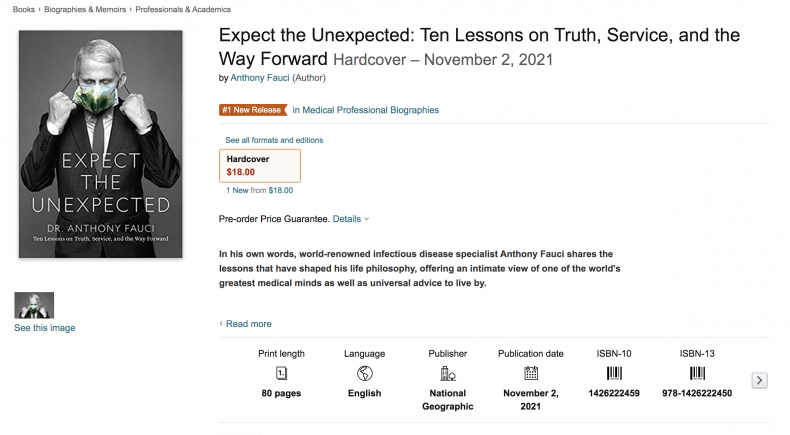 The original Amazon listing for Expect the Unexpected said it would offer "an intimate view of one of the world's greatest medical minds" and "universal advice to live by." The book also promised to offer a "unique perspective" on leadership and difficult times.
The links for Expect the Unexpected on Amazon.com and Barnes & Noble now lead to error pages. But there are still Google web cache versions of the listings and the book has not yet been removed from Amazon.co.uk.
Dr. Fauci faced a backlash on Tuesday over his plans to publish the book as some conservatives accused him of trying to profit from the pandemic before it had come to an end.
"Profiting from the pandemic with a book deal is truly a new low," Rep. Andy Biggs tweeted on Tuesday. The Daily Caller's Greg Price said the director of the National Institute of Allergy and Infectious Diseases was about to make money from a book "while you lost your business and had your kids out of school for a year."
The National Geographic spokesperson also told Newsweek that Fauci drew on speeches and interviews to produce the book, which will be released in connection with an upcoming documentary. The publisher said he was not paid for the book or documentary, and would not receive any royalties.
BuzzFeed News published thousands of pages of emails sent to and from Dr. Fauci in the first few months of the COVID pandemic, including one in which he wrote that store-bought masks were "not really effective."
In an email on February 5, 2020, he said: "Masks are really for infected people to prevent them from spreading infection to people who are not infected rather than protecting uninfected people from acquiring infection.
"The typical mask you buy in the drug store is not really effective in keeping out virus, which is small enough to pass through material," he added. "It might, however, provide some slight benefit in keep out gross droplets if someone coughs or sneezes on you."
The Centers for Disease Control and Prevention updated its guidance in April 2020, recommending the use of masks to stop the spread of COVID. The CDC now says people should wear masks in public spaces unless they have been fully vaccinated.
Update 06/03/21 09:58 am ET: This article was updated with further details from a National Geographic spokesperson.