Dr. Fauci Says Coronavirus Vaccine Doses Will Be Manufactured 'Before We Even Know That the Vaccine Works'
With novel coronavirus cases surpassing 6.5 million across the globe, doses of a vaccine would be manufactured before its efficacy has been confirmed in a bid to save time given the urgency of the ongoing pandemic, said Dr. Anthony Fauci, the director of the National Institute of Allergy and Infectious Diseases (NIAID).
Speaking to Newsweek, Fauci, who is also member of the White House COVID-19 task force, said last week: "We would start manufacturing vaccines before we know that it even works or not, which means that you've picked up several months, instead of waiting to see if the vaccine works."
In an coronavirus Q&A broadcast Tuesday on the Journal of the American Medical Association (JAMA) YouTube channel,Fauci said: "By the beginning of 2021, we hope to have a couple hundred million doses [of the vaccine]," adding that hopefully there will be nearly 100 million doses available by November or December.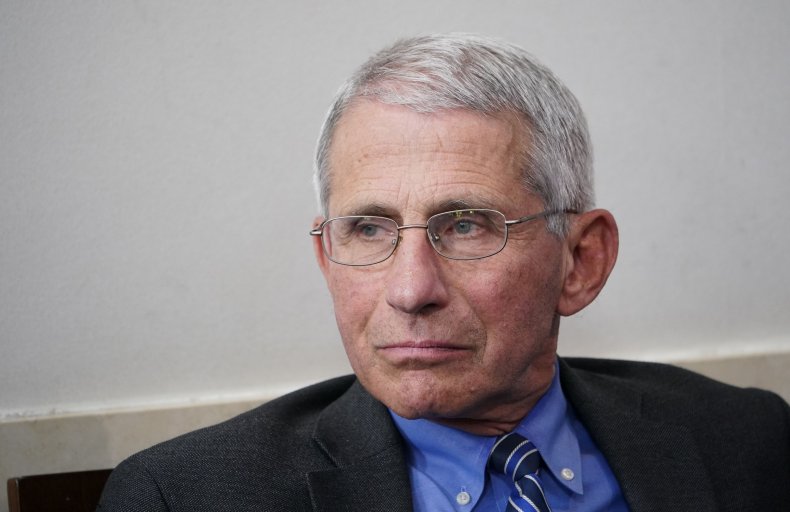 Fauci previously told Newsweek: "Something that people need to understand is that we proceed at risk [with manufacturing the vaccine]. And at risk, doesn't mean at risk for the patient regarding safety and integrity of the science. The risk is to the financial investment.
"If it [the vaccine] doesn't work, then you've [companies] made a major financial investment you likely will lose. So that's what we mean when we say we're proceeding at risk. It saves time and cuts several months of the process. It's very risky from a financial standpoint, but we feel given the urgency of the situation, it's worth taking that financial risk.
"If things work out, we hope to get an efficacy signal [for a vaccine] by late fall or early winter. If that is true—and there's always a big if because it's entirely conceivable that the vaccine will not work—assuming that we have a safe and effective vaccine, we think a timetable that we would have enough doses by December I think would be not an unreasonable assumption," said Fauci.
The U.S. began the first human trial for a potential COVID-19 vaccine, developed by the biotechnology firm Moderna, back in March. The first phase of the trial for the mRNA-1273 vaccine is being conducted at Seattle-based Kaiser Permanente Washington Health Research Institute. Emory University's Vaccine and Treatment Evaluation Unit in Atlanta, Georgia was added by NIAID, which is funding the trial, as a second test site for the first phase of the study.
The data gathered from the first phase of the trial has been "quite encouraging," Fauci said, noting "that even the intermediate doses, so not even the higher doses, induced antibodies...the levels were as good or better than we expected."
The second phase of the trial is expected to be "happening very soon," while the start of phase three is being targeted for "hopefully the first week in July...that's our aspirational goal," Fauci said.
"The Moderna trial is one trial but hopefully by late summer, early fall, there will be more than one trial at play."
The third phase of the trial will be conducted among 30,000 people and include a range of participants, including those with underlying conditions and the elderly, Fauci told JAMA.
Could the outbreak last into next year? "Oh sure," Fauci told Newsweek.
"I would not be surprised if we have more than one season of it [COVID-19], with the likelihood that the second season will be much milder than the first, particularly if we have a vaccine.
"If we have a vaccine by next winter, that would be a game changer but there's no guarantee we'll have it. But if we don't have a vaccine, we'll have another season of it and hopefully by the following season, we will have a vaccine and we'll be in good shape," he added.
While it is "highly unlikely that we will eradicate COVID-19," Fauci said, "it is conceivable that we will be able to eliminate it in the sense of getting enough herd immunity together with the vaccine that we have very few cases. And certainly we can control it [the virus], and we have been getting it under some control in some areas."
Around 133 potential novel coronavirus vaccines are reported to be under evaluation, according to Tuesday report from the World Health Organization.
Last month, Fauci co-authored a paper published in the Science journal which noted that more than one vaccine may be required to effectively combat the COVID-19 pandemic.
"There is an unprecedented need to manufacture and distribute enough safe and effective vaccine to immunize an extraordinarily large number of individuals," the paper stated.
"No single vaccine or vaccine platform alone is likely to meet the global need, and so a strategic approach to the multi-pronged endeavor is absolutely critical."
The novel coronavirus, which was first reported in Wuhan, China, has killed over 386,900 globally, while more than 2.8 million have reportedly recovered from infection, according to the latest figures from Johns Hopkins University.
The graphics below, provided by Statista, illustrate the spread of COVID-19 in the U.S. and the worst-affected countries.