Dr. Fauci Criticizes China's Early Handling of the Coronavirus Outbreak
Dr. Anthony Fauci, a key member of the White House coronavirus task force, criticized China's early response to the novel coronavirus pandemic, pointing to a "lack of transparency."
"I think the Chinese authorities that did not allow the scientists to speak out as openly and transparently as they could really did a disservice," Fauci, director of the National Institute of Allergy and Infectious Diseases, said during an interview with radio host John Catsimatidis on Sunday.
China has faced significant criticism for its handling of the coronavirus outbreak, particularly in the early days of the outbreak as it began to spread rapidly in the city of Wuhan. Chinese authorities in the city initially attempted to silence doctors and scientists speaking out about the virus.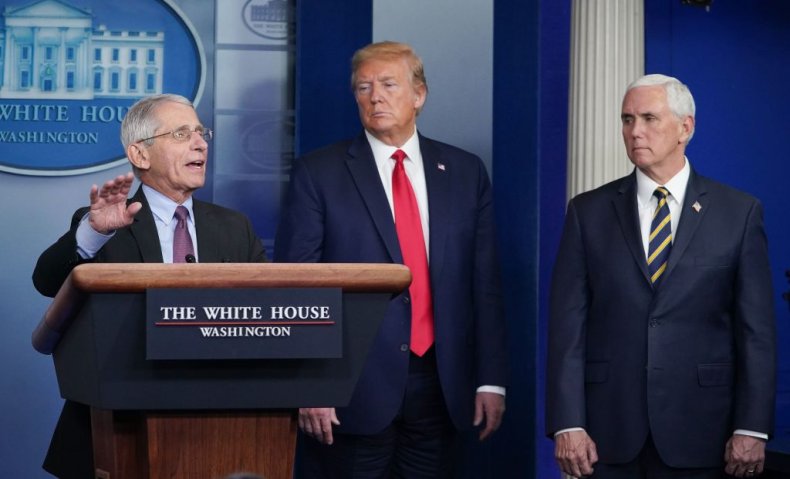 One of those Chinese doctors raising early alarm was Dr. Li Wenliang, who was threatened with arrest but later died from COVID-19, the disease caused by the novel virus. In March, China issued a formal apology to Li's family for how he had been treated. Public health experts have said that the early efforts to suppress information about the virus allowed new infections to spread rapidly without mitigation.
"Because at the beginning of the outbreak, they were claiming that this was just animal-to-human transmission," Fauci told Catsimatidis.
"And there really wasn't a human-to-human transmission at all. And they held that line for a few weeks. And then it became very clear when the scientists were able to talk about it, that, in fact, there was human-to-human transmission," he said.
"Yes, it's another example of the unfortunate situation of lack of transparency early on."
Newsweek reached out to the Chinese embassy in Washington, D.C. for comment, but had not received a response by the time of publication.
Chinese officials have consistently dismissed criticism raised by U.S. officials. They've often deflected to criticize President Donald Trump's own response to the pandemic, as have many within the U.S. While Trump curbed travel from China at the end of January, his administration was slow to roll out testing and contact tracing, which allowed the virus to spread throughout the country relatively undetected for several weeks.
While China was able to curb the virus' spread through stringent lockdown measures, the U.S. has become the global epicenter for new infections and deaths. As of Sunday morning, the U.S. has confirmed more than 1.9 million infections and nearly 110,000 deaths due to the novel virus, according to a tracker updated by Johns Hopkins University. Comparatively, China has confirmed 84,186 infections and just 4,638 deaths. However, scientists have said that both the U.S. and China are likely undercounting the total number of deaths and cases of the novel virus.
In a separate interview on Friday, Fauci also raised concerns that the ongoing nationwide protests over the death of George Floyd could cause the novel virus to once again spread rapidly after months of lockdown measures. Floyd, a black man, died in Minneapolis on May 25 after he was detained by police.
"It is the perfect set-up for the spread of the virus in the sense of creating some blips, which might turn into some surges," Fauci said during a radio interview with WTOP-FM in Washington, D.C.