A majority of Americans disapprove of Donald Trump's response to the nationwide protests over the death of George Floyd, while just one-third approve of the president's handling of the demonstrations, new polling has shown.
The Reuters/Ipsos poll, which was published on Tuesday, showed that 55 percent of Americans said they disapproved of Trump's response to the demonstration. Meanwhile, just one-third said they approved of his response, while 40 percent said they "strongly" disapproved.
Furthermore, the polling showed that a significant majority of respondents (64 percent) said that they were sympathetic to the protesters, while just 27 percent said they were not supportive. An additional 9 percent of respondents said they were not sure whether they supported or disapproved of the demonstrations.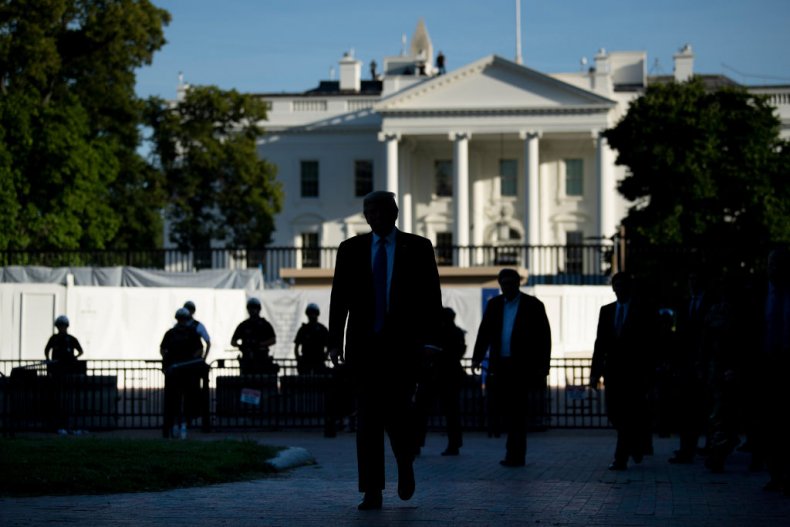 Newsweek has reached out to the White House for comment, but it had not responded by the time of publication.
Trump drew significant criticism from Democratic lawmakers, activists and some Republicans after federal police were ordered to clear out peaceful demonstrators in front of the White House on Monday evening. The move came just ahead of a speech by the president in front of the White House, which was followed by him walking to the nearby historic St. John's Church for a photo-op holding a Bible.
"There is a fundamental—a Constitutional—right to protest, and I'm against clearing out a peaceful protest for a photo op that treats the Word of God as a political prop," Republican Senator Ben Sasse of Nebraska said in a Tuesday statement, criticizing the president's actions.
The president has also repeatedly threatened violence against those who have turned to vandalism and looting. In a highly controversial Twitter post last week, Trump tweeted: "When the looting starts, the shooting starts." A few days later, he threatened that protesters outside the White House would face "vicious dogs" and "ominous weapons" if they breached the fence.
"This president has failed in really understanding the kind of pain and anguish many of his citizens are feeling," Representative Ilhan Omar, a Democrat from Minnesota, said during a Sunday interview with ABC News' This Week.
"When you have a president who is really glorifying violence, who's talking about the kind of vicious dogs and weapons that could be unleashed on citizens, it is quite appalling and disturbing. We condemn other nations when their presidents make those kind of statements when there is unrest in their countries," Omar noted.
Other recent polls show a smaller percentage of Americans disapproving of Trump's response to the George Floyd demonstrations. Survey results released by CBS News on Tuesday showed that 49 percent of respondents disapproved of the president's handling of the situation, while just 32 percent approved.
That survey was more in line with the results of a Morning Consult poll released on Monday evening, which showed 45 percent of respondents believed Trump was doing a poor job and 32 percent believed he was doing an excellent, very good or good job.