Trump Adviser Says He Doesn't Think There's 'Systemic Racism' in Law Enforcement, Calls George Floyd Death an Outrage
Robert O'Brien, a national security adviser to President Donald Trump, said on Sunday that he does not believe there is a problem with "systemic racism" in U.S. policing, and also described the death of George Floyd as an "absolute outrage."
"No, I don't think there's systemic racism," O'Brien said during an interview with CNN's State of the Union on Sunday. "I think 99.9 percent of our law enforcement officers are great Americans and many of them are African American, Hispanic, Asian. They're working the toughest neighborhoods, they've got the hardest jobs to do in this country. I think they're amazing, great Americans, and they're my heroes. But you know what, there are some bad apples in there."
Speaking to ABC News' This Week about Floyd's death, O'Brien strongly criticized the police officers involved with the incident and suggested they all should be charged.
"It's an absolute outrage ... I can't imagine that they won't be charged," he said.
"To have stood by and allowed that to happen ... it shows a lack of humanity," the Trump adviser added.
Newsweek has reached out to the White House for comment on O'Brien's remarks.
Floyd, a black man, died last Monday after he was detained by Minneapolis police for allegedly attempting to use a counterfeit bill. A video of the incident quickly went viral online showing white officer Derek Chauvin pinning his knee on Floyd's neck, while Floyd yells "I can not breathe" repeatedly. Despite Floyd's pleas and concern expressed by bystanders, Chauvin keeps Floyd in that position for nearly nine minutes, even after the latter stops breathing.
Chauvin and three other officers involved in the incident were fired by the Minneapolis police department, and Chauvin was charged with third-degree murder.
Speaking to This Week ahead of O'Brien, Representative Ilhan Omar, a Democrat from Minnesota, argued that the other three officers should be arrested and charged as well. Omar also criticized Trump for failing to understand the sentiments of protesters in the wake of Floyd's death.
"This president has failed in really understanding the kind of pain and anguish many of his citizens are feeling," the congresswoman said. "When you have a president who is really glorifying violence, who's talking about the kind of vicious dogs and weapons that could be unleashed on citizens, it is quite appalling and disturbing. We condemn other nations when their presidents make those kind of statements when there is unrest in their countries," she noted.
Trump has issued several controversial tweets in recent days, drawing widespread criticism.
On Friday, he criticized demonstrations that had been accompanied by vandalism and destruction of property, tweeting: "when the looting starts, the shooting starts." Many were quick to note that his phrase came from the Civil Rights era, and had been used by a white police chief to call for violence against black American demonstrators.
Trump later tried to walk back the statement, saying that he was not aware of the racist history. The president also said that he was attempting to warn demonstrators that they could be shot if they looted.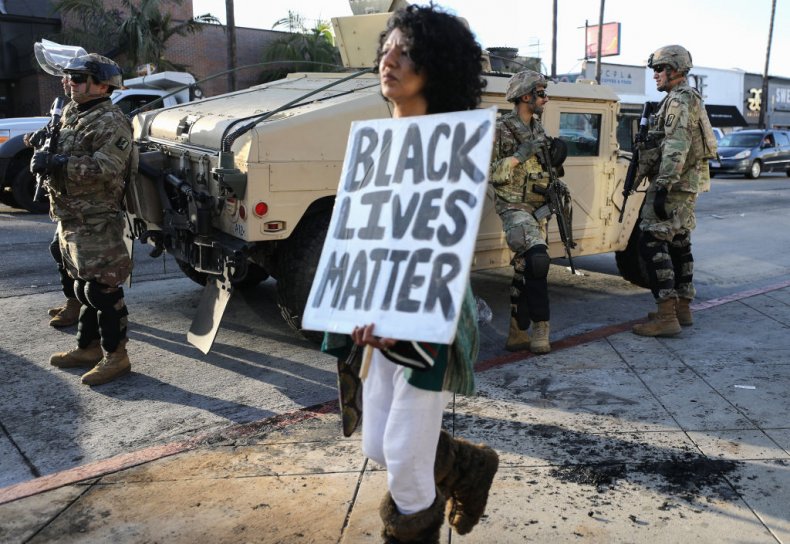 Then Trump tweeted a warning message to demonstrators outside the White House on Saturday morning. He praised the Secret Service for keeping him and the government building safe, tweeting that anyone breaching the fence would "have been greeted with the most vicious dogs, and most ominous weapons, I have ever seen."
But Trump has also voiced his condolences over Floyd's death, while urging swift justice be carried out.
"I want to express our nation's deepest condolences and most heartfelt sympathies to the family of George Floyd," the president said Friday.
"We're determined that justice be served," he added. "I understand the hurt. I understand the pain."