Dr. Fauci Says Easing Lockdown Measures Too Soon Will Lead to 'Big Spike' in Coronavirus Cases: 'It's Gonna Backfire'
Dr. Anthony Fauci, a key member of the White House Coronavirus Task Force, has warned that reopening the economy too quickly by easing lockdown restrictions could lead to a "big spike" in new coronavirus cases.
Fauci, who serves as the director of the National Institute of Allergy and Infectious Diseases, has faced criticism from protesters urging state governments to end stay-at-home orders put in place to curb the spread of the coronavirus. The public health expert was asked about these protesters and their criticism during a Monday interview with ABC's Good Morning America.
"Clearly this is something that is hurting from the standpoint of economics and the standpoint of things that have nothing to do with the virus. But unless we get the virus under control, the real recovery economically is not gonna happen," Fauci explained.
"So what you do if you jump the gun, and go into a situation where you have a big spike, you're going to set yourself back," the doctor said. "So as painful as it is to go by the careful guidelines of gradually phasing into a reopening, it's gonna backfire [if you don't]. That's the problem," he warned.
Over the past few days, large demonstrations against stay-at-home orders have been held in state capitals across the country. Protesters have argued that the economic damage from shutting down large parts of the economy is more harmful than the illness and death caused by the coronavirus. President Donald Trump has repeatedly voiced support for the demonstrators, despite them protesting against the federal guidelines put forward by the White House Coronavirus Task Force.
"I don't think it's helpful to encourage demonstrations and encourage people to go against the president's own policy," Maryland's Governor Larry Hogan, a Republican, said during an interview with CNN's State of the Union on Sunday, criticizing the president's support for the protests. Demonstrators held a protest in Maryland's state capital Annapolis on Saturday.
"The president's policy says you can't start to reopen under his plan until you have declining numbers for 14 days, which those [other] states [with protests] and my state do not have," Hogan explained.
"So then to encourage people to go protest, the plan that you just made recommendations on on Thursday, it just doesn't make any sense," he pointed out. "We're sending completely conflicting messages out to the governors and to the people, as if we should ignore federal policy and federal recommendations."
Regardless of the large demonstrations, most Americans are actually more concerned that the government will end lockdown restrictions too soon. A national survey published by NBC News and The Wall Street Journal on Sunday showed that 58 percent of respondents were concerned that the U.S. would ease stay-at-home and shelter-in-place orders too quickly. Only about a third, 32 percent, were concerned such measures would be eased too slowly.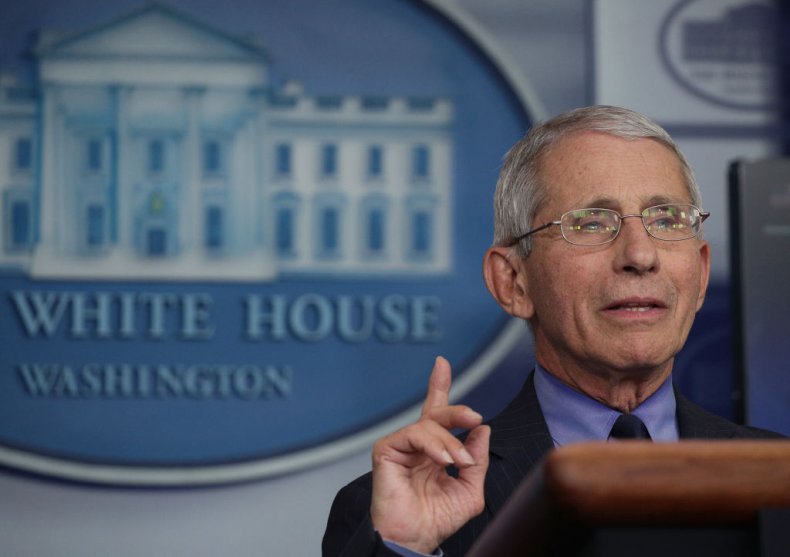 Guidelines put forward by the White House Coronavirus Task Force outline criteria for states to follow as they look toward easing restrictions. In order to begin reopening, states must first see a downward trajectory of symptoms of the coronavirus and new confirmed cases of COVID-19 for two weeks. Local governments must also have a "robust testing program in place for at-risk health care workers, including emerging antibody testing," according to the document published by the White House.
After states meet these essential criteria, they can start relaxing social distancing restrictions while maintaining many precautions. For instance, the guidelines advise against allowing any public gatherings of more than 10 people during the first phase of re-opening. Furthermore, non-essential travel should still be kept to a minimum while vulnerable individuals—including the elderly and those with pre-existing health conditions—should continue to isolate themselves.
As of Monday morning, there were nearly 762,000 confirmed cases of the coronavirus throughout the U.S., according to a tracker updated by Johns Hopkins University. Of those, more than 35,000 people have died while just over 70,000 have already recovered.