Dr. Fauci Says He and His Family Have Received Serious Threats: 'Is This the United States of America?'
Dr. Anthony Fauci said that he has received hate mail and death threats from U.S. residents who disagree with his health recommendations to curb transmission of the novel coronavirus. Some individuals, conceivably frustrated over the infectious disease expert's ongoing push for virus mitigation—like widespread use of face masks, social distancing and adjusted reopening strategies—are harassing members of his family as well, he said last week.
"There are people who get really angry at thinking that I'm interfering with their life because I'm pushing a public health agenda," Fauci, the director of the National Institute of Allergy and Infectious Diseases (NIAID), told CNN commentator David Axelrod during Thursday's episode of The Axe Files podcast.
"I mean, the kind of...not only hate mail, but actual serious threats against me are not, are not good. I don't really see how society does that," he continued, explaining that his wife and daughters have also received serious threats.
The health official acquired a security team in response.
"I mean, really, is this the United States of America?" Fauci went on. "But it's real. It's really real."
Fauci shared more about the backlash against him and his family during a 1010 WINS' interview on Friday.
"It's death threats to me, and inappropriate harassing of my wife and my children," he said. "It's very unsettling." Regarding motive, Fauci addressed the politicization of virus mitigation measures.
"There is a big divisiveness in the country about politicizing this response to the COVID outbreak, where people feel that some of the public health measures that I've been advocating, which are purely for the purpose of preserving the health and safety of the American people, are interfering with their lives," the NIAID director added.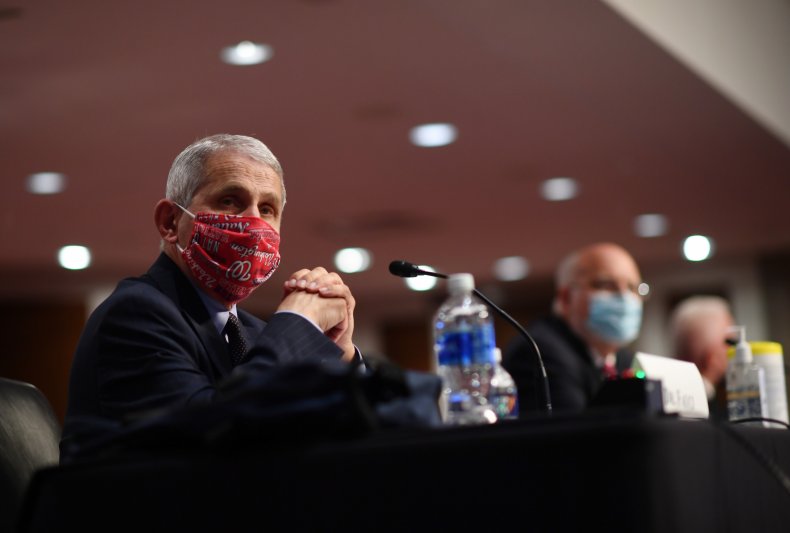 Fauci has emphasized that spiking diagnosis numbers across the nation remain part of the U.S. virus outbreak's first wave. To flatten the curve, he routinely urges those who are not already wearing face masks in public settings and maintaining six feet of distance from others to do so. Drawing a connection between early reopening procedures and severe outbreak resurgences seen in several states since May, Fauci has also suggested slowing down or scaling back those developments to manage further spread of COVID-19.
Although Fauci is a leading member of the White House Coronavirus Task Force, he and Trump administration officials often hold disparate opinions about virus mitigation policies, with the president generally favoring policies that prioritize economic recovery despite rising COVID-19 cases.
Speaking to Barstool Sports president David Portnoy in an interview shared to social media on Friday, Trump said Fauci would prefer to see the country "closed up for a couple of years."
"But that's okay, because I'm the president," he continued. "So I say, 'Well, I appreciate the opinion. Now, give me another opinion.'"
Newsweek reached out to NIAID and the White House for additional comments, but did not receive replies in time for publication.