Dr. Anthony Fauci, the nation's top infectious disease expert, told a Melbourne, Australia audience on Wednesday that it could be years before Americans are able to resume their lives normally amid the novel coronavirus pandemic.
"I think it will be easily by the end of 2021 and perhaps into the next year before we start having some semblance of normality," Fauci said during the University of Melbourne webinar.
"If normal means you can get people in a theatre without worrying about what we call congregate-setting super infections, if we can get restaurants to open almost at full capacity," he added.
Fauci went on to explain that opening up the economy and maintaining public health safety is a "fine line" to walk.
"I firmly believe that you can continue to open to business [and] open up the country from an economic standpoint. But if you do that prudently with public health measures, that prevents surges of infection. We've seen it done before in countries and in sections of our own country," he said.
Fauci said that he believes a worldwide vaccine will be available within the next few months. However, a complicated mix of anti-vaccination beliefs and strong political divide could continue to make it difficult to contain the virus.
"Right now, there is a reluctance to take vaccines," he said, adding that it was partly fueled by "mixed signals that are coming out from the government, that is not being very helpful."
In a study conducted by CNBC/Change Research last month, only 42 percent of likely voters said they would probably or definitely get the vaccine when it is made available – a number that dropped 16 percentage points from July.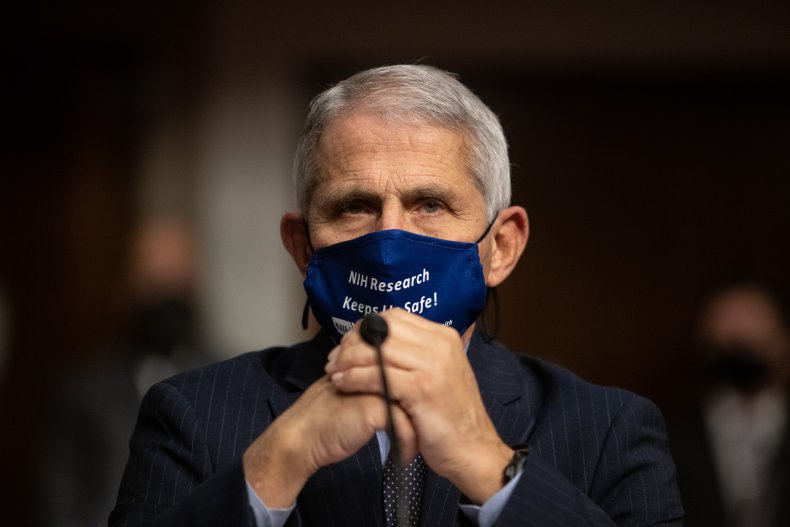 In addition to a vaccine, Fauci told the webinar that the development of antiviral drugs— which are being tested and studied in labs worldwide—could drastically shift the course of the pandemic by allowing patients to receive treatments as soon as they fall ill.
The infectious disease expert, who has been ridiculed by President Donald Trump over matters related to COVID-19, told the audience that experts should always be guided by science, and to not be afraid to stand up to politicians.
"You should always remember that in order to maintain your credibility, you should speak consistently based on the science. The science guides what we're going to do and what we are doing," he said.
Meanwhile, Fauci applauded Australia and New Zealand's efforts to contain the virus, and said he wished the U.S. was on that same level.
"Australia is one of the countries that has done quite well. New Zealand has done well. I would like to say the same for the U.S., but the numbers speak for themselves. We've had 8.7 million infections, 225,000 deaths, and we are getting worse and worse," he said.
The U.S. is currently seeing a surge in new virus cases throughout the country, with 42 states reporting an increase in average daily cases, according to data from Johns Hopkins University.
On Monday, Fauci said the first wave of the coronavirus never fully ended, calling the current upticks "an elongated and an exacerbation of the original first wave."