Number of Americans Willing to Get COVID Vaccine When Released Drops by Double Digits Since Summer: Poll
Americans appear to be increasingly unwilling to get a coronavirus vaccine when it's released, with the percentage saying they "definitely" or "probably" will get the vaccine dropping by double digits since summer, a new poll has shown.
The new polling, released Wednesday by CNBC/Change Research, showed that just 42 percent of likely voters said they will probably or definitely get the vaccine when it is first made available. That's down from 58 percent—a drop of 16 percentage points—from when the same question was asked by CNBC/Change Research in July. The survey polled 1,430 likely voters and has a margin of error of plus or minus 2.6 percentage points.
A majority of Americans are also concerned that President Donald Trump is trying to get a vaccine released too quickly to bolster his re-election chances. Nationwide, 61 percent of likely voters said they were concerned—while 52 percent said they were "very concerned"—that Trump was pushing to release the vaccine before it is adequately approved.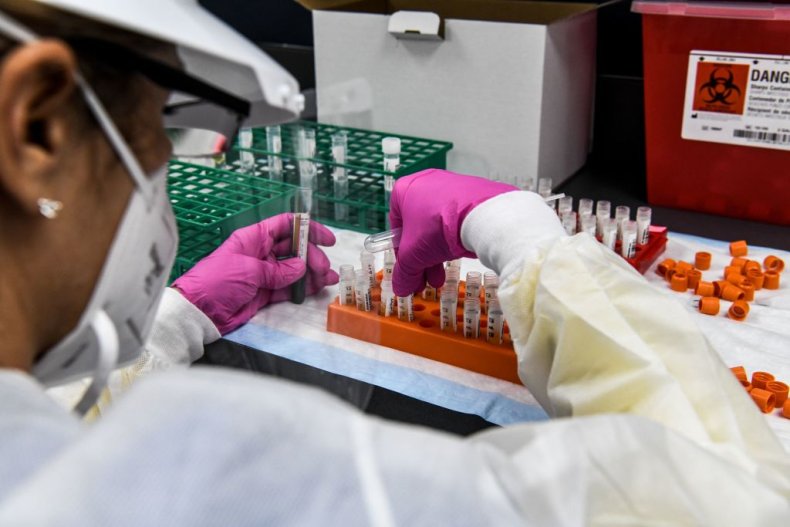 In swing states—Arizona, Florida, Michigan, North Carolina, Pennsylvania and Wisconsin—the level of concern was similar, with 57 percent of voters worried that Trump would push for a vaccine's release before it was ready. Furthermore, 46 percent said they were "very concerned." The swing state polling surveyed 3,018 people and has a margin of error of plus or minus 1.8 percentage points.
Trump has presented a timeline for a vaccine release and rollout that is at odds with what his top public health officials are saying. He has repeatedly suggested that it will be ready by late October—or just before the November 3 election. Earlier this month, Dr. Anthony Fauci, a key member of the White House's coronavirus task force and director of the National Institute of Allergy and Infectious Diseases, said it was "conceivable" that a vaccine could be ready by October but suggested it was unlikely.
"Most of us project that that's going to be by November [or] December—by the end of the year," Fauci told CNN on September 3. He went on to say it would be "conceivable that you could have it by October, though I don't think that that's likely."
Fauci's timeline aligns with that of Dr. Robert Redfield, the director of the U.S. Centers for Disease Control and Prevention (CDC). Redfield has projected that a vaccine will more likely be ready by November or December, but the White House has disputed that assessment.
"Based on what I know behind the scenes, how quickly we are moving on the clinical trials, I think that we will at least have some results in October, and as we start to look at those results, I can tell you the president is pushing very hard to make sure that we're delivering a vaccine before the end of the year," Mark Meadows, the White House chief of staff, told Fox News last week.
Many have raised concerns that Trump could get an unsafe vaccine released in an effort to boost his re-election odds. But the CDC, the Food and Drug Administration and top health officials have reassured the public that they will be guided only by science, not by politics.