Dr. King Understood That Voting Rights Aren't Political. They Are Spiritual | Opinion
I grew up in the shadow of the civil rights struggle believing that my generation inherited the unfinished business of the civil rights movement. I failed to imagine the degree to which the struggle for voting rights would become part and parcel to that unfinished business. The health and future of democracy are facing their greatest test since the height of that struggle.
But this struggle is not first and foremost a political one. As a minster of the gospel in the same denomination and tradition as Rev. Martin Luther King, protecting the right to vote represents a faith imperative and a test of our commitment to Imago Dei. If we truly believe that every person is created in the image of God with inherent and equal dignity, then it is immoral and un-Christian to suppress the voice and agency of any eligible voter—particularly when these voters are disproportionately people of color and other marginalized people. The worse this problem gets, the less our country resembles a democracy. And it is getting worse and will continue to do so until and unless we pass significant new legislation to protect voting rights.
By and large, the Black church and Black community have understood what is at stake with voting rights. We don't need to be convinced. Indeed, we have been sounding the alarm at full blast ever since the Shelby vs. Holder Supreme Court decision in 2013 gutted the Voting Rights Act, and things have only gotten worse since then. Sadly, far too many Latino and Asian-Americans have either been misinformed or are overly disengaged from countering these growing attacks on voter rights and our democracy.
But I increasingly identify with the exasperation and tough love that Dr. King expressed toward white moderates in his famous Letter from a Birmingham Jail. "Over the past few years I have been gravely disappointed with the white moderate," Dr. King wrote. "Shallow understanding from people of good will is more frustrating than absolute misunderstanding from people of ill will. Lukewarm acceptance is much more bewildering than outright rejection."
In a similar fashion, arguably the biggest challenge in safeguarding our democracy today has become the complacency and apathy of the white moderate and far too many parts of the church. While we must all speak up and act, their silence and complicity embolden efforts to unravel our democracy toward autocracy and even fascism.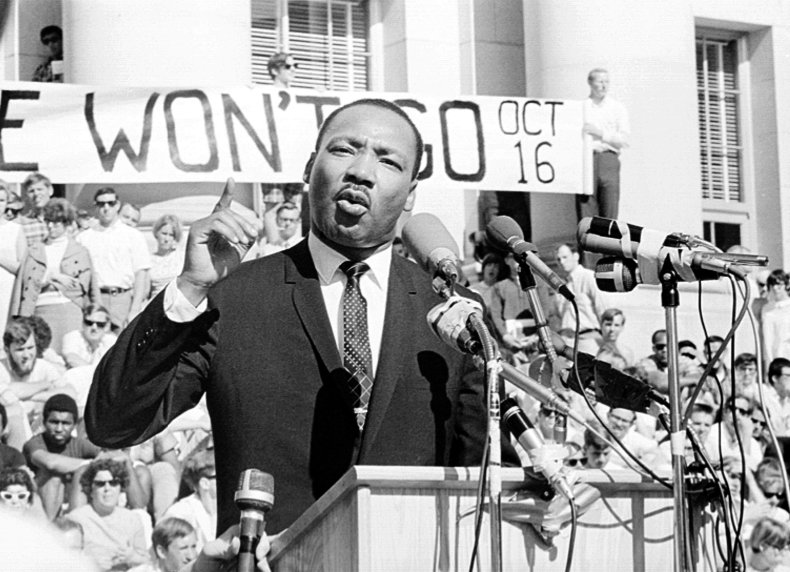 The hard truth is that while I applaud the unwavering courage of Republican members such as Liz Cheney, the majority of the GOP has revealed itself to be increasingly anti-democracy, particularly in the aftermath of the 2020 election. Republican politicians are leading efforts across the country to make it more difficult to exercise the sacred right to vote and easier for state legislatures and election officials to subvert election outcomes.
I'm most anguished by so many pastors and church leaders who have remained silent about the Big Lie and stood on the sidelines in the face of growing assaults on our democracy, downplaying and even denying the real danger these proposed and enacted new laws pose. My faith tradition teaches that lies are very the tools of the devil. Left unchecked, they sow confusion, discord, and enmity. The same is true with the Big Lie, which will continue to erode faith in our electoral system and poison our body politic.
While I know that speaking and preaching the truth requires sacrifice and may come at a cost, isn't that the cost of discipleship? On this holiday we must heed Dr. King's call that "there comes a time when one must take a position that is neither safe, nor politic, nor popular, but he must take is because conscience tells him it is right."
What message would Dr. King have for the white moderate today? Instead of calling them out, he would try to call them in, all in a spirit of tough love. Call them in to take a stand for the integrity of their faith and for the health of our democracy. Call them in to understand that their silence is a betrayal of gospel values. Call them in because of their moral influence and the hearts and minds they can change, even if it may come at a risk and cost.
In fact, white moderates could be the game changers in defeating the Big Lie and in bending the church and our democracy back in the direction of truthfulness and the common good. Through the "Faiths United to Save Democracy" campaign, Black clergy have led an impactful voter education and protection effort in ten key states. Now these and other efforts desperately need the support and courage of more white moderates, including faith leaders.
There is no path toward a more perfect union that doesn't require building a more inclusive and healthy multi-racial democracy. I hope and pray that on this MLK holiday, we can all muster the resolve and courage to honor Dr. King's legacy by rejecting the Big Lie and working vigilantly to protect our democracy by passing the John Lewis Voting Advancement Act and the Freedom to Vote Act.
Rev. Adam Russell Taylor is president of Sojourners and author of A More Perfect Union: A New Vision for Building the Beloved Community. Follow him on Twitter @revadamtaylor.
The views in this article are the writer's own.