Dr. Oz Releases Campaign Ad Showing Bong Emerging From Fetterman's Head
In a bizarre political ad part of celebrity doctor Mehmet Oz's campaign to win the Pennsylvania Senate race, Democratic rival candidate John Fetterman gets his head opened up to reveal "some screws loose" and a bong, before his electoral political agenda is laid out and described as "crazy" and "ridiculous."
But the supposed mockery of the Democratic candidate was made into a joke at the expense of Oz, as critics on social media labeled the video "creepy" and "desperate."
"This is so bizarre and creepy. Is Dr. Oz from the Wizard of Oz?" wrote researcher Olga Lautman on Twitter.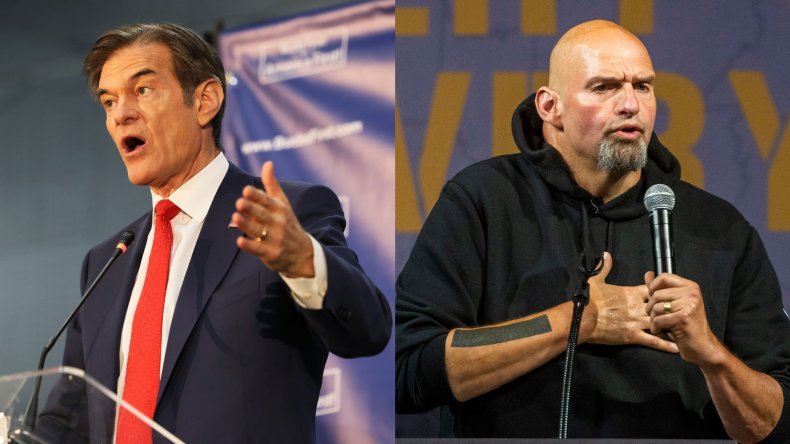 "This looks and sounds like a kid's cereal commercial, and has about as much reality," wrote another Twitter user.
Many found that the ad's description of Fetterman's approach to health care and energy production, among others, just highlighted the strengths in the Democratic candidate's agenda.
"Dr. Oz keeps making John Fetterman a better candidate. Great work, Dr. Oz," Josh Manning said of the GOP candidate.
"It's a novel approach, but I'm not sure that Dr. Oz is going to win by airing commercials that make John Fetterman look awesome," wrote journalist Jordan Zakarin.
Newsweek has contacted Oz and Fetterman for comment.
Fetterman has just been able to get back on the campaign trail after suffering a stroke in mid-May, a health scare that left him temporarily sidelined in the race for the state's Senate seat.
On Friday last week, the Democratic candidate appeared in his first public event in the last three months, where he talked for 10 minutes and said he was "grateful" to be able to be on stage for the rally.
Despite the lack of visibility Fetterman suffered as he was recovering from his stroke, the Democratic candidate is still leading in polls ahead of Oz, with 49 percent of the vote against the celebrity doctor's 38.3 percent, as of August 14, according to opinion poll website FiveThirtyEight.
The two candidates will face each other at the November 8 election, with the outcome expected to decide whether Democrats or Republicans will control the Senate in 2023.
Oz is considered the best bet for the GOP to keep Pennsylvania's Senate seat after incumbent Senator Pat Toomey declared he was not seeking re-election.
He beat rival candidates and fellow Republicans Kathy Barnette and Dave McCormick at the GOP primary on May 17, becoming the first Muslim to be nominated for Senate by either major party in the entire history of the country.
After the primaries, Fetterman has consistently made fun of Oz for having once lived in New Jersey, appealing to Pennsylvania's voters strong sense of local identity while at the same time presenting himself as a Pennsylvania's everyman dressed in shorts and a hoodie.
Oz, who's lived in New Jersey for some 30 years, is struggling to shake off the image of being an outsider.
Correction 08/22/22, 6:32 a.m. ET: This article was updated to clarify that Oz lived in New Jersey, not Pennsylvania, for 30 years.