U.S Senate candidate Dr. Mehmet Oz suggested on Thursday that children are struggling to learn to speak because they can't see their teachers' mouths, as he criticized COVID restrictions for "hurting" children.
Oz, who is running as a Republican in Pennsylvania, told Fox News' Pete Hegseth he disagreed with the closing of schools that had taken place earlier in the pandemic and also criticized the Centers for Disease Control and Prevention (CDC).
The CDC has received significant criticism following its updated advice that people who test positive for COVID but are asymptomatic should self-isolate for five days instead of 10.
Oz said that this week "COVID is once again raised to the top" as an issue. "And I gotta say, this speaks to the general incompetence of the Biden administration," he said.
"The CDC arbitrarily shortens the quarantine period from 10 days to five days - it's based on convenience, not science," he added.
Oz offered more criticism of the administration's approach and then discussed the effects on children.
"Issues like closing schools, which is not following the science in my opinion and I voiced it on this program two years ago," Oz said.
"Published today, an article from Brown showing that kids born during the pandemic are developmentally delayed," he went on.
"Think about that. We're hurting our children with some of these policies. Kids who can't see the mouths of their teachers move don't learn to speak. Five percent of kids wear glasses. They fog up, they can't read," Oz said.
That appears to have been a reference to wearing masks in schools. The CDC advises that all children over the age of two should wear masks when indoors at school.
"These were the penalties we paid and we weren't any safer because of these destructive, authoritarian restrictions," Oz added.
It wasn't immediately clear what study Oz was referencing, but it's possible he was referring to a study conducted by Brown University and led by Sean Deoni, associate professor of pediatrics.
The study's findings were reported in August this year and found that the mean IQ score on standardized tests for children between the ages of three months and three years who were born during the pandemic was 78. In the decade before the pandemic, it was around 100.
That study had not been peer reviewed in August. Newsweek has asked Professor Deoni for comment.
"I believe we should empower the people of Pennsylvania," Oz said on Thursday. "That's what I've done for my whole career. People are smart. They know what to do."
Oz, a longtime New Jersey resident who rose to fame through appearances on The Oprah Winfrey Show, is seeking to replace Republican Senator Pat Toomey, who is not running for another term in 2022.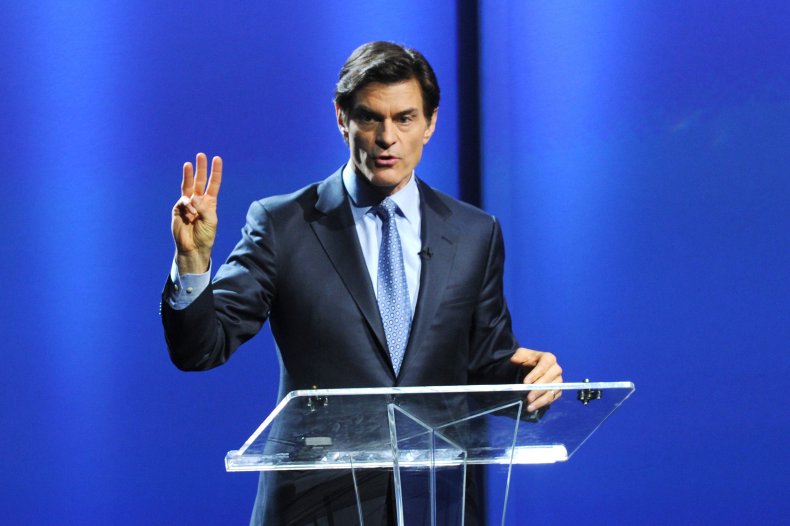 About the writer
Darragh Roche is a U.S. News Reporter based in Limerick, Ireland. His focus is reporting on U.S. politics. He has covered the Biden administration, election polling and the U.S. Supreme Court. Darragh joined Newsweek in 2020 from PoliticusUSA and had previously worked at The Contemptor. He attended the University of Limerick, Ireland and ELTE, Hungary. Languages: English, German.
You can get in touch with Darragh by emailing d.roche@newsweek.com.