Dr. Oz's Chances of Beating John Fetterman in Pennsylvania: New Poll
Pennsylvania U.S. Senate candidate Dr. Mehmet Oz might have already lost the meme wars to his Democratic opponent, Lieutenant Governor John Fetterman, in recent months. And if his campaign doesn't do something soon, he might lose his election, too.
A new poll released this week by business-union alliance group Pittsburgh Works Together showed Fetterman with a commanding lead of nearly 20 points in his campaign against Oz.
The poll, conducted by Public Opinion Strategies, relied on 600 registered voters has a 4-point margin of error. However, it also seems to be a significant outlier among all of the polls conducted during the race.
All polls from aggregator RealClearPolitics show Fetterman with an average lead of nine points throughout the campaign. Traditionally, statewide campaigns in Pennsylvania have been highly competitive.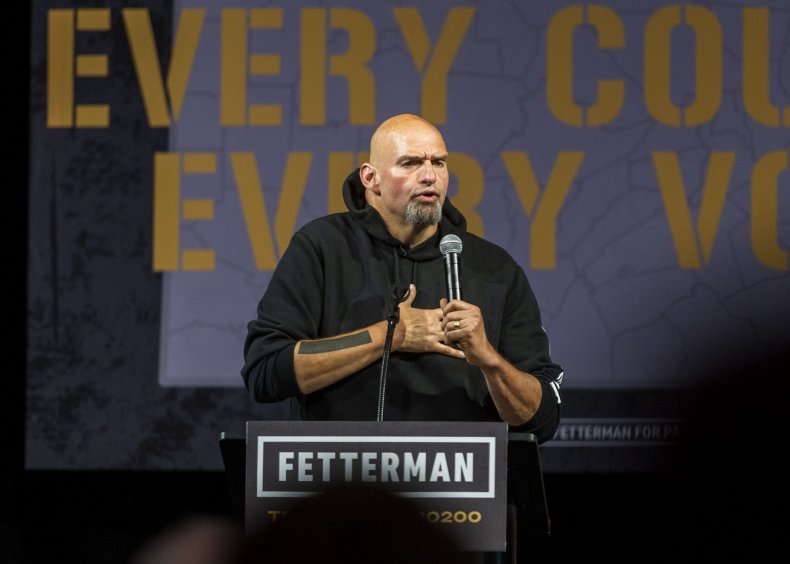 The last U.S. Senate race in the state, in 2016, was decided by less than two points, while the 2020 presidential election between Joe Biden and Donald Trump was close, prompting the Trump campaign to lodge allegations of voting irregularities later echoed by Republicans in Congress who voted not to certify the results.
While the latest poll comes by way of a labor union, the constituency could be critical to Fetterman's election chances in the fall. Nearly 14 percent of the state's labor force—roughly 732,000 people—are represented by labor unions, according to data from the U.S. Bureau of Labor Statistics.
Fetterman, who has closely aligned his progressive political identity in the mold of the state's working class, has solid support from the state's labor community, including endorsements from a cadre of labor unions and progressive organizing groups throughout the state.
The poll also comes amid a number of notable stumbles by Oz on the campaign trail, including the resurfacing of a widely mocked video of him shopping for ingredients for a vegetable tray at a Pennsylvania supermarket and a tweet in which he claimed to live in only two of the 10 properties he reportedly owns around the world.
"Someone who doesn't even know how many homes they own can NOT be trusted to fight for actual Pennsylvanians," the Fetterman campaign tweeted Wednesday.
The race is shaping up to be one of the most expensive of the 2022 election cycle. While groups like the Cook Political Report have given a slight edge to Fetterman to take the seat, political action committees aligned with Democratic and Republican leadership have pledged more than $30 million each in their bids to recapture the seat vacated by Republican Pat Toomey.
The two candidates have spent nearly $40 million combined in their efforts to take the seat, according to the most recently available reports filed with the Federal Election Commission.