Dr. Phil Defends Opening Up America, Compares Coronavirus Death Rate to Car and Swimming Pool Accidents
The novel coronavirus outbreak in the U.S. has seen much of the country remain in lockdown, with several states issuing "stay-at-home" orders in a bid to help curb the spread of the virus.
As fear and anxiety grow amid the ongoing pandemic, the lockdown measures have been criticized by some, including television personality Phil McGraw, for their detrimental effects on several levels.
In an interview with television host Laura Ingraham for Fox News, McGraw spoke out against the current lockdown measures, claiming they may cause "more deaths across time than the actual virus will itself," explaining the huge impact they have on the health of Americans, both mentally and physically.
He noted: "The longer this lockdown goes on, the more vulnerable people get. It's like there's a tipping point where people start having enough problems in lockdown that it will actually create more destruction and actually more deaths across time than the actual virus will itself."
"We have 45,000 people a year die from automobile accidents, 480,000 from cigarettes, 360,000 a year from swimming pools but we don't shut the country down for that. But yet we're doing it for this? And the fall out is going to last for years because people's lives are being destroyed."
Speaking to Newsweek, Dr. Frank Ulrich Montgomery, Chair of Council of the World Medical Association, said: "It is cynical to weigh up one source of death against another. If there is a chance of prevention and treatment you have to take it—in the interest of humanity."
"We have to weigh up the consequences for health care against sociopsychological factors and the detrimental effects of lockdowns to economy. And we have to be aware that we cannot afford a backlash. A 'second wave' would be a terrible disaster, economically, for health and for society," he warned.
Also speaking to Newsweek, a spokesperson from the World Health Organization (WHO), said: "As outlined in the COVID-19 Strategy update, for countries that have introduced widespread physical distancing measures and population-level movement restrictions, there is an urgent need to plan for a phased transition away from such restrictions in a manner that will enable the sustainable suppression of transmission at a low-level whilst enabling the resumption of some parts of economic and social life, prioritized by carefully balancing socio-economic benefit and epidemiological risk."
The latest death figures by the U.S. Centers for Disease Control and Prevention (CDC) report that "more than 32,000 people are killed and 2 million are injured each year from motor vehicle crashes" and 480,000 die annually from cigarette smoking (including second-hand smoking).
The CDC also states that "from 2005-2014, there were an average of 3,536 fatal unintentional drownings (non-boating related) annually in the United States — about ten deaths per day. An additional 332 people died each year from drowning in boating-related incidents."
He said: "And the poverty line is getting such that more and more people are gonna fall below that because the economy is crashing around us. And they're doing that because people are dying from the coronavirus...I get that."
Back in 2011, it was reported that around 133,000 people in the country died in 2000 due to individual-level poverty, according to research by Columbia University's Mailman School of Public Health in New York City published in the American Journal of Public Health. Their analysis looked at articles published between 1980 and 2007 mostly based on large national surveys, including those by the CDC.
McGraw said that lockdown measures create a "perfect storm" because "you've got people that are in isolation, that creates problems. Loneliness actually creates problems."
He claimed people who suffer from loneliness are 29 percent more likely to have coronary artery disease, 32 percent more likely to have strokes or die and 40 percent more likely to have dementia if they're in that age group.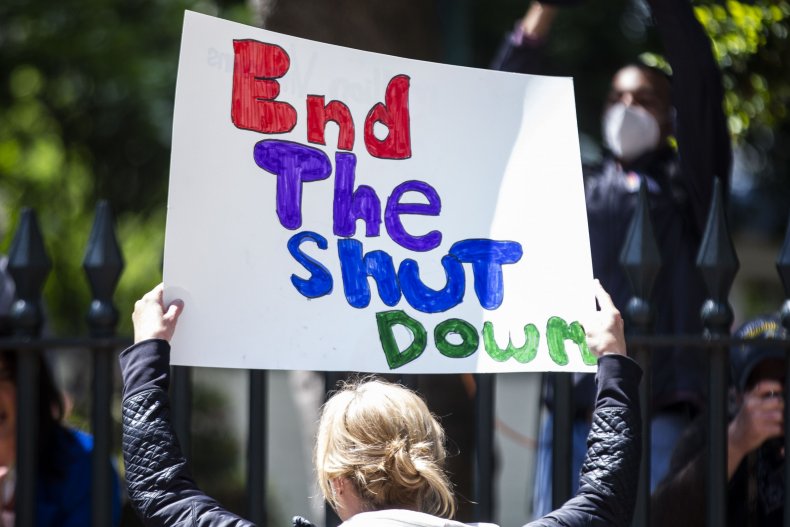 In 2016, the National Center for Biotechnology Information of the U.S. National Library of Medicine (a branch of the U.S. National Health Institute) reported that "deficiencies in social relationships are associated with an increased risk of developing CHD and stroke. Future studies are needed to investigate whether interventions targeting loneliness and social isolation can help to prevent two of the leading causes of death and disability in high-income countries."
McGraw said: "We think we're protecting people's lives by keeping them locked up. You keep them locked up long enough, there's a paradoxical effect, you actually destroy more lives than you do by letting them go out and protect themselves and opt into their lives to fight for what they believe in."
Newsweek has contacted the CDC for a comment and verification on the latest U.S. mortality figures and the other U.S. health statistics noted by McGraw.
Last Friday, Dr. Anthony Fauci, the director of the National Institute of Allergy and Infectious Diseases who is also a member of the White House COVID-19 task force, warned that "Now is no time to back off," mitigation measures in an interview with CNN.
"What we're seeing right now is favorable signs. We would want to see a clear indication that you were very, very clearly and strongly going in the right direction, because the one thing you don't want to do is you don't want to get out there prematurely and then wind up back in the same situation. Now is no time to back off," he said at the time.
"The virus kind of decides whether or not it's going to be appropriate to open. Obviously we're looking for the kinds of things that would indicate that we can go forward in a gradual way to essentially reopen the country to a more normal way," he said, noting that the reopening will depend on various factors.
Nearly all 50 states are currently under "stay at home" orders which require residents to remain in their homes, while all non-essential businesses, including bars, restaurants and other places of public gathering.
On Thursday President Donald Trump unveiled plans to gradually reopen the country in phases "as conditions allow" and "one careful step at a time" at the latest White House press briefing.
"America wants to be open and Americans want to be open. A national shutdown is not a sustainable long-term solution" Trump said.
He also called for governors to move "very, very quickly, depending on what they want to do."
Last week, Trump claimed that he has "total authority" to override state governors' stay-at-home orders if they conflict with his plan to reopen the country by relaxing the current social distancing measures.
New York Governor Andrew Cuomo responded to Trump's comment last week saying: "If he [Trump] ordered me to reopen in a way that would endanger the public health of the people of my state, I wouldn't do it."
The U.S. remains the epicenter of the COVID-19 pandemic, with more than 671,400 confirmed cases. The virus, which was first reported has spread to more than 2.1 million people across at least 185 countries and regions. Over 146,000 have died while nearly 552,000 have recovered from infection, as of Friday, according to the latest figures from Johns Hopkins University.
This article has been updated with comment from the World Medical Association.
The graphic below, provided by Statista, illustrates the spread of COVID-19 across the U.S.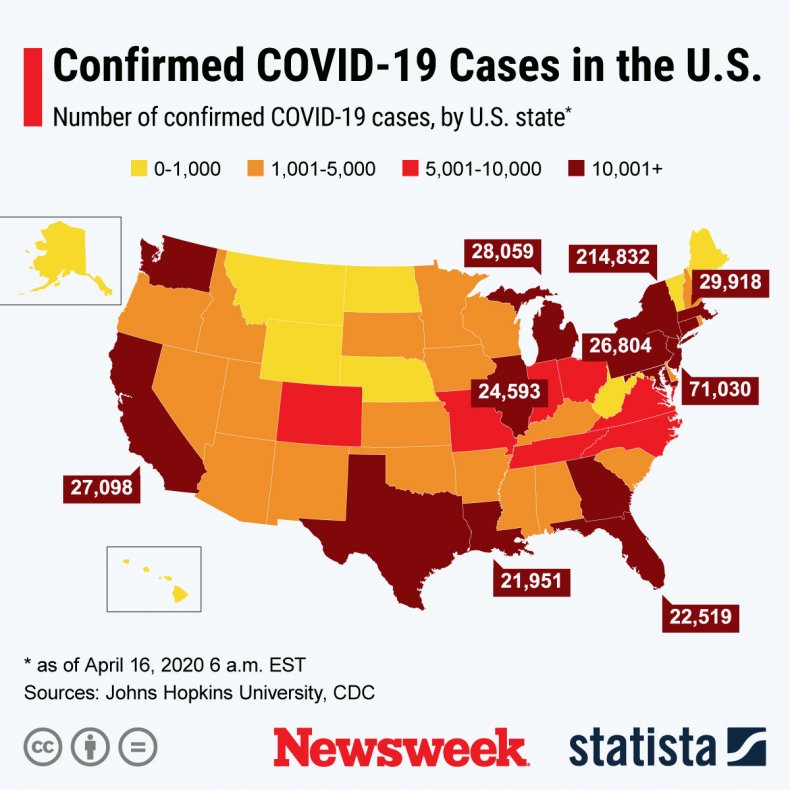 Centers for Disease Control and Prevention Advice on Using Face Coverings to Slow Spread of COVID-19
CDC recommends wearing a cloth face covering in public where social distancing measures are difficult to maintain.
A simple cloth face covering can help slow the spread of the virus by those infected and by those who do not exhibit symptoms.
Cloth face coverings can be fashioned from household items. Guides are offered by the CDC. (https://www.cdc.gov/coronavirus/2019-ncov/prevent-getting-sick/diy-cloth-face-coverings.html)
Cloth face coverings should be washed regularly. A washing machine will suffice.
Practice safe removal of face coverings by not touching eyes, nose, and mouth, and wash hands immediately after removing the covering.
World Health Organization advice for avoiding spread of coronavirus disease (COVID-19)
Hygiene advice
Clean hands frequently with soap and water, or alcohol-based hand rub.
Wash hands after coughing or sneezing; when caring for the sick; before, during and after food preparation; before eating; after using the toilet; when hands are visibly dirty; and after handling animals or waste.
Maintain at least 1 meter (3 feet) distance from anyone who is coughing or sneezing.
Avoid touching your hands, nose and mouth. Do not spit in public.
Cover your mouth and nose with a tissue or bent elbow when coughing or sneezing. Discard the tissue immediately and clean your hands.
Medical advice
Avoid close contact with others if you have any symptoms.
Stay at home if you feel unwell, even with mild symptoms such as headache and runny nose, to avoid potential spread of the disease to medical facilities and other people.
If you develop serious symptoms (fever, cough, difficulty breathing) seek medical care early and contact local health authorities in advance.
Note any recent contact with others and travel details to provide to authorities who can trace and prevent spread of the disease.
Stay up to date on COVID-19 developments issued by health authorities and follow their guidance.
Mask and glove usage
Healthy individuals only need to wear a mask if taking care of a sick person.
Wear a mask if you are coughing or sneezing.
Masks are effective when used in combination with frequent hand cleaning.
Do not touch the mask while wearing it. Clean hands if you touch the mask.
Learn how to properly put on, remove and dispose of masks. Clean hands after disposing of the mask.
Do not reuse single-use masks.
Regularly washing bare hands is more effective against catching COVID-19 than wearing rubber gloves.
The COVID-19 virus can still be picked up on rubber gloves and transmitted by touching your face.