'Draft Dodging' Trump and Adviser Bolton Are 'Chickenhawks' Pushing U.S. to War With Iran, Democratic 2020 Candidate Warns
Democratic 2020 presidential candidate Representative Seth Moulton slammed President Donald Trump and National Security Adviser John Bolton on Sunday, accusing them of being draft dodgers and "chickenhawks" pushing the United States to war with Iran.
Moulton, who represents Massachusetts's 6th congressional district and is a veteran of the Iraq War, lobbed the criticism during an interview with CNN's Jake Tapper on Sunday's State of the Union. Despite serving a total of four tours in Iraq between 2003 and 2008, the congressman has been highly critical of the decision of the administration of President George W. Bush to invade the country.
During his interview with Tapper, he drew comparisons to the lead-up to the invasion of Iraq and the Trump administration's current posturing toward Iran.
"I think it's incredibly dangerous," Moulton warned. "The parallels between how the Bush administration pushed us into war with Iraq and the Trump administration, under a draft dodging commander-in-chief, is pushing us into war with Iran are uncanny," he said. The veteran also compared the current situation in Iran with the events that led to the Vietnam war, pointing fingers at the actions of Secretary of State Mike Pompeo and Bolton.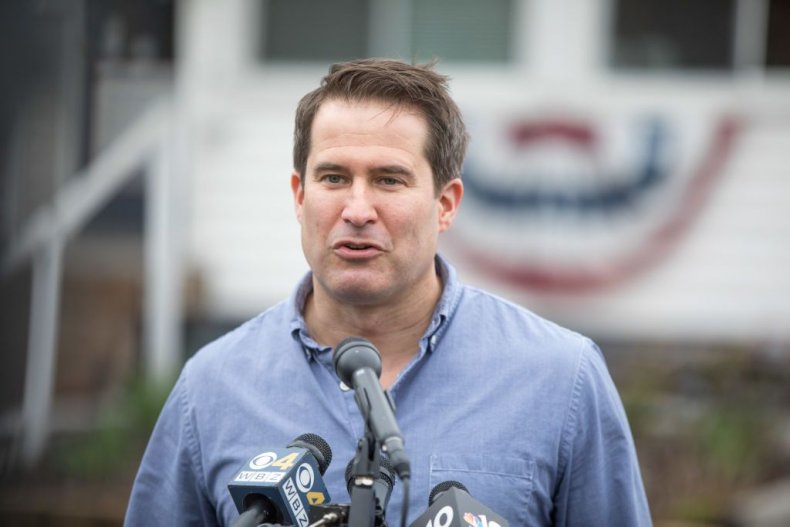 Later in the interview, he took aim at Bolton and Trump once again, arguing they are both individuals who avoided serving their country during war, but are now pushing for a new conflict.
"If you saw a definition of 'chickenhawk' in a dictionary, you'd see Donald Trump and John Bolton right next to each other," the representative said. "And I think we all know who's the chicken and who's the hawk," he added. Moulton also pointed out that Bolton, who served in the Bush administration, had firmly supported the invasion, suggesting that Trump was now being influenced heavily by his top adviser in regards to Iran.
According to Urban Dictionary, a "chickenhawk" can refer to: "a politician or other person who promotes war without having had any personal experience of it; especially those who have avoided the experience."
The president reportedly avoided service in the Vietnam War after his father called in a favor with a doctor, who wrote a note saying that Trump had bone spurs on his feet, making him ineligible for the draft. Bolton, although he joined the National Guard during the Vietnam War, has admitted that he did so and then enrolled in law school to avoid fighting in the conflict.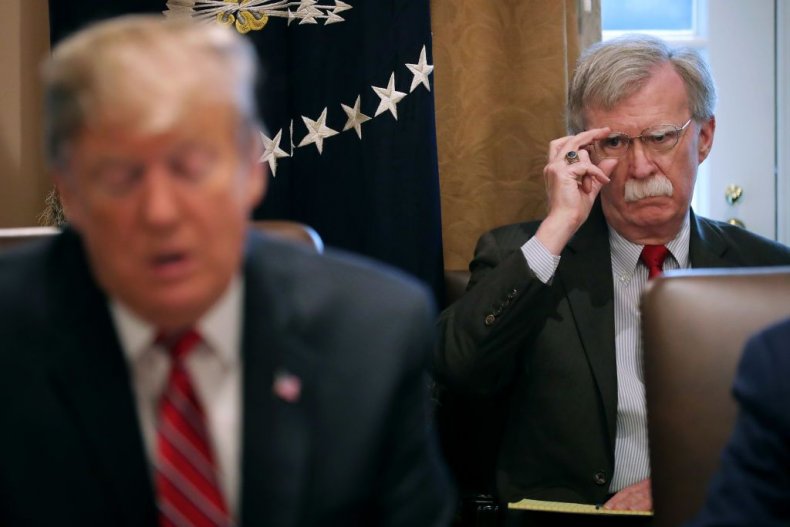 "I wasn't going to waste time on a futile struggle," he wrote in his memoir entitled Surrender Is Not an Option.
Many analysts have raised concerns about a military conflict breaking out between Iran and the U.S. in recent weeks, particularly after Bolton announced last month that Washington had sent the USS Abraham Lincoln to the Persian Gulf. Trump has since said that 1,500 additional troops would be sent to the region to counter the perceived threat from Iran. But some allies have voiced skepticism about the reality of such a threat, and Tehran has denied any plans to attack the U.S. or its interests in the region.
Moulton is not the first Democratic 2020 candidate and veteran to question Trump's lack of military service. Last month, Pete Buttigieg said he believed there was "no question" Trump had falsified medical records to avoid military service during the Vietnam War.
"You have somebody who thinks it's alright to let somebody go in his place into a deadly war, and is willing to pretend to be disabled in order to do it. That is an assault on the honor of this country," said the South Bend, Indiana, mayor, who previously served in Afghanistan as an officer with the U.S. Navy Reserve.