'Dragon Ball Super: Broly' Cast Reflect on How the Series Changed Their Lives
The Dragon Ball franchise has seen a resurgence in North America unlike anything the popular anime has seen in its more than 30-year history.
Dragon Ball Super has allowed a new generation of fans to get to know Goku, Vegeta, Frieza and the rest of the Z-Fighters, and the popularity of the iconic franchise continues to grow and expand. Broly, the 20th movie in the Dragon Ball franchise, is set to release in the U.S. in early 2019. In the film, series creator Akira Toriyama re-introduces the titular villain into the official canon.
Newsweek caught up with the English cast of Dragon Ball Super: Broly, Sean Schemmel (Goku), Monica Rial (Bulma), Ian Sinclair (Whis) and Jason Douglas (Beerus/King Cold) at New York Comic Con to talk about their time at the convention and how being part of the series has changed their lives.
Note: This interview was lightly edited for clarity and length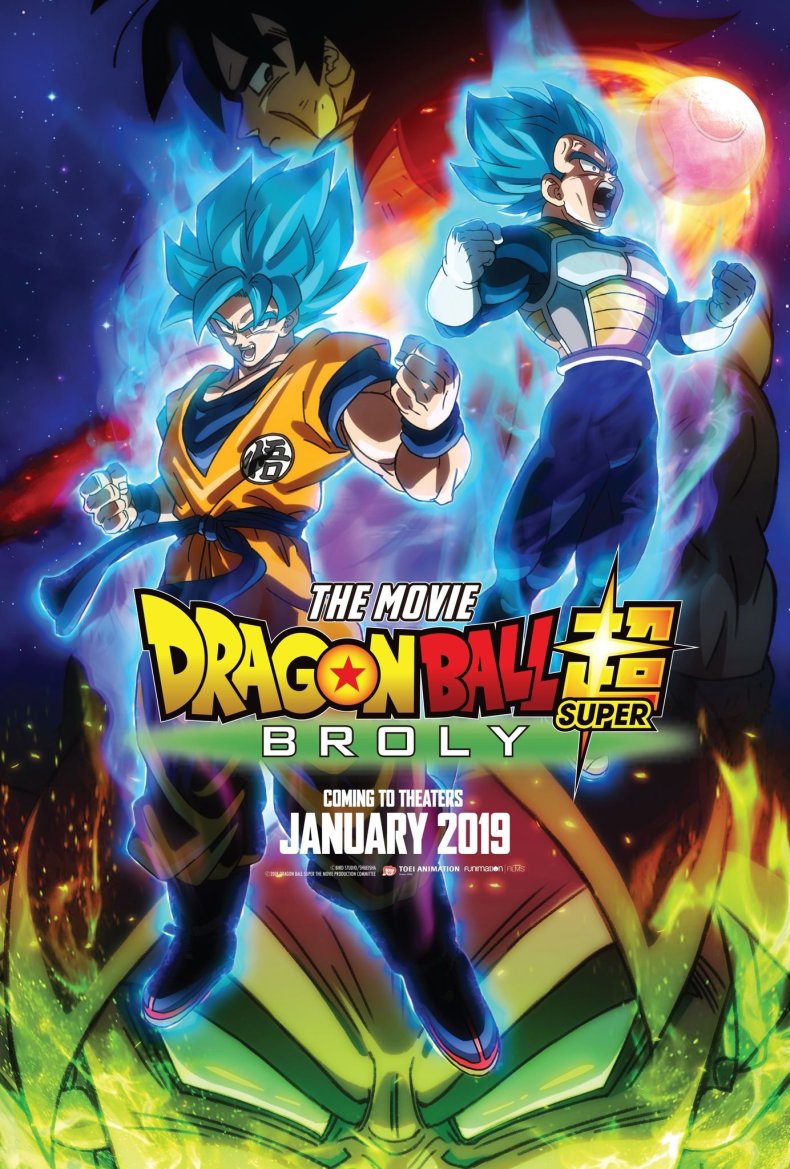 How was it to be in front of that audience at MSG during the Dragon Ball Super panel?
Schemmel: It was a whole lot better than San Diego! No, but seriously. San Diego Comic-Con was alright, but it should have been like that. We had a lot of squatters in San Diego. I'm still bitter with [the audience] because I feel they didn't cheer as hard as for the thing they were waiting for. So if you're going to squat, you should cheer as hard for the panel you are actually there for. At least fake it for us. I don't like the whole squatting thing, but I was really thrilled with the New York Comic Con crowd.
Sinclair: It was absolutely stunning.
Schemmel: I would say in my 20 years of doing this, and I've done some big panels, but this was the most raucous, the most people and it was at Madison Square Garden. It won't get bigger than that. I could be whatever in the future, being more famous than this and we would have done it.
Rial: My fiance is kind of screwed now, because once you have 8,000 people sing 'Happy Birthday' to you, it's a lot to compete with next year. So good luck.
Douglas: That was fun, we talked about rehearsing something before the panel but we didn't do that. I didn't even know the stage setup was like, the room or the audience level was going to be. So until we walked out, we heard the announcement, your names and then cheers. All of that was a completely fresh experience. There was no way to anticipate what it was going to be like.
Rial: You could feel the energy, like a wall that comes at you.
Schemmel: I can see why rock stars get addicted to it.
Dragon Ball is arguably more popular now than it was when I was growing up. How does it feel to be a part of it?
Schemmel: I just saw a Dragon Ball reference on The Flash. I was like "Barry Allen likes Dragon Ball Z, hell yeah!" It's totally surreal.
Rial: The Cleveland Browns had a moment in a football game where they did the Fusion Dance. My fiance sent me a picture of it and told me I should tweet it and I did. I never had a tweet explode like that. What's crazy is that most of the people didn't know me or follow my work or colleagues. These are just people who love Dragon Ball. It spreads that far.
Schemmel: It's one of those mixed feelings of "Of course it's that popular," and others where I have to pinch myself. It's that surreal.
Douglas: I don't know what to make of it. I still go home and raise my kids, take out the trash. It's the one night of the week when I look around and the kids are smiling watching [Dragon Ball Super].
Schemmel: You've gotten 30 percent cooler since being on the show.
Douglas: Yea only in the house. But we meet fans at various conventions and they are far more reverent. I'm just a human being, that's not any different.
Sinclair: I think Jason hit on something, at least for him and I being so new to it. As voice actors, [Jason's] on film a lot so they know his face, they have no idea what I look like. And it's cool, so Super's been in the ether long enough for people to know us and that hasn't really registered until the last few months. And as someone who goes and does their voice acting, go home and spend time with their dogs, go to GameStop and see someone talk about FighterZ but besides that the outside world of Dragon Ball doesn't poke you to tell you it's doing well. And then when you go to a con and like you said, it's bigger than ever. It's huge, it's immense, surreal is the only way to describe it.
Schemmel: You're also in this weird niche of being famous, but not famous. You get the same kind of "oh my god" and respect as an A-lister, but you're not in a Malibu mansion and you're not on TMZ.
Douglas: Yea, when does that kick in? [laughs]
Sinclair: Did you see the billboard in Times Square?
Schemmel: I lived [in New York] for 10 years, and when I got here in 1992 I just started on Dragon Ball and I didn't do any of the 4Kids stuff work. And I didn't think that when I was walking around Manhattan for 10 years that when I got back there will be a billboard with my character on it.
The original Japanese Dragon Ball cast is respected and loved. How does it feel to receive that kind of attention from fans too?
Rial: We've done a lot of anime and a lot of times people come up to us and say, "I really like the Japanese" and that's ok. As long as you like me, we're good. But it's crazy to see so many people so into the dub. There's a group of people who didn't know Dragon Ball was from Japan. People tell me all the time to tell Funimation to make more Dragon Ball. Funimation doesn't have control over that.
Schemmel: Some people think I draw it. And I'm like, "No…"
Rial: It's overwhelming sometimes to have people so familiar with your voice.
Sinclair: You can't let yourself let it sink in. If you do you'd go insane. Monica and I were talking about it earlier that you go in and you do the best work possible you can.
Schemmel: I was thinking of the popularity where actors who are on big shows, and want to be on our show so their kids can love them. It's weird when Britney Spears' kid is drawing pictures of Frieza and she's posting them. It's weird.
Sinclair: It's weird from a fan standpoint. I heard "can you believe how big it is?" And I'm like "yea, it's Dragon Ball." Yea, it's good and Super is good because it went back to Toriyama and once he put in and started making the new content, it felt right as a fan. It feels it should happen, but the weird part is that you're involved at all.
Schemmel: I have to think about my life before Dragon Ball, because I live it so much. My girlfriend got sick of all the stuff in the living room and I came home from a trip and it was all in the bathroom. So on my toilet, I have one of the rare Dragon Ball figures where Goku has his hands up and a giant monkey behind him. So whenever you take a leak, you'll see it there and say, "please give me your energy so I can go to the bathroom!"