Fans of Drake and Taylor Swift tend to speculate about their every move online, and a new throwback picture of the two of them has given them even more to talk about.
Drake shared a picture of the pair together on his Instagram account, which instantly got fans dissecting the meaning behind it. The picture, which seems to have been taken at some point in the last decade, has brought up old dating rumors, a lost collaboration, while many also think it's a hidden message regarding Swift's album 1989 (Taylor's Version).
The pair have been close friends for a long time but have yet to appear on a song together. Swift's fans believe that this latest picture of the two of them suggests we could be hearing a joint project from them soon.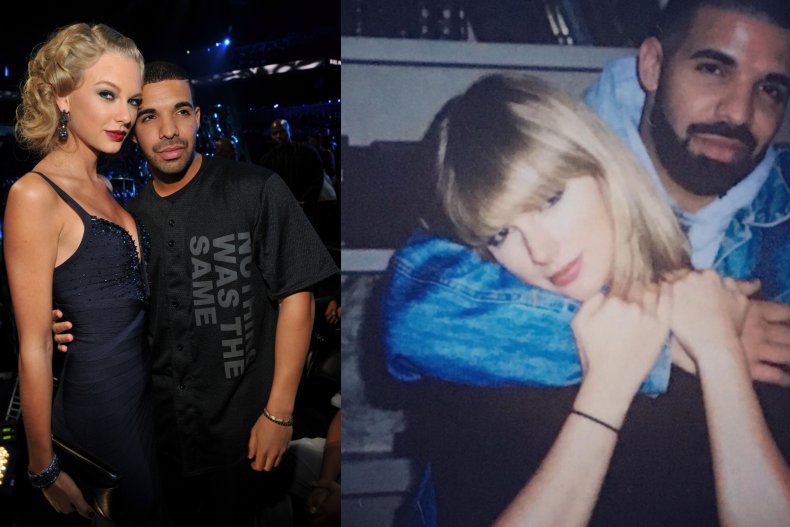 What Drake Posted
Swift's passionate fan base thought they found a clue in Drake's latest Instagram post.
Posting an image to his grid for the first time in a week, Drake shared a series of photos on his account @champagnepapi. He wrote: "They too soft to understand the meaning of hard work." The final of five pictures showed Swift and Drake together in a dated-looking picture.
Within four hours, the picture got over 1.4 million likes and received a number of comments from high profile people, including Nicki Minaj. She commented: "The King of everything."
1989 TV rumors
Across Instagram, Reddit and Twitter, Swift's fans set to work trying to decipher the meaning behind the image. Some believe it's a show of support for Swift, who has been accused multiple times of not writing her own songs, as Drake has been too.
A Reddit thread with thousands of her fans determined that it was likely taken around 2016 due to her hairstyle at the time. Many fans excitedly assumed it was linked to Swift's anticipated relaunched album 1989 (Taylor's Version).
Reddit user youwerentminetolose confidently predicted: "This SCREAMS 1989 TV announcement with vault track single ft. Drake coming Friday." Meanwhile, greenbrainsauce shared their own conspiracy theory all based around the number five. They wrote: "5th picture in the post. The name DRAKE has five letters. 5th album is 1989. 1989 TV coming on May (which is the 5th month of the year). I'm ready for my clown makeup and tinfoil hat besties."
Over on Twitter, another member of the passionate Swift fan base claimed they found the day the picture was taken. @swiftutation shared an image which was shot by Swift's boyfriend Joe Alwyn and wrote: "The way Joe took this video the same exact day Taylor and Drake took that picture together. Same outfit, hair, and she's wearing the hair tie in both the video and picture [crying face emoji]."
They continued, writing that they think that the picture of Swift and Drake was taken in her house because "it looks like her bookshelf."
Another Swift fan, as evidenced by the use of the iconic red scarf in their Instagram name, posted their theory under the username @burningredthr. They wrote in all caps: "That's suspicious, that's weird [thinking face emoji]," alongside the picture of Swift and Drake.
@Tayspetsch was more positive with her suspicions about the picture. They claimed the image could mean that a resurfaced collaboration during the "1989 era" in the "vault tracks" could be coming soon.
Drake and Taylor Swift's Friendship
It may seem far-fetched now but in October 2016, there were serious rumors circulating that Swift and Drake were dating.
Drake and Swift have been close friends for over a decade now, as is evidenced by this 2011 tweet sent by Drake.
Over the course of the decade they've publicly championed each other, and an image shared by Drake in November 2016 made many believe that they were working together on a song.
Nothing came of the rumors back then but with Swift releasing her own version's of her classic albums, perhaps we'll see something resurface soon.
Her most recent albums, Fearless (Taylor's Version) and Red (Taylor's Version), were re-recorded versions of her original albums.