Drakeo the Ruler's Mother Planning Lawsuit After Rapper's Fatal Stabbing
Drakeo the Ruler's mother has revealed plans to sue over the death of her rapper son, after he was fatally stabbed at a concert in Los Angeles on Saturday.
Drakeo, real name Darrell Caldwell, was backstage at the Once Upon a Time in L.A. festival at the Banc of California Stadium—where he was on the performance roster—when he was caught in an altercation and stabbed.
The musician, 28, later died of his injuries at a local hospital, according to the Los Angeles Times, which reported at the time that no arrests had been made.
In a recent interview with Rolling Stone, Drakeo's mother, Darrylene Corniel, blamed insufficient security at the event, which was organized by Live Nation.
"We plan to sue," the grieving parent told the publication. "This happened backstage at an event. Someone has to be held accountable."
"They let all these people in, and you're not supposed to have all these people backstage," she went on. "And your security is supposed to be in place. "The whole program should have been orchestrated a lot better than what it was.
"And there should have been more protection. Even if you have metal detectors, even if you pat them down, you let those people come in there. You had more people come in than you were supposed to. And you allowed them to jump my son. You didn't protect my son."
Live Nation told Rolling Stone in a statement that the incident took place "in a roadway backstage," causing the festival to end an hour early.
"We are extremely saddened by the passing of Drakeo The Ruler. Our thoughts go out to his loved ones and fans and we're doing everything we can to assist authorities in their investigation," a spokesperson for Live Nation said.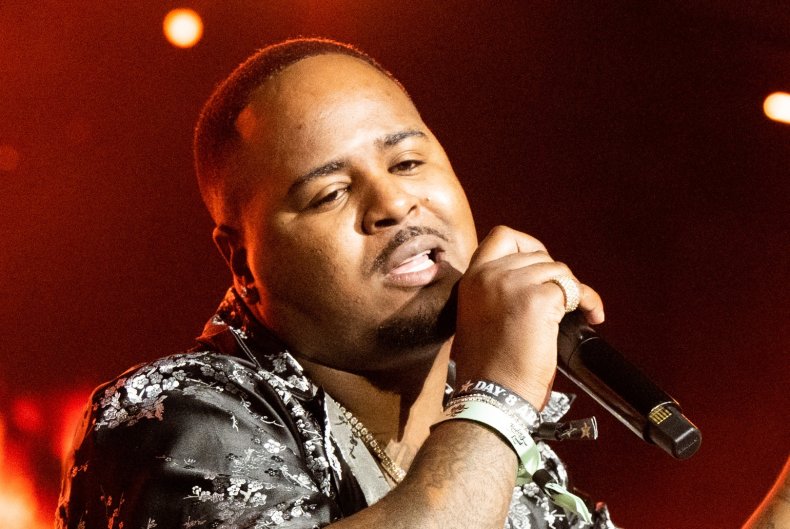 Elsewhere in the interview, Corniel said that her son was backstage with a small group that included his younger brother Devonte Caldwell, a rapper who goes by the name Ralfy the Plug, when an incoming crowd "swamped" them.
Stating that Drakeo's brother tried to protect him in the resulting altercation, she said: "Everything just happened so quickly. They started trying to jump them."
"[Devonte] was trying to fight, but when he turned around, he could see his brother with blood gushing out of him," she went on. "He was like, 'Did they stab you?' It was like, there were so many of them."
Sharing further details of the incident, she said of her son: "He was hit in his neck. I saw him when I went to the hospital. They said it's a homicide, so I wasn't able to hug him or kiss him or anything like that. I had to look at him through a window.
"I need this to be out there. I need people to know. And I do want justice for my son. And I do believe that justice will be served. I will not rest until justice is served."
As news of Drakeo's death circulated over the weekend, a host of musicians took to their social media accounts to pay tribute to the rapper, including Drake, Roddy Ricch and Saweetie.
A "saddened" Snoop Dogg, who was in his dressing room waiting to perform at the time of the incident, said that he immediately left the venue on hearing the news.
"My condolences go out to the family and loved ones of Drakeo the Ruler," he wrote in part. "I'm not with anything negative and as one of the many performers, I was there to spread positive vibes only to my city of LA.
"Last night I was in my dressing room when I was informed about the incident and chose to immediately leave the festival grounds."
He concluded: "My prayers go out to everyone affected by the tragedy. Please take care, love one another and stay safe y'all. IM PRAYING FOR PEACE IN HIP HOP."