Dreamer Confronts Kyrsten Sinema on Plane: 'This Is My Life and the Life of Millions'
Sen. Kyrsten Sinema (D-Ariz.) remained largely silent during a tense encounter with a Deferred Action for Childhood Arrivals (DACA) recipient on board an airplane Monday.
The incident was one of at least three in 24 hours that featured Sinema being filmed during confrontations with activists. On Sunday, she was confronted and followed into a bathroom by activists who demanded that she support President Joe Biden's Build Back Better Act. She was also confronted by multiple people who followed her at Ronald Reagan National Airport after she landed on Monday.
Footage of the senator's confrontation on board the airplane was shared to Twitter by the Arizona Dream Act Coalition. The woman who confronted Sinema and filmed the encounter was later identified as Karina Ruiz, a DACA recipient who said she had volunteered to help elect Sinema in 2018.
"Senator, hello, how are you?" Ruiz said in the video after walking down the airplane's aisle and stopping next to Sinema's seat, positioned very close to the senator. Sinema silently looked in the direction of Ruiz before turning her head away and appearing to read.
"I don't know if you remember me," Ruiz said. "I just want to know if you can commit, as my Senator, if you can commit to passing a reconciliation that could provide a pathway to citizenship for immigrants who have been waiting for this for too long... Can you commit to that, Senator?"
Sinema remained silent for several awkward seconds while Ruiz told her that she was "being vulnerable" and mentioned that her father had died in the past year and that she had been unable to reunite with her family.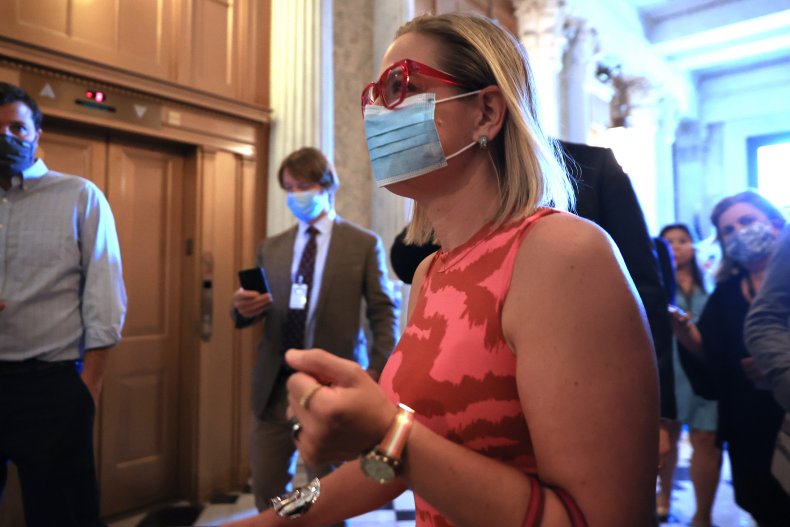 The senator briefly turned to shake her head "no" and say "I'm sorry" followed by several other words that were unclear in the video. She then turned her head away and again began to ignore Ruiz.
"I don't want disturb you, but at the same time I just want see if I can get a commitment from you Senator," said Ruiz. "This is my life and the life and the life of millions in the line. I just need to hear from you. Can we get a commitment from you to get a pathway to citizenship?"
"Can I get a commitment from you?" she added to silence. "Alright Senator, I can see that you don't want to respond to me. Thanks for your time."
Videos taken after the plane landed showed the Senator appearing to speak on her phone while averting her eyes and largely ignoring a group of several people as she was confronted over her position on the Build Back Better Act and followed down the airport concourse.
On Sunday, Sinema was confronted over the same issue and followed into a bathroom at Arizona State University, where she teaches part time. One activist who followed Sinema into the bathroom also identified herself as an immigrant before demanding that she support a pathway to citizenship.
Video of the bathroom incident, which Sinema later blasted as "unacceptable" and "not a legitimate protest" in a statement, had been viewed at least 5.7 million times as of Monday evening.
Sinema and Sen. Joe Manchin (D-W. Va.) have increasingly become moderate roadblocks to the cause of advancing progressive legislation through the Senate. Pressure on Sinema has ramped up significantly in recent weeks, with progressives promising to launch a 2024 primary challenge if she does not reverse her position on a range of issues including opposition to rescinding the Senate's filibuster rule.
Newsweek reached out to Sinema's office for comment.