Drew Brees and Sean Payton Make History as Saints Beat Panthers on MNF, Move Within One Win of NFC Title
The New Orleans Saints are one game away from clinching a first NFC title in nine years after beating the Carolina Panthers on the road on Monday night, as Drew Brees and Sean Payton made NFL history.
On a night when their offense struggled, the Saints managed to grind out a 12-9 win, improving to 12-2 for the season and moving a full game ahead of the Los Angeles Rams in the race to secure home-field advantage throughout the playoffs.
Read more: NFL Playoff Picture 2019: Which teams secured a postseason spot in Week 15?
The Saints' remaining two games are at home—against the Pittsburgh Steelers on Sunday and against the Panthers the following week—and a win in either would be enough to claim a first NFC title since 2009.
In that season, the Saints went on to set the record for what at the time was the longest undefeated season opening by an NFC team since the AFL-NFL merger—it has since been matched by the Green Bay Packers in 2011 and surpassed by the Panthers in 2015—winning their first 13 games.
Despite losing their last three games, the Saints finished with a franchise record 13-3 and then went on to defeat the Indianapolis Colts in Super Bowl XLIV.
New Orleans' offense has been of the most dominant throughout the season but has struggled away from home over the last three weeks and failed to get going on Monday night.
Drew Brees completed 23 of his 35 passes for a relatively modest 203 yards, no touchdown and one interception. He also had a two-point conversion pass intercepted and returned in the fourth quarter. Meanwhile, Alvin Kamara had 103 yards from scrimmage and a touchdown.
The win against Carolina means Brees and Payton won their 117th regular season game together, surpassing Don Shula and Dan Marino in second place among coach-quarterback duos during the Super Bowl era.
With 205 regular season wins, only Bill Belichick and Tom Brady are ahead of Brees and Payton in the ranking. The veteran quarterback was considered to be a front-runner for the MVP award until last month, but he's averaging just 177 passing yards over the last three games, which could seriously derail his bid.
Brees seemed unconcerned by personal accolades and insisted moving closer to clinch the conference title was what really mattered to him.
"There's a lot to be said for that—you find ways to win," he was quoted as saying by ESPN. "Win in a lot of different ways. Battle tested. Listen, these last two weeks we've had to come back and win in the fourth quarter. The great teams find a way. They believe. They feel like we're all gonna step up, we're gonna do this, somebody's gonna make a play."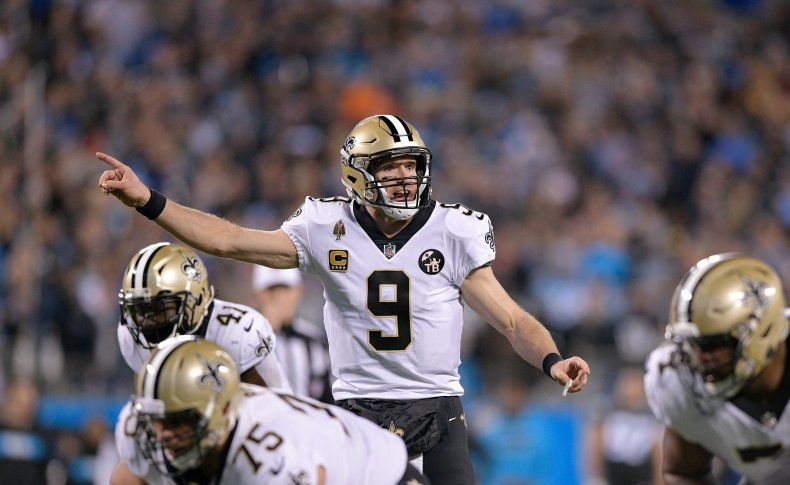 Drew Brees and Sean Payton Make History as Saints Beat Panthers on MNF, Move Within One Win of NFC Title | Sports