Drew Brees' MVP Bid Derailed as Saints Lose to Cowboys on Thursday Night Football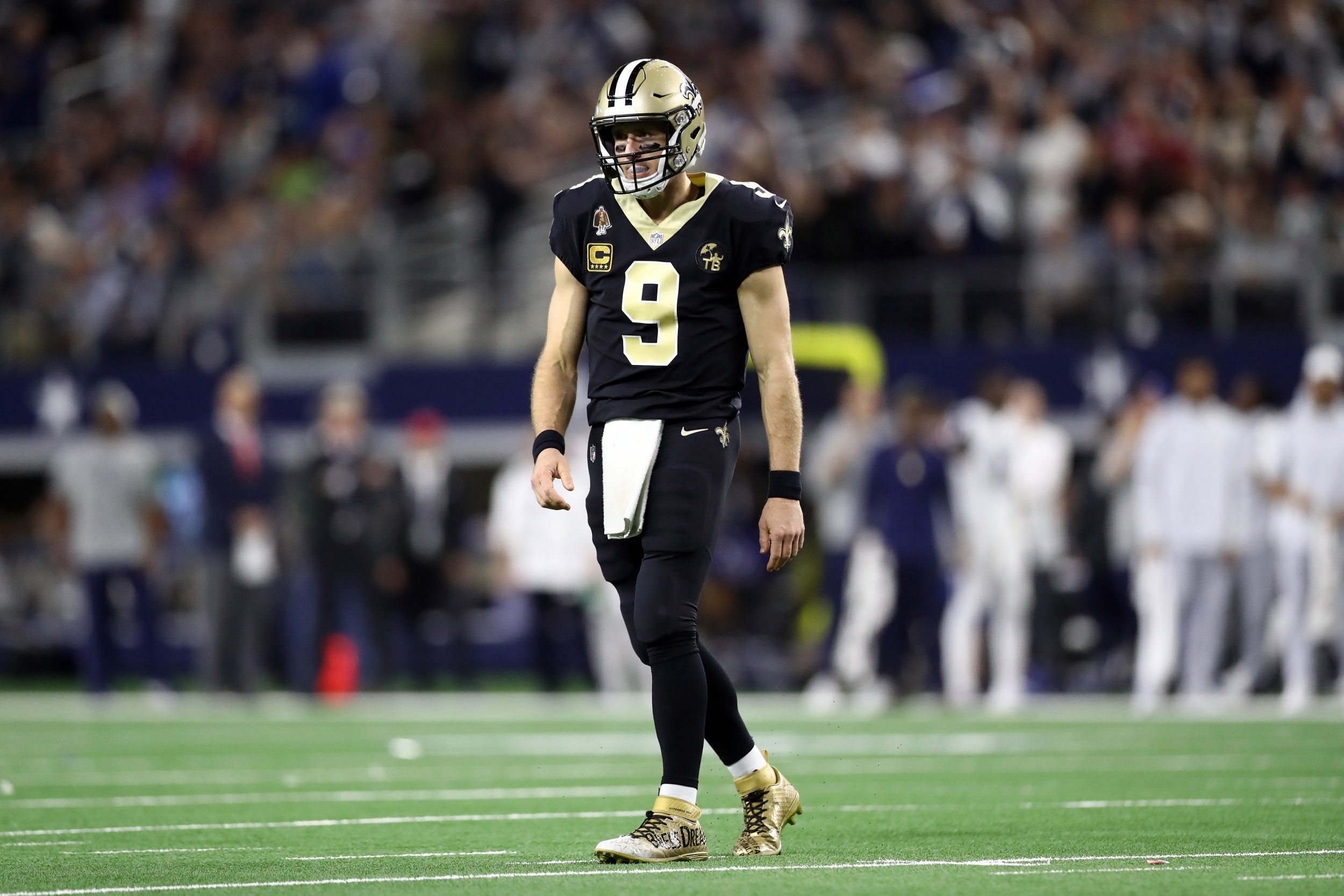 Drew Brees and the New Orleans Saints came unstuck in Dallas as the Cowboys pulled off one of the upsets of the season with a dominant defensive performance.
Dallas won a tightly-contested game 13-10 on Thursday night, clinching a fourth consecutive win for the first time since 2016 and moving to 7-5, momentarily claiming top spot in the NFC East.
The Cowboys are now allowing 18.6 points per game, the second-best defense in the NFL behind the Baltimore Ravens, who concede an average of 18 points per outing.
By contrast, the Saints' 10-game winning streak came to an end after they were limited to just 176 total yards, the fewest they have recorded in a game since Week 17 of the 2001 season. To put things into context, Thursday night was the first time since 2013 that the Saints were held under 200 total yards and the first time since a game against the San Francisco 49ers in 2002 that they had compiled less than 180 yards.
Brees broke yet another NFL record by becoming the first quarterback to hit the 30-touchdown mark in 10 seasons but that was the only positive for him. The veteran quarterback has been in the form of his life throughout the season but threw for just one touchdown on Thursday, completing 18 of his 28 passes and 127 passing yards, the second fewest when he played a full game in 13 years with the Saints.
The 39-year-old had only one interception in the game but it proved to be crucial as it came late in the fourth quarter. The Saints had reclaimed possession after strip-sacking Dak Prescott with 2:35 left to play but on the following snap Brees came under pressure from Maliek Collins and his pass was intercepted by Jourdan Lewis.
In the eyes of many, Brees was the runaway leader in the MVP race but his performance on Thursday night might have changed opinions.
"I felt like we didn't really find a rhythm for pretty much the whole game," Brees said in the post-game press conference, as reported by the Saints' official Twitter account.
"I guess we may have had one decent drive [...] So credit to them. This was the next game, it was a big game. It was the most important game of the season because it was a big game. We just came out and didn't play with the tempo and rhythm, I think, that we're used to."
Despite the unexpected defeat in Texas, the Saints remain comfortably ahead of their rivals in the NFC South with a 10-2 record. However, the Los Angeles Rams now have the best overall record in the NFC and can improve it to 11-1 if they win on the road against the Detroit Lions on Sunday.