Will Drew Brees Be the NFL MVP? QB Throws Four TDs as Saints Steamroll Falcons on Thanksgiving
Drew Brees strengthened his case to be this season's MVP as he inspired the New Orleans Saints to a 10th consecutive win on Thanksgiving.
The veteran quarterback threw four touchdown passes as the Saints beat the Atlanta Falcons 31-17 at home, improving their record to 10-1. Brees completed 15 of his 22 passes for a relatively modest 171 passing yards and one interception as he finished the game with a 111.9 rating.
Each of Brees' four touchdown passes went to an undrafted receiver, as Tommylee Lewis, Austin Carr, Dan Arnold and Keith Kirkwood all got on the scoreboard. To put things into context, the quartet will make a combined $1.9 million this season while Brees earns $1.6 million per game.
The Saints quarterback's effort on Thanksgiving means he has now thrown a touchdown pass to 51 different players since arriving in New Orleans in 2006, tied for the second-most with a single team in NFL history.
With 71 different receivers, only Tom Brady stands ahead of Brees. In this season alone Brees has thrown a touchdown pass to 13 different players, the joint-most in a season since 1970.
Matt Ryan, the only other quarterback to accomplish the feat, was powerless to stop the Saints on Thursday night, despite completing 35 of his 47 passes for a combined 377 yards and two touchdowns.
Ryan threw a touchdown pass to 13 different players in 2016, the same year in which he was named MVP and few would bet against Brees following the same path.
The 39-year-old has been in the form of his life this season and earlier this year he became the NFL's all-time passing leader breaking Peyton Manning's record of 71,940 career passing yards. Together with Brady, he also became one of only four quarterbacks in NFL history alongside Manning and Brett Favre to throw 500 touchdown passes in his career.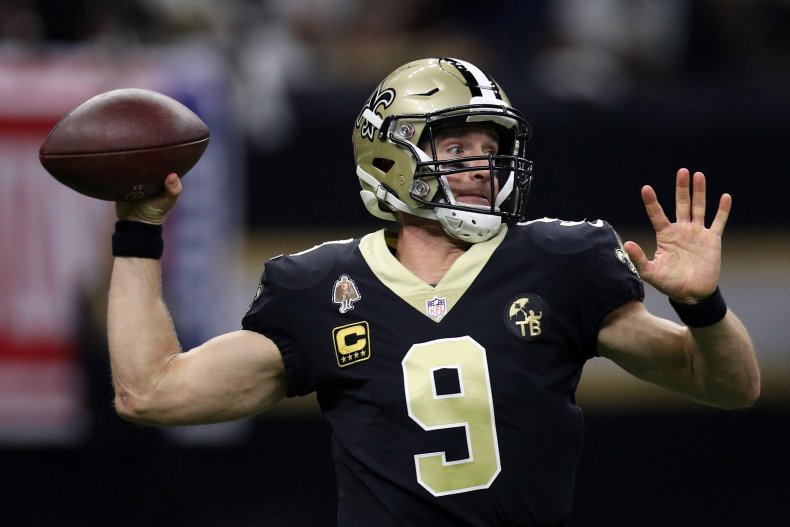 Brees is fifth in the league in terms of passing yards this season but averages a career-high 76.4 percent completion rate and is on track to throw for over 4,500 yards this season after falling short of the threshold for the first time since 2009 last year.
The veteran quarterback also holds the record for most consecutive seasons with over 4,500 passing yards and has thrown for over 5,000 yards in five seasons, the most of any quarterback in NFL history.
And yet, despite being so prolific over the years, he has never landed an MVP award. However, with the Saints dominating the NFC South and being red-hot favorites for the Super Bowl along with fellow NFC juggernaut Los Angeles Rams, that might be about to change.