How Long Is Drew Brees out For? Saints QB 'Concerned' over Thumb Injury Suffered in Loss vs. Los Angeles Rams
Week 2 could have serious implications on the New Orleans Saints season, after news that Drew Brees could be out for up to six weeks with a thumb injury.
The veteran quarterback was forced out of the game in the first quarter of a 27-9 loss to the Rams in Los Angeles on Sunday afternoon, when his right hand hit Rams defensive tackle Aaron Donald's hand at the end of an incomplete pass.
On Monday, NFL insider Ian Rapoport reported Brees is expected to be out for six weeks with after tearing a ligament in his right thumb and will require surgery to address the injury.
That means the quarterback would miss out Sunday's trip to Seattle, back-to-back home games against the Dallas Cowboys and the Tampa Bay Buccaneers and road games in Jacksonville and Chicago.
He is also likely to sit out home games against Arizona in Week 8 and Atlanta in Week 10 - the Saints have a bye in Week 9.
On Sunday, the injury forced the 40-year-old off the field, where he had his right thumb and right wrist heavily strapped by a member of the Saints medical staff.
Brees explained he would visit Dr. Steve Shin, a renowned Los Angeles-based hand injury specialist.
"I am concerned," he said in the post-game press conference.
"I'm hoping it's not too significant."
The Saints signal caller underwent X-rays on Sunday night, but admitted that hadn't shed any light on the extent of his injury.
"It's all up in the air right now," he continued.
"I really don't know at this point. There's only so much you can do here other than have a doctor look at it on the sideline."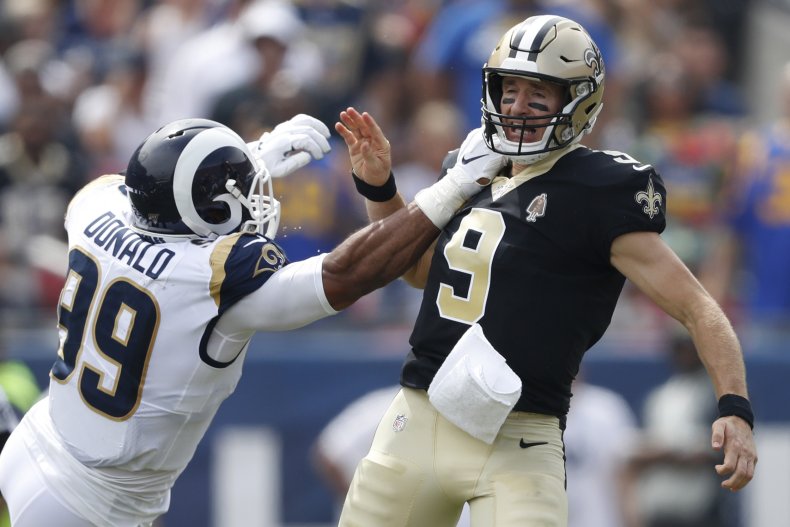 Saints coach Sean Payton acknowledged Brees was in pain and hinted the team will know more about the injury in two days.
Brees' longevity has been helped by a remarkable injury record, which has seen him miss just one game since high school. In Week 3 of the 2015 season he was ruled out of a road game against the Carolina Panthers with a shoulder injury.
A decade earlier, while playing for the San Diego Chargers. Brees sustained a shoulder injury in the final game of the season, but was back under center for Week 1 of the 2006 campaign.
After the game, ESPN reporter Josina Anderson tweeted a close-up of Brees' hand wearing what former NFL team doctor David J. Chao identified as a stability brace.
Chao added the brace suggested Brees might have suffered ligament tear.
According to the U.S. National Library of Medicine, minor thumb sprains can heal within a couple of weeks. More severe sprains, however, can take up to six and 12 weeks if ligaments are involved.
Terry Bridgewater replaced Brees on Sunday night, going 17-of-30 for 165 yards as the Saints suffered their first loss of the season.
To add insult to injury, New Orleans suffered another officiating error against the Rams in eight months. In the NFC Championship Game last season, the Saints were left incensed after a missed pass interference call let the Rams off the hook.
On Sunday night, New Orleans defensive end Cameron Jordan returned a fumble 87 yards for a touchdown late in the first half.
Officials, however, intervened and whistled the play dead after ruling the play as an incomplete pass by Rams quarterback Jared Goff.
The Saints challenged the call, but while the replay showed Goff had fumbled the ball, officials instructed New Orleans to take over at their own 13-yard line instead.