Drew Brees Injury Update: New Orleans Saints QB Posts 'Thumbs Up' Picture after Surgery
Drew Brees underwent surgery on his injured thumb on Wednesday and took to social media to share the outcome of the procedure.
The New Orleans Saints quarterback tweeted a picture of his thumb in a cast, indicating surgery had been a success.
"Step 1. Complete...successful surgery. This is my attempt at giving everybody a [thumbs up]," he wrote.
Brees was forced out of the game in the first quarter of a 27-9 loss to the Rams in Los Angeles on Sunday afternoon, when his right hand hit Rams defensive tackle Aaron Donald's hand at the end of an incomplete pass.
The 40-year-old watched the remainder of the game from the sideline and it soon became evident it couldn't grip a ball properly.
While the Saints flew back to New Orleans ahead of a trip to Seattle this weekend, Brees stayed back in Los Angeles where Dr. Steve Shin, a renowned hand injury specialist, performed the procedure.
New Orleans hasn't provided a detailed timetable for Brees' return, but has not placed him on injured reserve.
On Monday, NFL insider Ian Rapoport reported the quarterback was expected to be out for six weeks with after tearing a ligament in his right thumb.
That means Brees will miss out Sunday's trip to Seattle, back-to-back home games against the Dallas Cowboys and the Tampa Bay Buccaneers and road games in Jacksonville and Chicago.
He is also likely to sit out home games against Arizona in Week 8 and Atlanta in Week 10—the Saints have a bye in Week 9.
The injury is the first serious problem suffered by Brees since he entered the NFL in 2001.
The 12-time Pro Bowl selection has missed just one game since high school, when he was ruled out of a road game against the Carolina Panthers in Week 3 of the 2015 season because of a shoulder injury.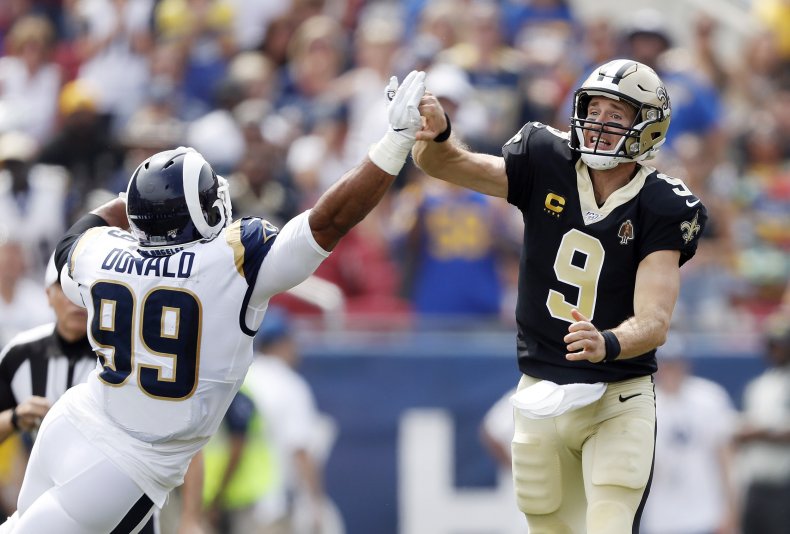 While playing for the San Diego Chargers in 2005, Brees sustained a shoulder injury in the final game of the season, but was back in time for Week 1 of the following season.
The Saints are 1-1 and the veteran quarterback's absence could play a decisive role in their season.
Terry Bridgewater replaced Brees on Sunday night, going 17-of-30 for 165 yards as the Saints suffered their first loss of the season.
Speaking to the media on Wednesday, Saints coach Sean Payton declined to confirm who between Bridgewater and jack-of-all-trades Taysom Hill will start under center in Week 3.
Hill is officially listed as backup quarterback for the Saints but has taken snaps at seven different positions on offense and special teams during his NFL career.