Drew McIntyre 'Claymores' His Way to Victory Over Randy Orton
One of the biggest winners coming out of Sunday's SummerSlam was WWE Champion Drew McIntyre.
Not only did the "Scottish Psychopath" retain the title he won at WrestleMania in April, he defeated Randy Orton, a future WWE Hall of Famer who has been on, arguably, the best run of his 20-year career.
The two superstars were at each other's throats for weeks. Both men cut scathing promos that cut deep into the other's past, and Orton took the feud to a violent and disrespectful level when he recently assaulted legends like Ric Flair and Shawn Michaels in the ring. The attacks against those icons didn't sit well with McIntyre.
Aside from settling a score, Sunday's match was also one that McIntyre had to win to validate his title win a few months back—an assessment with which the current champ agrees.
"I think a lot of people thought [the match] could go either way," McIntyre told Newsweek on Monday, during a conversation about his victory over Orton. "A lot of people thought Randy was gonna get the job done and the fact that I beat Randy at the level he's at right now really cemented me at the top of the mountain, and I'm here to stay, and it really made me a made man."
The below interview has been edited and condensed for the sake of clarity and length.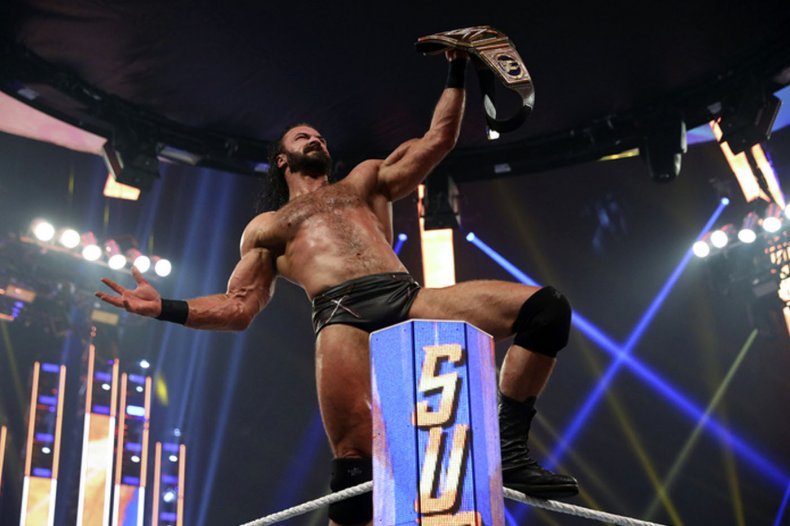 Great win last night. How does it feel to retain against Randy Orton?
It feels pretty friggin' cool. With the Brock [Lesnar] match, winning the title, it really put me on the map and on the top of the mountain. I've been proud of everything I've been able to do over the past few months, especially within the Performance Center environment. But the whole time, Randy Orton has been raising his game to the point he's been doing the best work of his career and no one could really touch him. It's been up to me to keep up with him on the microphone, and last night was up to me to keep up with him in the ring.
If I lost last night that's OK, Drew had the opportunity to do a good job. He ran with the ball and hopefully he is able to stick around and not fall too far down the card and struggle to get back up. But last night, I think, really cemented my position and showed everybody that Drew's at the top and he's here to stay.
The buildup to your match with Orton involved legends like Ric Flair and Shawn Michaels. How was it working with them?
It's been great having them readily available. You saw the interview with Shawn and I last week, backstage. That wasn't some script written—that was true, you know? I came back to WWE to be in NXT because I wanted to be there. A big part of it was I got to work with Shawn and I remember the conversation with him initially when I said, "Is it cool if I come to your classes when I'm not supposed to be here?"
It's like a four-to-five-hour round trip every day [from my home to the PC], I'll come and work with you. And he was like, "Oh, I was hoping to get to work together, is that OK with you?" And I was like, "Yes, Shawn Michaels, greatest performer of all time, it's fine with me." [Laughs]
So we got to work together and build that relationship and I learned so much from them, and it continues to this day, whenever I have a question and hear all those stories like myself and Dolph [Ziggler], when we were floating around to hear whatever story Ric had for us from the past.
There's a really cool quote from an interview [Flair] just did, and I didn't realize this and I never really thought about it because, you know, I'm such a wrestling historian and I have a respect for the business, but he said he was really impressed over a conversation we had one day. He was like, "You're not gonna hit me with that Claymore," and I'm thinking, man, you've had matches with Bruiser Brody and you won't get hit with my Claymore?
But I guess I impressed him, and I saw the interview and I thought it was really cool because I never thought of it—because it's Ric Flair, and I have so much respect and I guess that was really cool, that I could have showed him that I do have so much respect for his career, but I've also watched it and respect the past.
You spoke about the win over Orton as solidifying your reign, but Shawn Michaels had a lot of nice things to say about you on television last week. Did that help, too?
The stuff said to me backstage was cool because it was actually on screen and it's real. The best stuff is based in reality. I didn't know Shawn was gonna pop up right before the match [on Sunday] either. Like, he was in the ring and he popped up, he did the interview right before I walked to the ring and that was like, "Thanks for the motivation." I had an extra pep my step.
It wasn't just because I was against Randy, it wasn't just because we were in the ThunderDome. We had all the cool effects and the atmosphere back in there, but Shawn added to that, and that was really cool, right before I walked out and it absolutely fired me up beyond belief when I got to the ring.
During your match with Orton, you used Flair's signature Figure Four. Will we see it again from you?
If the situation calls for it, absolutely, especially with what Randy did to Ric. And it [lent] itself to the match and the fact that I just caught his knee and things kind of worked out perfectly. It was cool everyone responded so positively to it and that it made sense for the story. I started doing it when I was a kid and the fact that I got to use it against Randy Orton in a WWE Championship Match as an ode to Ric Flair was really cool.
Did you think of using Michaels' Sweet Chin Music during your match, as an ode to Shawn?
It crossed my mind, but truthfully I can't throw a Sweet Chin Music like Shawn. I don't have the flexibility, so I'd have to get Randy on his knees to do that. [Laughs]
I guess you'll stick to doing the Claymore then.
The Claymore is the one. Although Randy's counter [on Sunday] was great. I can't believe no one thought to drop out of the way until [Sunday] night.
And then to have the finish be a backslide, and not one of your finishers, was ingenious.
Ahh, yes, the backslide. The title of the show was "You won't see it coming," and Randy didn't see that one coming.
You want people to feel like the match can finish at any time. I think people are so accustomed to sitting there, enjoying the match, but waiting for a finishing move to end the match. A wrestling match can end at any time. Ric Flair-Kerry Von Erich was won on the backslide, so was a lot of Brett Hart matches. If you look at history, if it wasn't the sharpshooter there was a quick pin out of nowhere, because [Brett] wanted you to feel like this match could end at any time. The fact that it was a slick counter from the RKO after I crashed and burned, people probably thought, "He's gonna hit it, finally," because I got out of it seven, eight times. But I slipped the pin—one, two, three, no one saw it coming.
No one's hit their finisher yet and Randy, I assume, won't let it go on a backslide. So say we went on to the next match, realistically, I hope he knocks on my door, and I want to kick him in the head finally.
Will there be a rematch? If there is a rematch with Orton, what will that match look like?
It depends on what move Randy Orton makes next. Knowing Randy Orton, there's no way he's just gonna go quietly into the night. As personal as it is, I can't imagine it's not gonna get even more personal.
Again, speculation, I don't know what's going on, but, yeah, I get a feeling that things are gonna get interesting and the physicality level last night surprised me, you know. Usually you don't see such physical Randy matches, where he's getting thrown around or dishing out the punishment and both guys are bleeding. Not your traditional, old-school "crimson mask," but legitimately bleeding from random areas because we're being so physical with each other. The physicality level will have to go up a notch and it was really physical last night. I can't imagine what we'll do in the next match.
You've brought up in the past that you haven't main evented a pay-per-view since winning the WWE Championship. You didn't get to again last night, how did that make you feel?
I was annoyed at first, to be perfectly honest. Randy and I put in a lot of work that we were proud of, the fans were really excited about it. What I was told from all our teams in WWE was, our match had the fans buzzing the most. But considering what happened at the end it was understandable. Once I understood what the situation of the final image of the show would be, OK, you don't want to follow Roman Reigns coming back. Once I understood the situation, I was fine with it.
What did you think of Roman's return?
It was great. I sent him a message last night and he looks refreshed and jacked. It looks like he has a lot of intensity going on, so it's cool to see him back and is definitely the best [for WWE].
Watch Drew McIntyre on Monday Night RAW, starting at 8 p.m. EDT on USA Network.