Drew McIntyre Excited for RAW's 'Reset,' Future and Keith Lee's Debut
With SummerSlam complete, Monday Night RAW is ready for a reset of sorts.
Similar to the RAW after WrestleMania, the show after a huge pay-per-view, like SummerSlam, is one that fans have come to anticipate. It marks the start of new storylines, feuds, fresh matchups and sees the occasional return or debut of WWE superstars.
At the center of this reset is WWE Champion Drew McIntyre who can't wait to see what happens tonight.
"It means so much to be a part of Monday Night RAW especially still being WWE Champion and helping move the company forward during unique times," McIntyre told Newsweek. "I'm so excited to see what happens next not just for me, but for everybody on the show and to hear what the fans think at home because we're gonna do some really cool stuff going forward with the capabilities in the Amway Center."
WWE has changed locations from the Performance Center to the Amway Center, home of the Orlando Magic, for the foreseeable future. The change in scenery has allowed for a change in presentation called the ThunderDome. Fans got to see the ThunderDome on Friday Night SmackDown and during SummerSlam, which brings pyro, lasers and virtual fans in the stands.
The company looks to continue building momentum from the debut of ThunderDome and the success of SummerSlam into this next stage of Monday Night RAW.
Newsweek caught up with the WWE Champion to talk about the reset of Monday Night RAW and which wrestlers to look out for moving forward.
Interview has been lightly edited for clarity and length.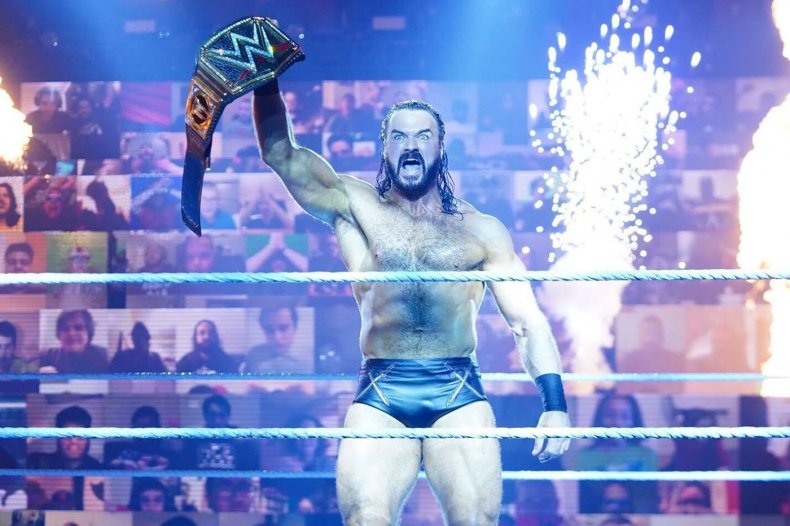 In less than a week the Payback pay-per-view will go down. How does it feel to have a big show like that back-to-back and what are the plans for you?
I'm intrigued that's for sure. With the environment right now. I guess we have those capabilities to bring everybody content. We have the ThunderDome right here, which is really cool so I mean, I'm interested to see how it comes off and how people respond to it.
I honestly don't know if I'm doing anything [at Payback] and I don't usually inquire about anything until the very last second that's just how I operate. I like to go on the fly and get a few things as I go, but I'm curious to see if I'm doing anything whatever else has been and how it's received.
Last night was your first match in the ThunderDome. How was it to work in it?
Amazing. I'm proud of everything we did in the Performance Center and bringing everyone content during a difficult time. I'm proud of this weekend. And I for one am trying to show everybody that there's no wrong answers in the ThunderDome, just learn from your mistakes.
I'm looking down at the camera. I'm commentating my matches so the fans can hear me let's just try some stuff and see what sticks. The goal is to entertain everyone that's watching that needs to escape right now, and we're slowly getting back to some semblance of normal and we're able to get inside the Amway Center here in the ThunderDome and, man what a difference it is from the PC.
Even the feeling backstage, it's like we're actually doing a live show and you're in the building you've got those nerves and butterflies again, which I had at the Performance Center but not at this level. It feels that we're back and walking out there and feeling the atmosphere and just in the building and seeing the fans faces virtually and then to cap it all off all the special effects. I didn't know we're gonna be coming out to the level [of spectacle] that we came out to last night during my entrance. I've got the swords in the beginning now, which I think is cool and it's more impactful leading to the war drums and then having all the fire and pyro and I'm standing there thinking in my head "man, this is really freaking cool." I'm sweating like crazy from this fire, and all that sweat probably helped me avoid all those RKOs [from Randy Orton].
Dominik Mysterio made his debut last night. He's a new member of the RAW roster, did you get a chance to see his match?
From the little that I saw he was great. He's Rey Mysterio's son so he comes from such a pedigree and he really loves [wrestling]. He wants to do it and I have such respect for him willing to put his body on the line with the beating he's taken with kendo sticks. So everything I saw he looked great and I'm really excited to watch the whole match back.
WWE announced last night that former NXT Champion Keith Lee will debut on RAW tonight. What can you say about him
He had an incredible run in the indies and when I saw him I could never understand why the companies he would work for previously never really gave him a big opportunity. He got an opportunity in Evolve and was kind of coming in as I was going out. I've been keeping an eye on some of his matches especially at Evolve and then to see him get the opportunity in NXT the way he got and the talent shining through got him right to the top. He dropped the title the other night but I'm sure we all thought the same thing. "Ooo something is coming next for Keith Lee" and I'm excited he's coming to Monday Night RAW.
He's like myself, he's a hybrid, you know? He's a big guy, but he can do it all. I think we're gonna see some exciting stuff from him and hopefully finally get that Keith Lee/Drew McIntyre match since I show up in Evolve and he powerbombs me out of the company. I show up at NXT when I was rehired and I tore my bicep and I never got to go back to wrestle at NXT.
I show up on NXT [during Survivor Series] and kick Dijakovic and Lee shows up and power bombs me again! Maybe we'll finally get to have that match. [Laughs]
Tonight is the RAW after SummerSlam. It's similar to the RAW after WrestleMania where the brand gets to do a "reset" of sorts. What do you see the next stage of RAW will be?
It's not a reset like the RAW after 'Mania, but it still is one. It's also the first RAW in the ThunderDome, so a lot of stuff will be happening that will show [fans] the direction we're going in the future. As proud as I am of what I've done over the past few months if you're watching, you know already. If you've not been watching for a while, now is the time to get back into it because it's some exciting times, exciting visuals and if you've never watched us it's definitely the time because there's all sorts of things going on.
Who is one superstar that wasn't on television as much pre-SummerSlam that you hope gets more time to shine now?
There's a few people that have stepped up and continue to step up and there's more to come. I know there's more to come from Aleister Black for sure. I'm just waiting for that big moment.
He knows his character as well as I know mine. He knows what he's going for and it's really cool and I guess it's just doing it the right way to connect the right way because he's got all the tools. Once you put the pieces of the jigsaw puzzle in the right place is when someone gets on a roll. I think Aleister Black is finally going to put that jigsaw puzzle together and he's going to be on the run of a lifetime.
Watch Drew McIntyre on Monday Night RAW starting at 8 p.m. EDT on USA Network.