Drowsy Puppy Collapses After 'First-Ever Play Outside' in Adorable Video
An adorable video of a drowsy puppy collapsing after her "first-ever play outside" has charmed the internet.
The video, posted in Reddit's "Aww" forum on Sunday by an anonymous poster under the username u/downriverrowing, has amassed more than 83,000 upvotes and over 400 comments while highlighting a crucial part of puppies' daily routines—nap time.
The video opens with a tired puppy named Emmy Lou sitting on the mat inside her owner's home, trying hard not to fall asleep. After about ten seconds, however, Emmy Lou gives in to her exhaustion and collapses onto the floor.
Once she's all curled up, Emmy Lou closes her eyes and her owner stops recording, leaving the puppy to sleep.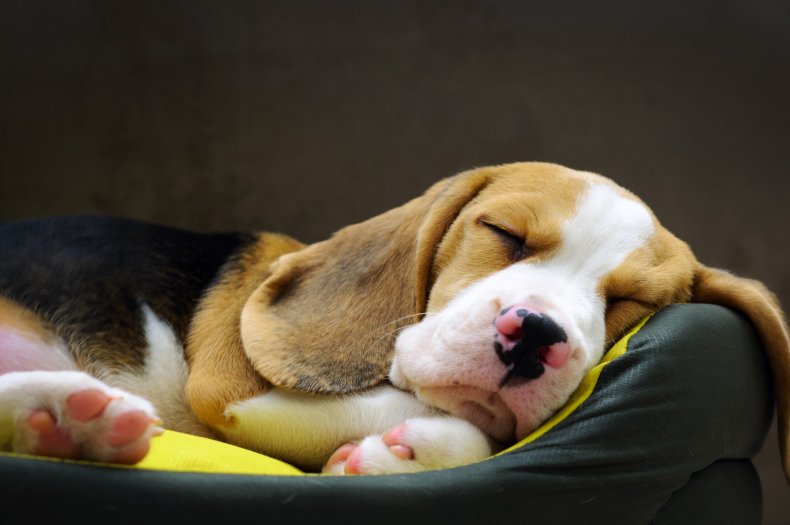 According to the American Kennel Club (AKC), puppies need a lot of sleep.
"Although puppies are little bundles of energy, they usually sleep 18-20 hours a day. One minute your puppy may be a miniature tornado, and the next he's fallen soundly asleep, almost mid-dash," AKC explained.
Sleep is "essential" to a puppy's overall wellbeing, but because they are "excited" and "stimulated" by the world around them, puppies "won't always pay attention to an internal clock telling them it's time to rest," said the AKC. So, owners should do their part in ensuring puppies stick to a schedule that allows for plenty of time for rest.
Liz Claflin, Vice President of Operations at dog trainers Zoom Room, told Newsweek that a good puppy schedule "includes meals at roughly the same time each day, going outside for a potty break at the same time after meals, water and play sessions.
"The schedule should include playtimes and training times. Puppies should go to bed at roughly the same time each night and wake at roughly the same time each morning," Claflin continued.
Dr. Jerry Klein, Chief Veterinary Officer at the American Kennel Club, added that a puppy's daily morning and afternoon routines should include nap times.
Redditors said Emmy Lou's sudden nap was "adorable," and some joked she'd be running around again in no time.
"That's one of the cutest things I've seen in my whole life," wrote u/jahvaduppy.
"AWWWWWWW! THAT IS SOOO ADORABLE," commented u/LynxNo4874.
"What an absolutely precious moment," said another Redditor.
"Ten minutes later: 'OK, I'm ready again, ready again let's go play come play,'" joked u/SpotNL.
Redditor u/xrbeeelama added: "Fantastic. Twenty [minute] nap and she'll be ready to do it all over again!"
Newsweek has reached out to u/downriverrowing for comment.
Emmy Lou isn't the first sleepy puppy to go viral, of course.
In February, a video of one puppy struggling to keep his eyes open while drinking from a bowl of milk received more than 11 million views on TikTok. And last summer, a video that shows a bulldog puppy struggling to stay awake while on a boat with his family went viral with more than 4 million views.