Drunk Passenger Bites Off Man's Ear on Plane
A drunk passenger bit off part of a fellow traveler's ear on board a holiday jet moments after it landed in Spain.
The grisly incident took place on Thursday night after an argument broke out on a Ryanair flight from Birmingham in the UK to Mallorca.
The La Vanguardia news outlet reported that a drunk passenger had been refused any more alcoholic drinks during the flight and had consequentially tried to open a fridge on the plane.
The man, who has not been named, is reported to have then consumed another passenger's drink.
Having landed at Son Sant Joan airport, the Civil Guard arrived to take down details about the incident from flight crew, only to notice that a fight had broken out.
Going to investigate, they saw a man had bitten a chunk out of another passenger's ear.
The officers tackled the man and he was arrested while his injured victim was taken to hospital in Palma where he was admitted for treatment.
In a statement to the media the Civil Guard, which is responsible for policing the airport, said: "A 29-year-old British man has been arrested on suspicion of assault.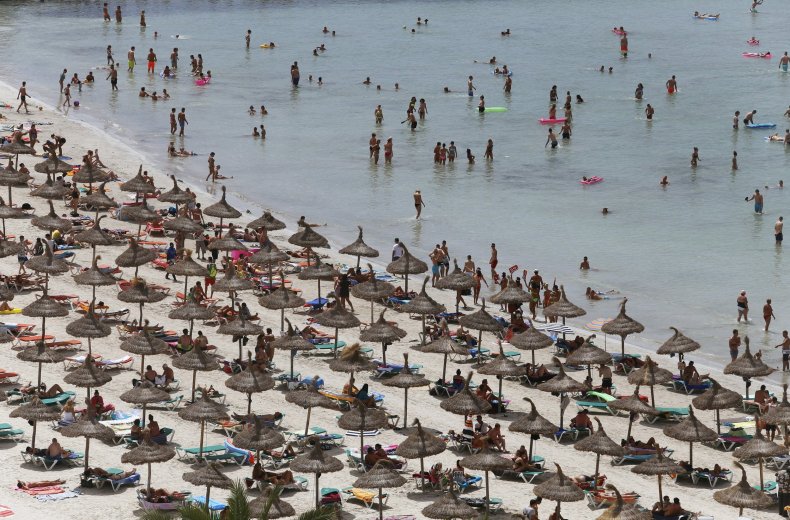 "While the agents were gathering data on what happened during the flight, talking to the purser, they noticed a fight that was taking place inside the plane.
"They found the young man attacking another passenger whose right ear had been partially bitten off. The man was reduced and immobilized by the Civil Guards.
"The Civil Guard is the one that intervenes in this type of event, which is not very frequent, as it is responsible for security and public order in all the facilities of the restricted area of ​​the airports, as well as inside the aircraft."
In a statement to Newsweek, Ryanair said: "The crew of this flight from Birmingham to Palma on September 18 requested police assistance upon arrival after a passenger became disruptive in-flight.
"The aircraft landed normally and police removed the individual. This is now a matter for local police".
Cabin crew across the world often have to deal with travelers who try and flout an airline's rules, whether that entails refusing to serve any more alcoholic drinks to passengers or enforcing the wearing of face masks.
In July, a video went viral after a woman was seen being ejected from a plane for refusing to wear a face mask.
The video, posted to Twitter, showed a plane full of people clapping as a woman is asked to leave an American Airlines flight due to not having the appropriate face covering.
In the footage, the woman is seen removing her bags from the overhead bins as passengers are seated and ready to depart. All passengers and crew in the cabin appear to have face coverings, apart from the one woman.