Royal Baby: Prince Harry and Meghan Markle Announce They Are Expecting a Baby in Spring 2019
The Duke and Duchess of Sussex, Prince Harry and Meghan Markle, are expecting their first baby in the spring of 2019, Kensington Palace announced Monday.
"Their Royal Highnesses have appreciated all of the support they have received from people around the world since their wedding in May and are delighted to be able to share this happy news with the public," Kensington Palace said in a statement.
The duchess's outfit—a long coat—on Friday at Princess Eugenie's wedding in Windsor sparked speculation that she could be pregnant. Queen Elizabeth II, Prince Philip and Prince Charles congratulated Harry and Markle at the wedding, The Mirror reported. Kensington Palace said the queen is "delighted" by the news.
Harry, 34, is the queen's grandson, and Markle, 37, is a former actress. The baby will be seventh in line to the British throne.
Markle's mother, Doria Ragland, also said she was "very happy" with the news and is looking forward to the birth of her first grandchild.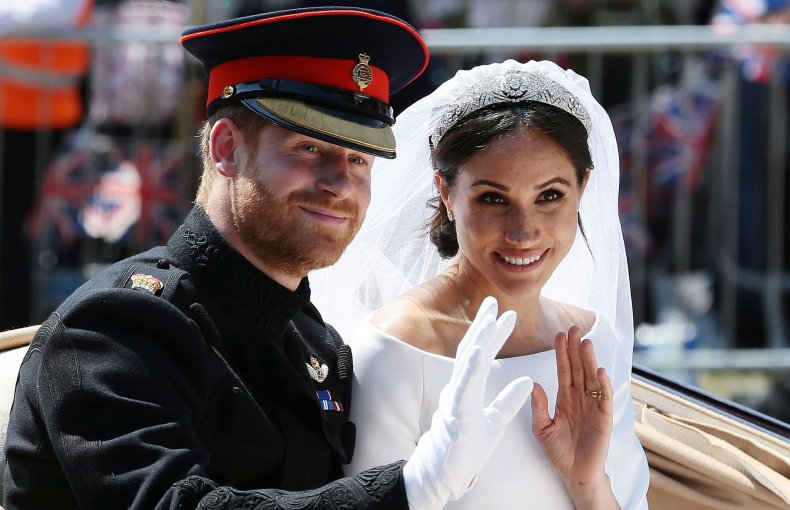 The announcement comes about five months after the duke and duchess were married in May at St. George's Chapel in Windsor. Harry has said he wanted children, and Markle once described motherhood as being on her "bucket list."
"I can't wait to start a family, but in due time," she said in 2016.
The duchess's father, Thomas Markle, told ITV's Good Morning Britain after the royal wedding in May, "She's wanted children for a long time, and when she met Harry and she spoke about how much she loves him, there's got to be a child in the making, somewhere soon."
The couple recently embarked on a tour of Australia and the South Pacific. They arrived on Monday in Sydney, where they will watch the Invictus Games. In their first tour outside of the U.K and Ireland, they will have 76 engagements in Australia, Fiji, Tonga and then New Zealand before returning to London on November 1.
Kensington Palace said there would be no change to the itinerary. "The duke and duchess are very much looking forward to experiencing the unique cultures and customs of those four Commonwealth countries and have asked that this tour allow them opportunities to meet as many Australians, Fijians, Tongans, and New Zealanders as possible."
This story has been updated since publication.