Cameron Reddish Inspires Duke to Stunning 23-point Comeback in Final 10 Minutes Against Louisville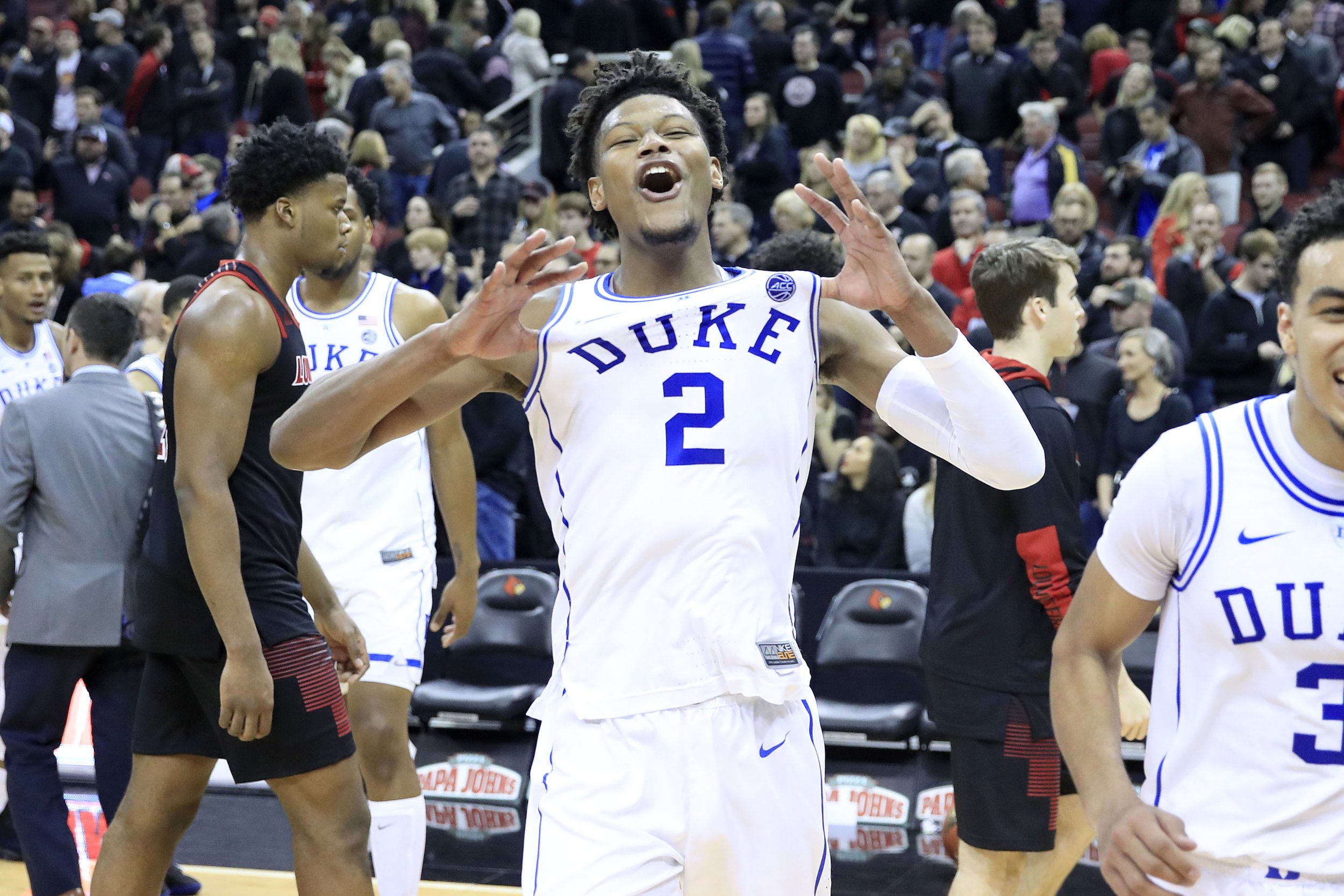 Cameron Reddish inspired Duke to a memorable comeback on Tuesday night, as the Blue Devils overcame a 23 point deficit in the final 10 minutes to stun Louisville.
With 9:13 left in regulation, the Blue Devils trailed 59-36 after making just one of its first 12 shots in the second half. Duke then exploded down the stretch, converting 10 of its last 17 possessions to win 71-69.
Reddish was instrumental in the comeback, scoring 16 of his 22 points in the final nine minutes, including the game-tying three-pointer with 1:28 left and the go-ahead free throws with just 14 seconds left on the clock.
"I think our mentality changed,'' the 19-year-old guard was quoted as saying by the Associated Press. "We didn't want to go home with a loss. We had to fight for Duke, just give it our all for the name on our chest.''
Reddish was well supported by Zion Williamson, who scored 11 points down the stretch and finished with 27 points, 12 rebounds and three steals in 32 minutes on the court.
"It just took us playing hard,'' the power forward told ESPN after the game. "They were playing harder than us. Louisville's a very great team, but we just had to play harder than them.''
The comeback was the program's second-biggest in school history, second only to a 31-point comeback against Tulane in 1950. The effort is also the largest deficit the Blue Devils have ever overhauled in the 39 years Mike Krzyzewski has been in charge of the program.
"Coach K," who turns 72 on Wednesday, admitted he was left stunned by his team's performance. "I did think we could play better,'' he said. "I was positive, but I don't know, belief [...] At that point, I may have been telling them a lie.''
To put the feat into context, the Cardinals had a 99.9 percent chance of winning the game with 9:13 left in the game.
The win was Duke's eighth in a row and improved their record for the season to 22-2 and 10-1 against Atlantic Coast Conference opponents. The Blue Devils are the number two-ranked team in the country and remain within touching distance of current number one Tennessee, who are 22-1.
Louisville, meanwhile, suffered a second consecutive defeat and slipped to 17-8 for the season. The Cardinals are currently ranked 16th but must improve their form if they are to remain in the Associated Press Top 25 poll.
Both teams face home assignments next, with Duke hosting North Carolina on Saturday and Louisville welcoming Clemson on the same day.