'Dungeons & Dragons' Roleplayers Can Change Fates With Worldbuilders Boons From Critical Role, Acquisitions Inc. and Patrick Rothfuss
2018's Worldbuilders fundraiser for Heifer International is more than just a good cause, it could also give you the power to alter reality itself... at least, within the confines of your current Dungeons & Dragons campaign.
From modest origins—Kingkiller Chronicle author Patrick Rothfuss started raising money for Heifer International a decade ago on his personal blog—the Worldbuilders fundraiser has become a rallying cry throughout geek culture, with the support of science fiction and fantasy authors, board game designers, comic book artists and renowned Dungeon Masters. Collectively, they've donated nearly 6,000 prizes to the Worldbuilders lottery. For every $10 donated, your name is entered for a chance to win.
This year, in addition to the figurines, signed books and black walnut gaming tables, Dungeons & Dragons luminaries giving fans the chance to add a wholly unique item to their tabletop gaming repertoire.
"I've never been able to figure out what we can give people that love roleplaying," Rothfuss said. "This year, we cracked that nut."
Outside of his novels, Rothfuss is known as a roleplayer, often joining D&D web series, podcasts and live shows as a guest adventurer. He frequently plays with expert Dungeon Master Chris Perkins, Lead Story Designer for D&D publisher Wizards of the Coast. Together they developed single-use buffs, designed by DMs and roleplayers from popular podcasts like Critical Role, Acquisitions Incorporated and The Adventure Zone DM Griffin McElroy.
"It gives you a chance to add something to your game," Rothfuss said. "It's the equivalent of a free life when you need it or a get-out-of-jail-free card, except it's useful when you fall into a pit of acid."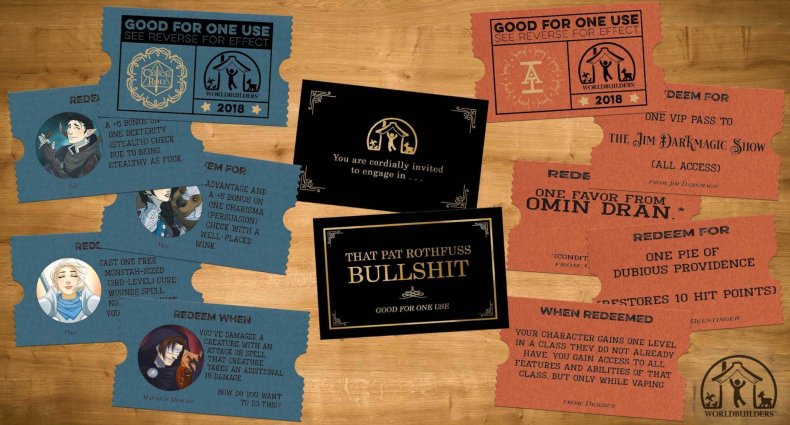 The cards (or coupons, tickets, whatever you want to call them) may look like well-designed slips of paper to non-players, but like everything in D&D, their true power is revealed after the application of a little imagination. They are, conceptually, powerful ways to cheat death, bend fate or become the hero of your venturing party. Or, as one card from Acquisitions Incorporated reads, "redeem for one dramatic rescue (kiss optional)." Another is only operable "while vaping."
"It's been an undertaking," Rothfuss said. "We're printing up all these cards and I'm really excited for everyone to be able to come in and win something fun that brings them delight, while saving the world at the same time."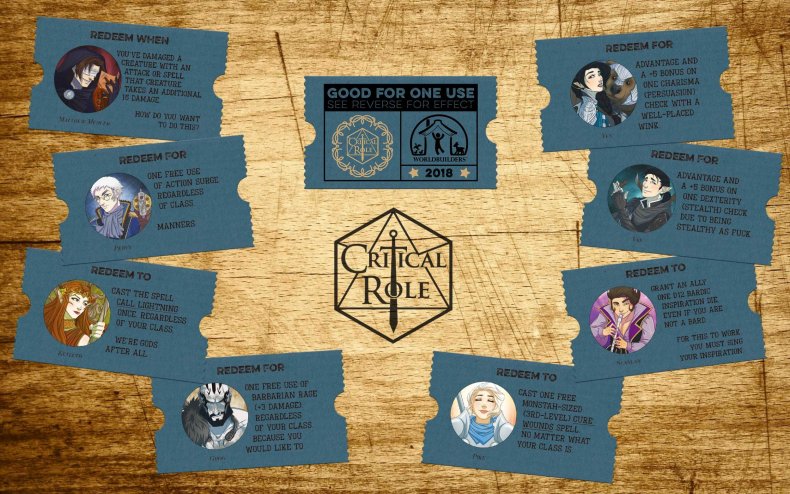 The annual Worldbuilders fundraiser, which runs through Dec. 11 and has so far raised more than $500,000 for Heifer International, a global nonprofit that provides agricultural support and farm animals to 30 million families in more than 125 countries.
"The reason we back Heifer the most is because no other charity provides the same amount of lasting, sustainable, world-shaking improvement to people's lives. $20 provides a family with education materials and a flock of chickens, so that children get to eat eggs every day. $120 buys a family a goat, so children get to drink milk and the family gets to sell milk for money," Rothfuss told Newsweek. "It's like giving someone a small business that gives birth to more small businesses."
Of course, Rothfuss is offering a card of his own, which he compared to the "tasteful thickness" of the business card that inspired so much jealousy in Patrick Bateman of American Psycho. It reads simply, "You are cordially invited to engage in … that Pat Rothfuss Bullshit." Rather than a rule breaker, Rothfuss' card is an invitation to expostulate—to indulge your descriptive side and let out the rambling storyteller locked away in your heart.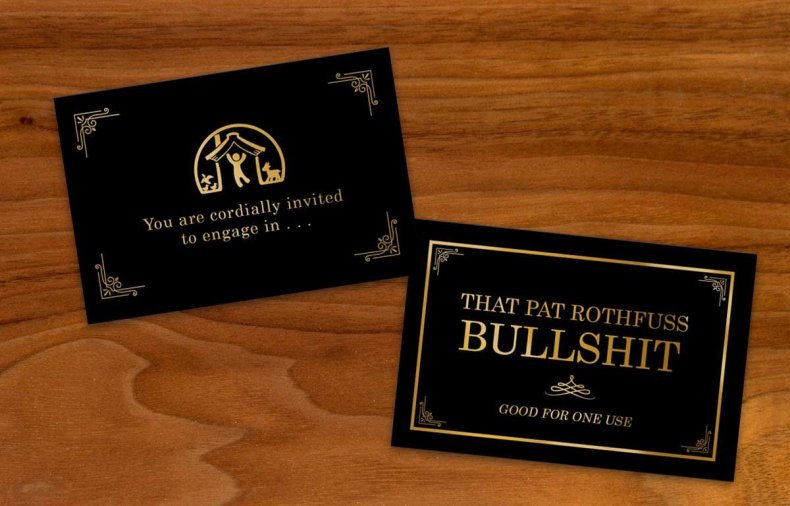 For a chance to win a few, or all, of the Dungeons & Dragons boons, donate through the D&D Team fundraising page. Or donate to the Worldbuilders fundraiser for Heifer International directly, right here.