'Dutch' the Dentist Therapy Dog Melts Hearts in Viral Post
A visit to the dentist can cause anxiety for many, but some offices have offered the option for patients to have a therapy dog by their side, as seen in one viral post on Reddit's, r/aww.
Mitchell Watkins published the post to his account, u/Ezraine, where it garnered more than 34,000 votes. A dog is seen lounging and staring back at the camera while on the patient's lap.
"My dentist has a therapy dog that cuddles with you while you're there," Watkins wrote in his post's title.
Although the title names the dog as "Rocket," he clarified that the dog's name is "Dutch."
According to the American Kennel Club, therapy dogs can work in a variety of settings, such as schools, hospitals and nursing homes. The organization pointed out that therapy dogs are not service dogs.
The difference between the two is that service dogs are trained to help people with a disability with specific tasks.
"An example of a service dog is a dog who guides an owner who is blind, or a dog who assists someone who has a physical disability," the organization stated. "Service dogs stay with their person and have special access privileges in public places such as on planes, restaurants, etc."
Watkins told Newsweek the office's dental hygienist is a certified volunteer dog handler and helps train therapy dogs.
"But Dutch is now a therapy dog she adopted for herself so he is there two to three times a week," the Redditor explained.
He said there is currently one therapy dog at the office. Watkins said this was his first time with Dutch, who helped him feel more relaxed, but sat with a different dog named "Oliver" during a previous visit. Oliver was another dog that the dental hygienist was helping to train.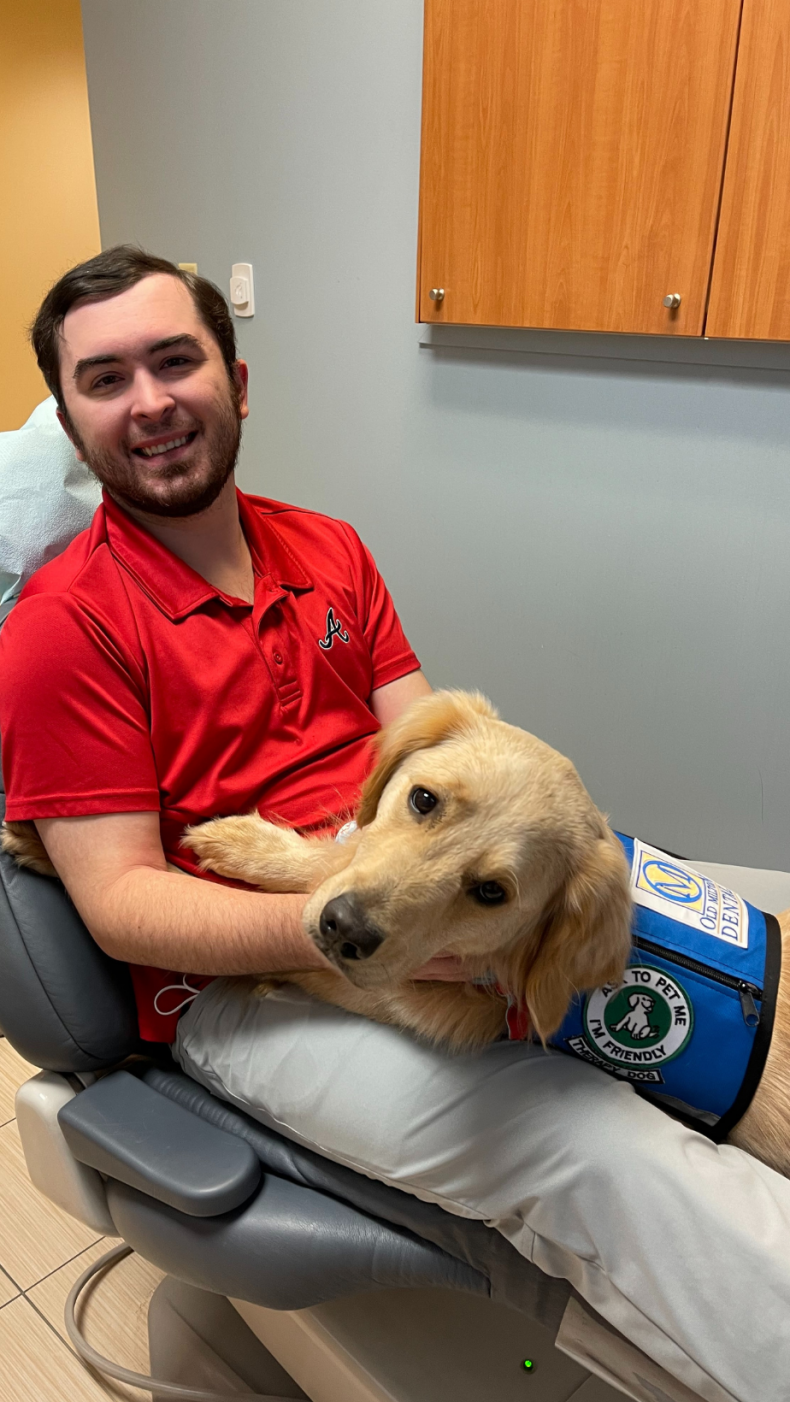 "Ohhhhh, my goodness! How does your dentist ever get anyone out of their chair?!" u/RankledCat commented.
Commenter u/Wiggy_0000 wrote having a therapy dog at the dentist's office would make visits more bearable.
"I had awful experiences as a kid," they wrote. "Filled with fear and stress. It's one of the reasons I take such good care of my teeth now. I don't want to go to the dentist."
Wrote u/RebelScoutDragon, "I would be much happier and relaxed at the dentist if I had a cute dog like that visiting me."
Some questioned whether they would want a dog in the room with them while getting dental work done, but Watkins wrote in the comments section of his post that having Dutch in the room is optional. He noted there are other dental hygienists that can clean a patient's teeth while ensuring they are not near a dog.
Other dentist offices around the United States have introduced having a therapy dog offered to patients.
For example, CBS Philly reported that a dentist's office in Cherry Hill, New Jersey, gives patients the option to have Leo the therapy dog by their side during an appointment.
Dr. Zahra Afsharzand told the outlet that Leo helps patients stay calm during treatments and procedures.