Duterte Says Philippines Cannot Afford War With China: 'Maybe Some Other President Can'
Philippines President Rodrigo Duterte said the country cannot "afford war with China" over disputes in the South China Sea during a State of the Nation Address on Monday.
In a televised address to the nation, Duterte said "maybe some other president" could afford conflict with China over disputes in the South China Sea, before reiterating that he could not.
Delivering his State of the Nation Address, Duterte said: "China has the arms—we do not have it. So, it's simple as that. They are in possession of a property.... So what can we do?
"We have to go to war, and I cannot afford it. Maybe some other president can, but I cannot."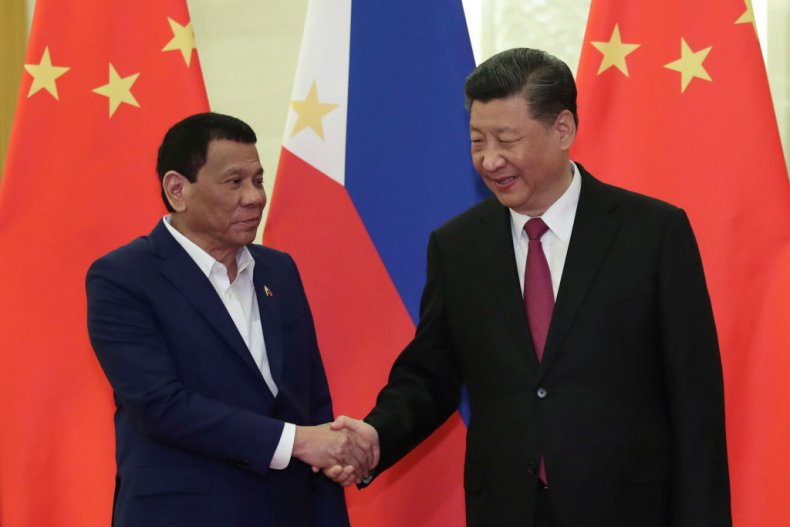 The hotly contested South China Sea is host to much sought-after natural resources, fishing grounds and shipping routes. Beijing has claimed the bulk of the territory as its own, and has sought to bolster its claim to the area by building new islands in the disputed waters.
However, the Philippines has staked its own claim to parts of the region, which is now patrolled by Chinese troops, ships and aircraft.
In July 2016, The Hague's Permanent Court of Arbitration ruled in favor of the Philippines after it brought a legal dispute against China's claims to parts of the region. As the South China Morning Post reports, Beijing has not accepted the decision.
The territory has also proved to be a flashpoint in relations between China and the U.S., with both countries criticizing one another for carrying out military drills in the South China Sea over the past two months.
Chinese military officials announced at the end of June that the People's Liberation Army 73rd Group had held live-fire drills in the South China Sea, drawing a backlash from both the Philippines and Washington, D.C.
"America agrees with our Southeast Asian friends: The PRC's military exercise in disputed waters of the South China Sea is highly provocative," U.S. Secretary of State Mike Pompeo said at the time. "We oppose Beijing's unlawful claims. Period."
The U.S. later deployed two aircraft carriers to the South China Sea to conduct their own drills in the contested zone, sparking a rebuke from Chinese foreign ministry spokesperson Zhao Lijian.
"Against such a backdrop, the U.S. deliberately dispatched massive forces to conduct large-scale military exercises in the relevant waters of the South China Sea to flex its military muscle," he said.