China Holds War Games As India, Japan Team Up to Train at Sea
China has set out on a series of war games near sensitive flashpoints in the Asia-Pacific as India and Japan, two regional powers engaged in their own territorial disputes with Beijing, teamed up for training at another strategic spot in the region.
The Chinese military announced Sunday that the People's Liberation Army 73rd Group Army recently conducted a live-fire exercise involving multiple models of aircraft and firepower mobilized off of the country's southeast coast, where Beijing has increasingly asserted its claims to internationally-contested islets in the South China Sea. The drills involved mock targeting of islands and reefs and a senior officer lauded the maneuvers in a statement.
"In the exercise, we conducted the training through day and night, set multiple kinds of targets on land, at sea and in the air, and stressed on the tactical coordination in continuous strikes by multiple projectiles," Zhou Zhirong, a flight commander of the army aviation brigade involved in the training, was quoted as saying.
"The gunship pilots have greatly improved their combat effectiveness in such an actual combat environment," he added.
Further maritime exercises were scheduled for Tuesday through Saturday, the Chinese Maritime Safety Administration's Hainan Bureau said in a notice released over the weekend informing sailors to avoid the waters around the Paracel Islands. This archipelago is known as Xisha to China and as Hoang Sa to Vietnam, which considers it part of its own territory.
Chinese and U.S.-backed South Vietnamese forces clashed over the territory in the 1970s with Beijing coming out on top. Tensions have again risen in the area as Chinese and Vietnamese vessels clash as part of a series of feuds increasingly gaining the attention of the United States, which seeks to challenge expansive Chinese claims in the Asia-Pacific.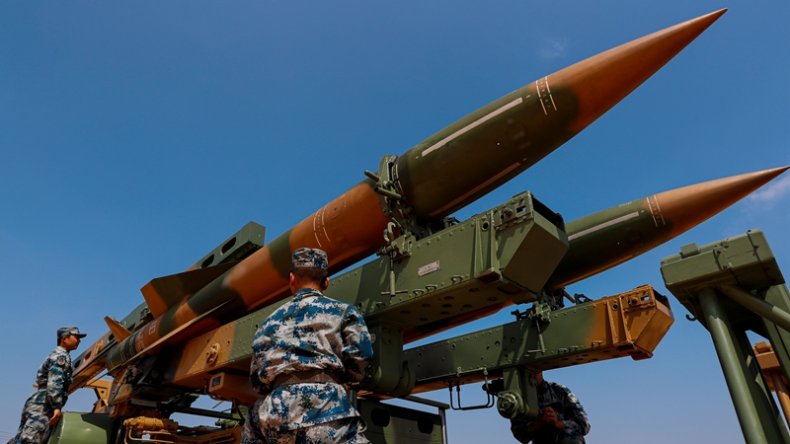 Chinese ships have also been accused of crossing disputed boundaries elsewhere in the East China Sea, where another set of contested islands lie. Known to Japan as Senkaku, to China as Diaoyu, to Taiwan as Diaoyutai and in the West as the Pinnacle Islands, these small, uninhabited islands are at the center of a territorial row between Beijing and Tokyo.
The islands are under Japanese control and the Japan Coast Guard has reported a record streak of incursions by Chinese ships, marking daily incidents since April 14. A recent city council decision to include the name Senkaku in the renaming of an administrative area serving the islands drew criticism from both China and Taiwan, which itself is claimed by Beijing since the establishment of a rival government in Taipei at the end of China's civil war in 1949.
Cross-strait frictions have worsened in recent years as Chinese President Xi Jinping escalates military moves and calls for unification while Taiwan officials seek greater support from the U.S. It was at another geopolitically important strait in the Asia-Pacific, however, that two nations looking to push back against Chinese claims joined forces.
Japan's Kashima and Shimayuki training ships conducted joint exercises Saturday with India's Rajput-class destroyer Rana and Kora-class corvette Kulish near the Malacca Strait. The Indian Ocean stretch between Malaysia and Indonesia represents one of the world's most important shipping lanes, especially for energy resources on which countries in the region depend on.
Tokyo and New Delhi both back Washington's strategy of seeking a "free and open Indo-Pacific"—an approach developed with countering Beijing's ambitions in mind. While tense encounters have occurred between China and rival nations vying for a stake in the lucrative waters of the region, recent deadly clashes between Chinese and Indian troops thousands of miles away at ill-defined border posts in the Himalaya highlands tore open yet another front.
China and India have a history of violence their borders but clashes in May and June between their forces was the first such flare-up to cost lives in nearly half a century. Both sides blame one another for crossing the Line of Actual Control separating the two countries, resulting in a skirmish that killed 20 Indian personnel and an unknown amount of Chinese soldiers.
Though the standoff has yet to be resolved, Beijing and New Delhi officials have vowed to disengage and work through bilateral political and military channels to smooth things over. But as China's overlapping territorial spats intensify, the U.S. has increasingly sought to use them as an opportunity to undermine it and portray the People's Republic as a bad actor.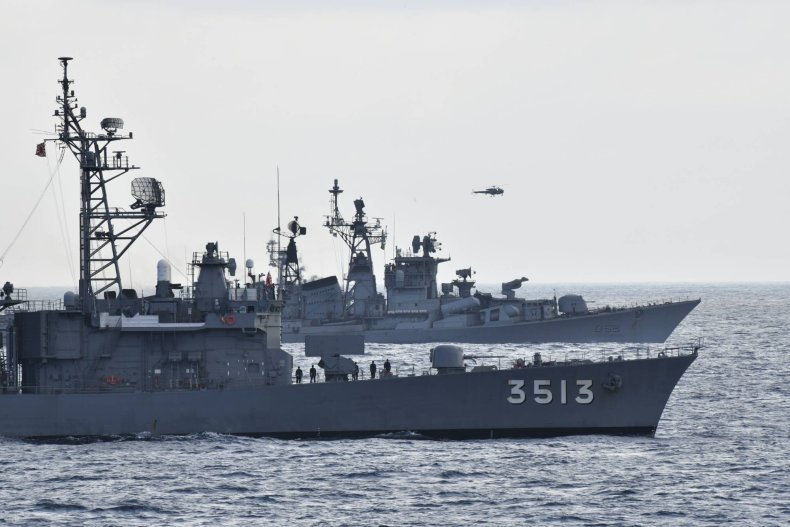 The U.S. military has deployed three aircraft carriers to the Pacific Ocean and has conducted with increasing frequency "freedom of navigation" operations to check Chinese claims to South China Sea islands as well as "presence operations" to escort the ships of regional countries operating in waters also claimed by China. Beijing considers this a violation of its sovereign territory while Washington sees it as preserving access to international waters.
Regional countries emphasized the latter point Friday in a joint statement issued by the Association of Southeast Asian Nations (ASEAN) following a virtual summit. Secretary of State Mike Pompeo said he welcomed their "insistence that South China Sea disputes be resolved in line with international law," including the United Nations Convention for the Law of the Sea, a 1982 treaty signed and ratified by every regional country, including China, but not the U.S.
"China cannot be allowed to treat the SCS as its maritime empire. We will have more to say on this topic soon," Pompeo said.
Chinese officials were set to soon have their say as well, however, as part of the China-ASEAN Senior Officials' Consultation to be held Wednesday. Chinese Foreign Ministry spokesperson Zhao Lijian told a press conference Monday in Beijing that the agenda included joint efforts to battle the novel coronavirus pandemic as well as well as regional developments.
"China looks forward to in-depth exchange with other participants during this consultation to discuss how to coordinate anti-virus cooperation and socio-economic development as prevention and control efforts remain part of our daily routine," Zhao said. "We also hope to work for new progress in China-ASEAN cooperation and contribute more to stability and development in the region."