U.S. Act May See Taiwan Replace China at World's Largest Naval Games
Taiwan has thanked a group of U.S. lawmakers for calling for the island's inclusion in the world's largest multinational naval war games, from which China has been excluded over geopolitical tensions with the United States.
The Taiwanese Foreign Ministry expressed gratitude Friday to members of the U.S. Senate Armed Services Committee for including an invite to Taiwan to join the biennial Rim of the Pacific (RIMPAC) Exercise in a proposed draft of the National Defense Authorization Act presented Tuesday, Taiwan News reported.
The document called for deepening defenses ties with the island, such as "conducting practical training and military exercises with Taiwan, including, as appropriate, the Rim of the Pacific exercise, combined training at the National Training Center at Fort Erwin, and bilateral naval exercises and training."
The move would prove controversial, as the U.S. and Taiwan have not had formal political ties since Washington established relations with Beijing in 1979. The central government, ruled by the Chinese Communist Party, continues to lay claim to Taiwan, led by the successors to the Nationalists who fled the mainland after a civil war in 1949.
China has also previously participated in the U.S.-led RIMPAC exercise but was booted from the most recent, 26-nation exercise in 2018 over its deployment of missile systems, defenses and electronic jammers on internationally-disputed islets and reefs in the South China Sea. Tensions between Washington and Beijing have since risen dramatically in these strategic waters, and over Taiwan's sovereignty as well.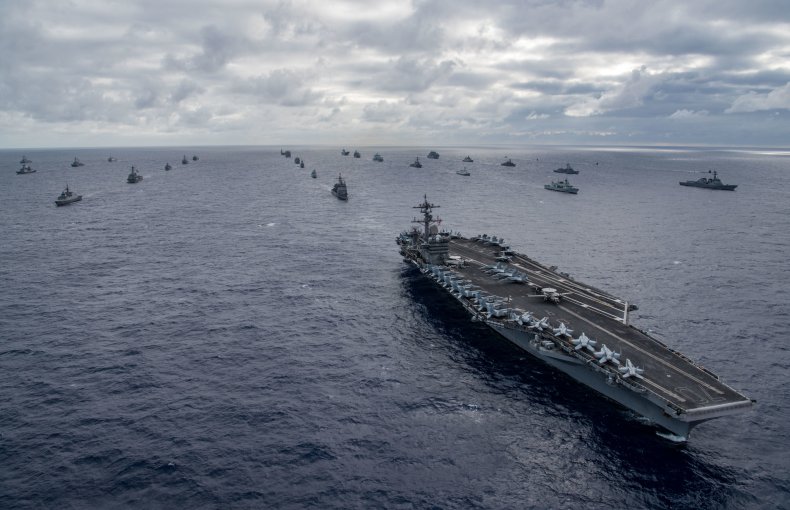 Taiwanese Defense Ministry spokesperson Major General Shi Shunwen told the state-run Central News Agency that Chinese military aircraft had briefly entered southwestern airspace claimed by the island. The news was also carried by the Chinese Communist Party's official Global Times newspaper, which cited experts saying such increasingly frequent actions were geared toward intercepting U.S. and Taiwanese military activity nearby.
On Thursday, a Chinese think tank recorded on the movements of U.S. aircraft near Taiwan. The South China Sea Probing Initiative, a project of Peking University's Institute of Ocean Research, said it monitored a U.S. EP-3E surveillance plane followed by a P-8A anti-submarine and anti-ship aircraft and a KC-135 refueling plane flying south of Taiwan.
These observations followed what the initiative described as a "busy day" involving two U.S. P-8As, a P3-C and an RC-135 all operating near the Bashi Channel between Taiwan and the Philippines. Such operations have sparked anger in Beijing.
"Taiwan is an inalienable part of China," Chinese People's Liberation Army spokesperson Senior Colonel Wu Qian told a press briefing Wednesday. "Taiwan affairs are purely China's internal affairs that brook no external interference."
"The U.S.' frequent playing of the so-called Taiwan card in an attempt to harm China's national sovereignty and territorial integrity in the 'sausage-slicing' approach is a sheer pipe dream," he added. "The PLA has been on high alert, and has the firm resolve, full confidence and sufficient capabilities to safeguard national sovereignty and territorial integrity and maintain peace and stability across the Taiwan Strait."
The latest RIMPAC was announced in April and is scheduled to run from August 17 through 21. It was set to include multinational anti-submarine warfare, maritime intercept operations, and live-fire training events as well as other cooperative training opportunities--but with limited onshore operations as a result of the novel coronavirus pandemic, according to the U.S. Pacific Fleet.
"We remain committed to and capable of safeguarding allies and partners throughout the Indo-Pacific region," said Admiral John C. Aquilino, commander of the U.S. Pacific Fleet, said in a statement at the time. "The flexible approach to RIMPAC 2020 strikes the right balance between combating future adversaries and the COVID-19 threat."